Book club: books to carry you away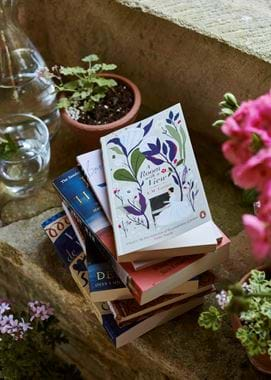 Book club: books to carry you away
The joy of books is their ability to transport the reader to another time, place and world. Here, we pick six novels with memorable locations to add to your reading list – and perhaps inspire future holiday plans.
Room with a View, E M Forster
For a first kiss, a sunny, violet-strewn meadow on a Fiesole hilltop overlooking the terracotta roofs of Florence hits all the right romantic notes. But for Miss Honeychurch, touring Italy with her spinster cousin, the unexpected moment of passion challenges her preconceived social values. Florence, and its surrounding bucolic hills, represents all that her restrained, Edwardian upbringing isn't: passion, beauty, extremes, love. The sense of adventure waiting to be had in its meandering, medieval streets permeates the pages of E M Forster's novel, and thankfully for us, the city hasn't changed much since he wrote the novel in 1908.
Frenchman's Creek, Daphne Du Maurier
Daphne Du Maurier's Cornwall is windswept, menacing and dramatic. Her characters are as wild and reckless as the landscape: Dona, Lady St Columb, bored of London life, arrives at her remote Cornish home to find a suave pirate encamped there. She soon falls in love with him and, together, they embark on exhilarating adventures until she finally has to make a choice between responsibility and freedom. Impossible to read without being seduced by the coves and cliffs of the rugged Cornish coast, this is the perfect staycation read.
Bonjour Tristesse, Francoise Sagan
Published in 1954, 'Bonjour Tristesse' is a coming of age novel written by an 18-year-old Francoise Sagan. Set in a lush villa in the south of France, the book tells the story of 17-year-old Cecile's frivolous summer holiday with her hedonistic father and his glamorous girlfriend. When another guest, the older, elegant Anne, arrives, an uncomfortable menage a trois ensues with tragic consequences. Despite the sadness of the title (it translates as 'hello sadness'), the novel is set against bougainvillea-draped terraces, verdant pine forests and a sparkling Riviera sea. The rhythm of the novel captures the laziness of afternoons in the sunshine with nothing to do but sunbathe and sip rosé. Just what the French Riviera is made for.
Where the Crawdads Sing, Delia Owens
Alone as her family drift away or abandon her, Kya, a young girl, finds comfort in the flora and fauna of the backwater, North Carolina swamps. Alive with rare bird song and the lull of gentle waves, the sluggish waterways offer her a refuge and solace from her interactions with the townsfolk of Barkley Cove, a fictional coastal town rife with prejudices. This is a story of love, rejection, death and deception, all played out against the suffocating Carolina marsh reeds and the beauty of nature at its rawest.
Captain Corelli's Mandolin, Louis de Bernières
A sleepy Greek island during the Italian and German occupation of World War II, a charming Italian officer and a spirited local girl. The scene is set for a poignant journey as Captain Corelli's love for Pelagia is tested to its limits and the people of Cephalonia suffer harrowing treatment from their captors. The book's astonishing emotional range, from humour to love to tragedy, is down to Louis de Bernières' pen, but the scene-stealing backdrops of sparkling turquoise waters and dusty olive groves are all thanks to the Ionic island of Cephalonia.
The Lost Man, Jane Harper
Dusty, hot, and barren. the Queensland outback is no place to linger, but a man lies dead, nine kilometres from his car, under the searing sun, and his family need to understand what happened to him in this tense drama. There's a sense of trepidation each time anyone sets out beyond the relative safety of the homestead. The brutal heat and wide, parched plains are at once both terrifying and awesome. Enticing but always risky.