No matter how small the space is, there's always room to dream big…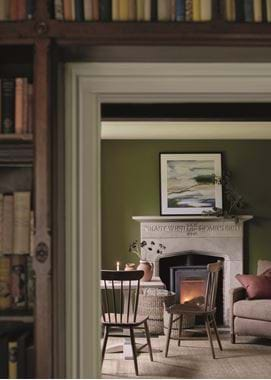 No matter how small the space is, there's always room to dream big…
Escape into the world of literary interiors with Elizabeth Metcalfe – deputy features editor at House & Garden magazine – and her favourite fictional homes.
So often we turn to books to escape – to momentarily forget our reality and enter a new world that may inspire, delight or even terrify us. Whether it's physically reading a book or listening to an audio version, novels offer a springboard into a whole new imaginative world. Writer Jeanette Winterson describes it beautifully: "A book is a door; on the other side is somewhere else." The books that I tend to find myself most drawn to are the ones that literally open doors and explore domestic environments – from grand country castles to charming cottages. Here are five of my favourites.
1. Sense and Sensibility by Jane Austen
Jane Austen's 1811 novel kicks off with Mrs Dashwood and her three daughters, Elinor, Margaret and Marianne, having to leave their large estate in Sussex for Barton Cottage, a small house in Devonshire that they're offered by a distant relative. Although the tiled roof and lack of honeysuckle are at first a disappointment, the Dashwoods soon settle in and the "comfortable and compact" cottage quickly becomes the backdrop to many a meeting with potential suitors. One of these, the handsome – if not flawed – Mr Willoughby, even sees the cottage as far superior to his own country pile. "To me it is faultless. Nay, more, I consider it as the only form of building in which happiness is attainable, and were I rich enough I would instantly pull Combe down, and build it up again in the exact plan of this cottage."
2. Brideshead Revisited by Evelyn Waugh
Perhaps one of the most famous fictional houses, Brideshead Castle plays a central role in Evelyn Waugh's 1945 classic. The entire book plays out against the backdrop of the house and the conventions it represents. When the novel's protagonist, Charles Ryder, first visits the home of the Flyte family with its young heir Sebastian, he glimpses the Inigo Jones masterpiece from the head of a valley half a mile away. He's immediately enchanted with the grand estate and its wrought iron gates, Doric temple, domes and lakes. "It was an aesthetic education to live within those walls, to wander from room to room, from the Soanesque library to the Chinese drawing-room, adazzle with gilt pagodas and nodding mandarins, painted paper and Chippendale fret-work."
3. Beloved by Toni Morrison
"124 was spiteful. Full of baby's venom." The opening of Toni Morrison's Pulitzer Prize winning novel sets the tone for the rest of the book, which explores the legacy of slavery in 19th-century America. "124" refers to 124 Bluestone Road in Cincinnati, Ohio, where Sethe, a former slave, lives with her daughter Denver. The grey and white two-storey house is haunted by the spirit of Sethe's daughter, who Sethe, in a tragic turn of events, killed to protect from a return to a plantation. It's a place of "turned-over slop jars, smacks on the behind, and gusts of sour air". The interior, of course, isn't the point of this book, but it does act as a crucial backdrop. The narrative jumps between life at 124 Bluestone Road and Sethe's life on a plantation in Kentucky in what is a shocking, but deeply important story.
4. Rebecca by Daphne Du Maurier
Manderley, the eerie country estate in Daphne Du Maurier's Gothic novel, is a character in its own right. Laden with memories and emotions, this is an unnerving house, filled with heirlooms and relics from the days when Maxim de Winter lived there with his first wife, Rebecca. For his new wife, Manderley, is "secretive and silent...a jewel in the hollow of a hand". It's a place of mysterious rooms and "quiet and dark" corridors, which we explore through the new Mrs De Winter's narrative. "I opened a door at hazard, and found a room in total darkness, no chink of light coming through the closed shutters, while I could see dimly, in the centre of the room, the outline of furniture swathed in white dust-sheets."
5. Late in the Day by Tessa Hadley
Homes, friendships, family dynamics and the minutiae of daily life are at the heart of Tessa Hadley's novels. This one, published in 2019, explores the intertwined lives of two couples who have been friends since their days as students. Christine, an artist, and her teacher husband, Alex, live in a first-floor flat in north London, while Zachary, an art dealer, and his wife, Lydia, live in a coolly renovated all steel, glass and parquet house. Hadley's descriptions of domestic environments are rich, giving insight not only into the internal worlds of her characters but also providing hints at how the plot may develop. At the beginning of the novel, Christine heads up into her bedroom to take a phone call that will change everything, – the "sharp angles of the roof" and the thick smells of "traffic fumes" and "dusty carpets" act as a metaphor for what will soon ensue.