Meet the Wardleys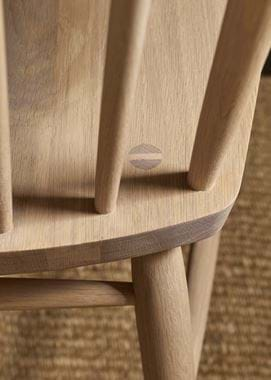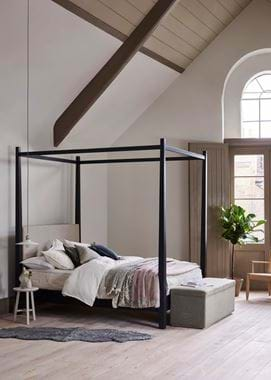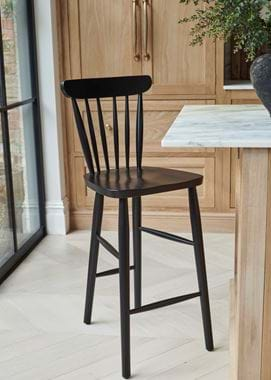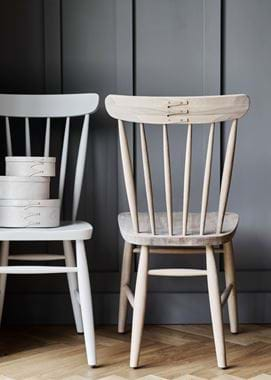 Meet the Wardleys
Comprising chairs and stools, a four-poster bed and a coat rack in three sizes, our Wardley collection is defined by its simple silhouettes in solid oak. Here, we take a look at the history and design details at the collection's core.
The Shaker movement marked a significant religious development in late eighteenth century North America. It also signalled the start of a new design era. Shakers lived and worked communally, and crafted furniture that was at once simple, functional and of truly lasting quality. We're guided by much the same design philosophy at Neptune – valuing the beauty of timeless furniture that's made with integrity, rigour and time-tested techniques – and so often look to the Shakers for inspiration.
Our Wardley collection references Shaker style both in its overall feel – honest, pared-back and timeless – but also in the joinery techniques we use to bring it to life. That's why we named it after the founding Shakers, Jane and James Wardley.
The collection began with a single chair. The Wardley dining chair is our take on a classic Windsor style, and Shaker principles guided every element of the design. It features a comb-shaped backrest and spindled ladder back above a sturdy dipped seat and traditional stretchers.
We wanted Wardley's silhouette to be even simpler than its antique predecessors, so gave the spindles and legs slender tapering profiles. And to ensure the chair is as comfortable as it is beautiful, we introduced a subtle curvature to the backrest and gave the seat generous proportions.
Historical precedent informs more than just our aesthetic. Antiques offer a masterclass in furniture-making craft, with the very survival of these pieces testifying to the strength and longevity of their joints. Our co-founder John and creative founder Emma are particularly fond of stackable Shaker boxes, formed by two bentwood pieces secured by a swallowtail joint. This functional yet handsome joint became the central design feature of our Wardley seating, used to secure the comb-shaped backrest.
We took the same approach to joining the legs into the seat. The fox tail joint relies on friction to keep the two joined pieces of wood together, with the help of two wedge-shaped sections of timber. This traditional joint – which you can see on the unpainted oak chairs - ensures strength where it's needed most.
This tried-and-tested joinery and the classic spindle-back design evolved fluidly into more seating designs. We've since introduced Wardley bar stools and the newest addition to the family – a carver chair. The carver chair sits well at the table with its kin, the dining chair, but it also makes for a beautiful occasional chair elsewhere in the home.  
As the collection grew, it felt natural to translate Wardley's character and design cues into different types of furniture. Take our four-poster bed, for example. It's stately and grand, yet the Shaker influence remains evident in the strong timber frame with its tapering posts. With this bed, as with the whole collection, no ornamentation is necessary – just good, honest design. So too will you find the same appreciation of simple solid oak in the Wardley coat rack, and the distinctive tapering silhouette in its pegs.
We want our designs to work in any space, in any style of home. That's why our Wardley furniture comes in a choice of finishes; beautiful solid oak protected with IsoGuard or tulipwood, hand-finished in eggshell emulsion. The painted versions are customisable with any of the shades in our curated paint collection, and can be repainted time and again in the years to come.
Explore the whole Wardley collection online.