Butternut squash, dark chocolate and lentil chilli with coconut yoghurt and coriander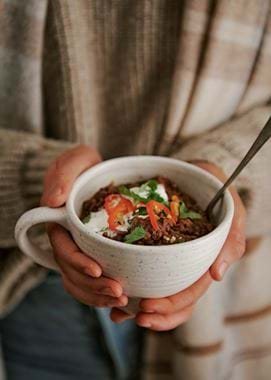 Butternut squash, dark chocolate and lentil chilli with coconut yoghurt and coriander
The way we eat in winter should be equal parts comforting and enlivening. We want dishes that warm us both literally and figuratively – nourishing to soul as well as belly – and that put a little spring in our step. Suppers like this plant-based chilli are perfect then: hearty and wholesome with a bit of a kick.
What you'll need
1 red onion
1 stick of celery
1 carrot
2 cloves of garlic
Olive oil
3 pre-cooked beetroot, grated
1 red chilli, finely chopped
150g brown lentils
50g red split lentils
500g butternut squash, peeled and cut into 1-inch cubes
800ml vegetable stock
40g dark chocolate
1 tbsp vegan Worcestershire sauce
1 tin of black beans
1 lime
A handful of coriander leaves, finely chopped
Salt and pepper (to taste)
For the spice mix:
1 heaped tsp smoked paprika
1 tsp arbol chilli flakes
1 tsp smoked chipotle flakes
1 tsp dried oregano
1 tsp ground cumin
To garnish:
1 red chilli
A few more coriander leaves
Coconut yoghurt
What to do
Finely dice the onion, celery, carrot and garlic cloves, and tip into a large casserole dish together with a good glug of olive oil. Sauté on a medium heat.
Once the onions have softened, add in all the ingredients in the spice mix and cook for a couple of minutes before adding in the grated beetroot and the finely chopped chilli (include the seeds if you'd like it extra hot).
Rinse both types of lentils and stir them in along with the squash, making sure they're coated in the spices.
Next comes the vegetable stock, dark chocolate and Worcestershire sauce. Those added, bring everything to the boil, turn the heat down low, then cover with a lid and cook on a gentle heat for half an hour, stirring occasionally to stop the chilli sticking.
Stir in the beans along with the liquid from the tin and then continue cooking for 45 minutes, taking the lid off for the final 15 minutes so the sauce can thicken up.
Finish off by mixing in the juice of the lime and a handful of freshly chopped coriander leaves, then check the seasoning. Serve with a dollop of coconut yoghurt and a scattering of coriander leaves and fresh chilli.
The recipe was created by the chefs at our cafe in Bath, The Provenist.