Orange and ginger madeleines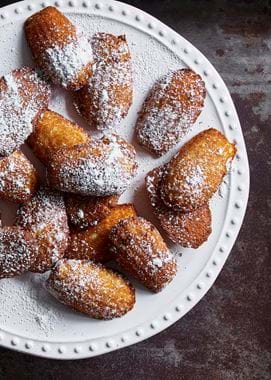 Orange and ginger madeleines
It's always good to have a little something on hand for when friends or family unexpectedly stop by – which seems to happen all the more in the bonhomie of the festive season. And even better when that little something in homemade. Light, fluffy and delicately flavoured with orange and ginger, these madeleines will hit just the right sweet spot alongside a cup of tea. Makes enough for 12.
What you'll need
A 12-hole madeleine tin
100g unsalted butter, melted and then cooled
2 medium eggs
100g golden caster sugar
80g self-raising flour, sifted (see the chef's note for a gluten-free alternative)
20g ground almonds
2 tsp ground ginger
2 balls of preserved stem ginger in syrup, finely chopped
1 orange, zested plus 1 tbsp of juice
A sprinkling of sea salt
What to do
Use a touch of the butter to lightly grease the madeleine tin. If you have some plain flour in the cupboard, sprinkle a small amount over the moulds too to make it as easy as possible to ease the madeleines out of the tin later.
In a mixing bowl, whisk the eggs and sugar together until they're pale, fluffy and a little frothy.
In a separate bowl, combine all of the remaining ingredients, then fold them into the egg and sugar mixture to create a smooth batter.
Leave the batter to sit for half an hour, and in this time, make sure your oven is preheated to 200°C (180°C fan) or gas mark six.
Spoon just less than a tablespoon of mixture into each madeleine hole. Bear in mind that they're going to rise, so you're not looking to fill them to the top.
Bake in the oven for eight–ten minutes until golden brown, and if you can, serve them warm.
Chef's note
The madeleines can be made gluten-free if you substitute the flour for ¾ gluten-free flour and ¼ coconut flour – although the texture will be crumblier and you won't get the shell-like definition quite so much.
This recipe was originally created for our sixth volume of Stories by the Somerset-based chef Sam Wylde, owner of Sam's Kitchen Events.