Our autumn collection in the making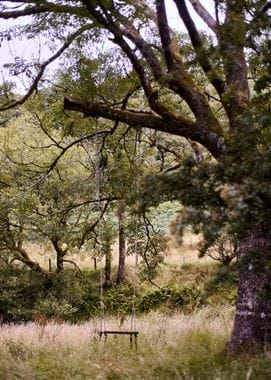 Our autumn collection in the making
The seeds of a new collection are often sown during foreign travels. Florentine rooftop vistas, snowy mountain ranges or the hazy blue flax fields of Belgium. But in the midst of a pandemic, the seeds of our autumn 2021 collection were sown rather closer to home. In fact, the story began with a simple afternoon walk in the countryside, as Neptune's creative director of product and services, Rebecca, explains: 'One morning, our co-founder John came into the office carrying a wooden tray with dried leaves scattered on it. He'd been for a walk with his wife, Emma, our creative founder, and they'd collected a variety of autumnal leaves that were turning colour.'
The tray (of which more later) sat in the design department and, as the leaves continued to dry, they became even more beautiful. 'There were dark berry shades, greens and russets,' recalls Rebecca. 'And that's how our new shade, Clove, a deep plum with undertones of velvet brown, was born.'
That country walk may have been the starting point for Clove, but it also marked a shift in thinking for the design team. 'During 2020, we were all at home more, looking around at the things that were important to us,' says Rebecca. 'A home is built over time, none of us buy a new dining table every year, and so we paused to consider what we were most proud of in the Neptune collection. And we looked at the materials we used to make sure they were the best they could be for our homes, responsibly sourced and supporting the environment. And we quickly saw where we wanted to develop the collection for autumn.'
The Wycombe furniture family, which had started with rush and oak dining seating and had grown to encompass an armchair, was an obvious choice. A bench with an elegantly spindled back, a comfortable bar stool and three dining tables, including a circular table with the option of a marble or oak top, have all been added to the collection. 'Everything about Wycombe sits comfortably with our vision,' explains Rebecca. 'There's a pure honesty in the materials we use and the simplicity of design. It sits comfortably between traditional and modern styles and is a collection that will be with you for a lifetime.'
The new fabric designs also owed a debt to that tray of dried leaves. Francesca is a print featuring hand-drawn oak leaves, developed in two scales – a delicate, smaller version and a large scale interpretation that feels dramatic and confident and would look wonderful on a headboard or sofa. While the new Harris Tweed fabric, Fig Check, weaves our seasonal colours into a classic check pattern for the first time, to complement the collection.
Elsewhere, lighting was a focus. The silhouette of the Dalston base nods to Chinese Ming dynasty vases but also references the classic 'double gourd' design which owes its influence to the bulbous curves of pumpkins and squash. While the Highgate floor lamp is a beautifully honest design in turned wood that will bring a glowing warmth to a dark corner.
The team were keen to work with local craftspeople and experts wherever possible and so they collaborated with florist Poppy Sturley to create Neptune's first DIY Christmas wreath (coming a little later in the year), and they turned to Peak District-based master printers and framers Musée Home to create a limited edition run of two Alpine paintings by artist Daisy Sims-Hilditch, using high-quality giclee printing techniques (also available later in the season).
And that wooden tray? The one John carried into the office had been a wedding present to him and Emma, much used in the intervening years. Rebecca admired the simplicity of its profile and the integrity of its joints. 'It wasn't trying to be anything else,' she noted, 'it was just about something being beautifully made which resonated with the rest of the collection.' And so, the solid oak, Terence butler's tray was created, with honed handles and useful foldable, detachable legs to turn it into a side table. A fitting end to a story that started with a simple walk in the country.