Spring onion, green pea & spinach fritters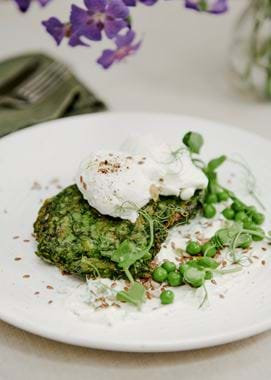 Spring onion, green pea & spinach fritters
This brunch favourite from the summer menu at our café, The Provenist, makes for a great alternative to the likes of avocado or eggs on toast when you're hunting for a savoury option. We'll usually serve it topped with a couple of poached eggs and with a watercress salad on the side. Makes enough for four fritters, two per person.
What you'll need 
40g spring onions

 

1 clove of garlic




40g spinach




A small handful of coriander




A small handful of flat leaf parsley




80g frozen peas




20g plain flour (we use gluten-free)




¼ 

tsp baking powder 




¼ 

tsp ground coriander




1 egg, lightly beaten




A pinch of salt and pepper
What to do 
In a food processor, blitz together the spinach, spring onions, garlic clove, and herbs. 
Add in the frozen peas and pulse – you still want quite a bit of texture. 
Tip the mixture out into a bowl and stir in the flour, baking powder, coriander and lightly beaten egg. 
Season well with salt and pepper then give everything a final stir. 
Heat a glug of olive oil in a large frying pan and turn your oven on to 180°. Once the oil in the pan is hot (you can test it with a small amount of the fritter mixture), dollop a generous tablespoon of the mixture into the pan for each fritter (this recipe will make about four fritters – two per person). If you have a crumpet ring then that's useful for helping the fritters keep their shape, but don't worry if not.  
Fry the fritters until golden on each side (you may want to do this in batches) and then place onto a tray and pop in the oven to finish off for eight minutes.