Ricotta and spinach 'malfatti' gnocchi with hazelnuts, rocket and truffle oil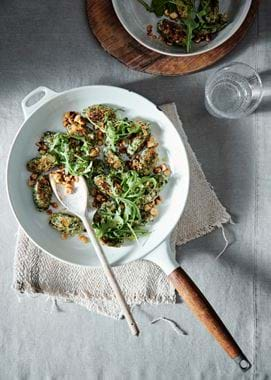 Ricotta and spinach 'malfatti' gnocchi with hazelnuts, rocket and truffle oil
Gnocchi is traditionally made with potato and semolina, but here the chefs at our café, The Provenist, share a recipe for making your own with ricotta and spinach in the style of Tuscan and Lombard 'malfatti'. The malfatti dumplings are first boiled and then fried to give them a light and fluffy texture inside and a crispy outside, before they're served with toasted hazelnuts, rocket and truffle oil. This is a dish that's as filling and comforting as dumpling dishes should be, but that's still elegant enough to serve to friends.
Makes enough for: four as a starter
What you'll need
350g ricotta drained
Olive oil
2 cloves of garlic
200g raw spinach
75g spelt flour (plus extra for dusting)
1 lemon
70g parmesan grated
1 egg
A pinch of salt and pepper
20g chopped hazelnuts
100g rocket
A drizzle of truffle oil (optional)
What to do
Place your ricotta in a sieve over a bowl in the fridge overnight. The next day, transfer it to a large mixing bowl, pouring away any liquid that's dripped off.
Heat a tablespoon of olive oil in a saucepan, then add the whole garlic cloves (minus their skins). Gently cook for about ten minutes to infuse the oil, then throw the garlic away.
Tip the washed spinach into the garlic oil and cook down until it has wilted, before transferring it into a sieve. Leave it to cool, then squeeze out as much of the water as you can. Finely chop the spinach and stir it into the ricotta, along with the spelt flour, lemon zest, parmesan and egg. Check the seasoning.
Line a baking tray with greaseproof paper and a dusting of spelt flour. Take small amounts of the ricotta mixture between two spoons or your hands and form it into ovals (also known as quenelles). Space out on the tray and cool in the fridge for at least an hour.
When you're ready to cook, bring a large saucepan of generously salted water to the boil. Carefully drop the dumplings into the pan in batches of eight–ten. In the meantime, heat a generous glug of olive oil in a frying pan over a medium heat. The dumplings is ready once they've floated up to the surface of the water (it'll take about two minutes). Use a slotted spoon to take them out and place to one side while you finish the other batches.
Once all the dumplings are ready, add them to the frying pan and cook until golden brown and crisp. Toss in the hazelnuts and continue frying for a couple more minutes.
Squeeze the lemon juice over and season. At the last minute, scatter over the rocket and a drizzle of truffle oil (if using). To serve, either divide the dumplings between bowls or take the pan to the table so everyone can help themselves.
If you're ever in Bath, be sure to stop by and see us at our café, The Provenist, for brunch, lunch or just a cup of coffee.