When walls tell stories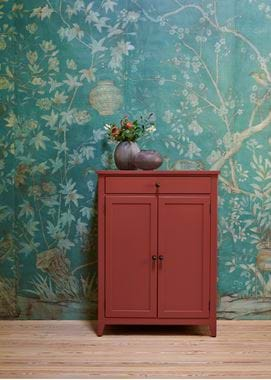 When walls tell stories
Not all wallpapers are made equal, as a dive into the history of hand-painted, silk wallpaper makers de Gournay reveals to interiors expert Suzanne Imre.
Some of the most successful businesses start organically. Almost by accident. And out of a passion rather than a strategically targeted gap in the market. Hand-painted wallpaper company de Gournay is one such business. Born in the 1980s, the spark came from founder Claud Cecil Gurney's fruitless search for original Chinese wallpaper for his London townhouse. Now spearheaded by Claud's daughter Hannah, de Gournay work with and mentor some of the most skilled artists and craftspeople in China, producing stunning, hand-painted wallpapers (mostly on silk) and porcelain following traditional 18th-century techniques.
Hannah grew up with the business. Literally. 'When I was in trouble, I'd be sent to sit on the stairs which were lined with a Chinoiserie paper showing scenes of rural life, so I had a storybook on the walls to entertain me,' she says, smiling. Today, her own home is a study in de Gournay papers, even down to the bathroom where elegant pink flamingos wander amongst a silvery scene of mountains and trees, and the kitchen where beetroot-red cabinets are set against San Soucis, a grey embroidered silk, sensibly protected by a glass splashback. The overall effect is rich, life-affirming and joyous. 'Our papers are vibrant and happy,' explains Hannah. And while dining rooms are often the beneficiaries of such exotic wall coverings, if she could only decorate one room, Hannah would plump for the bedroom. 'That feeling of waking up and the light coming through the curtains onto the walls – it feels other worldly,' she explains. 'And at the end of the day, the space feels like a cocoon to retreat to.'
The production process is long and painstaking – one heavily detailed panel can take 120 hours to paint. The silks are hand-dyed, stretched onto frames and brushed with a treatment to stop the paint bleeding on the fabric (which is later washed off) before the silks are mounted on paper ready to hang like typical wallpaper. The artists use a two-brush technique, true to original Chinoiserie methods: one brush to pick up pigment and the other to apply water with which they drag out the colour to achieve a beautiful gradation of shades. It means the panels don't come cheap – a one metre-wide, full-height paper starts at £500 – but as Hannah explains, the panels are art, not just decoration, and are designed to last. 'We expect our papers to be antiques of the future, outliving the owner and their children, and even their children's children.'
In the early days, de Gournay's papers were met with delight by owners of stately homes whose faded Chinese Rooms had suffered over the centuries with sun and water damage. At last they could redecorate with exact replicas in rich pigments that stayed true to the original commissions. And although the papers quickly became a byword in decoration beyond the realms of historic homes – designs are adapted to suit a variety of interiors, from beach houses to city apartments – it's in restoration that de Gournay still finds its most rewarding projects.
One such commission came from Houghton Hall in Norfolk. The house's chatelaine, Lady Rose Cholmondeley, was searching through the building's extensive attics when she chanced upon four rolls of centuries-old Chinese wallpaper. On unwrapping them, she discovered they were extra panels from the paper commissioned for the Cabinet Rooms in around 1792 (with those panels on the walls now faded to an almost monochrome range of blues and whites). The precious new discoveries were a riot of beautiful pinks and reds with gold accents against a cobalt blue background. So began a rewarding collaboration. De Gournay reproduced the Houghton paper in two colourways – one to match the faded grandeur of the Cabinet Room, the other to reflect the much more vivid hues of the rediscovered rolls. And the project was so successful, Lady Rose commissioned a third colourway – a pretty, creamy blush brown with accents of green and pink – for her private bathroom and dressing area. The collection was launched at Houghton Hall at a magical dinner lit by 700 candles so that guests could experience the house as it had been in the 18th century.
Clearly touched by the historical significance of such a project, Hannah sums up all that makes de Gournay special: 'Houghton was a fantastic accolade. We do lots of contemporary projects but it was wonderful to remember that our roots lie in our ability to produce hand-painted Chinese wallpaper, using 18th century techniques that are faithful to a time long past.'
For 17 years, Suzanne Imre was the influential editor of leading interiors magazine Livingetc; a renowned style pundit and trend leader. Today, she works as a brand consultant, content director and writer, based in London. @suzanne.imre