Beetroot & gruyère 'sausage' roll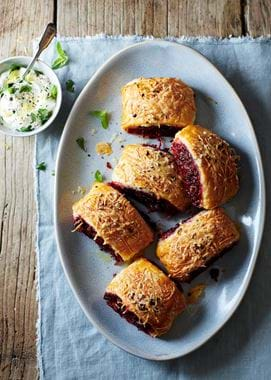 Beetroot & gruyère 'sausage' roll
Sometimes, the very best lunch food is the portable sort. Easily sliced up, wrapped up and popped in a bag, these dishes hold within them the excitement of adventure together with the assurance of a wholesome meal. Whether taken on a picnic or tucked into on top of a hill, it's always wise to have a few of these recipes up your sleeve come summer. And as the sausage roll is the classic portable lunch, we thought we'd reimagine it in a vegetarian-friendly (or plant-based, if you simply swap the gruyere for a vegan alternative and the egg wash for a plant milk) version.
Makes enough for: six slices
Put aside: 30 minutes for prep and 90 minutes for cooking
What you'll need
1 large red onion
3 cloves of garlic
550g beetroot
30g fresh basil
25g fresh flat-leaf parsley
120g grated gruyère
50g breadcrumbs
1 free-range egg
Pre-rolled puff pastry (enough for a 21x40cm rectangle)
What to do
Preheat the oven to 200°C (180°C fan) or gas mark six.
Place the beetroot in a roasting tin with a light drizzle of oil (anything from olive to rapeseed is fine) to stop it from sticking. Cover with foil and let them bake for 40 minutes until they're nice and tender. Once they've cooled, peel off the hardy skins and root-y ends.
Next, chop the red onion into small(ish) chunks and mince the garlic and sauté them in a saucepan or shallow frying pan in olive oil and salt. Once they've browned slightly, add them to a food processor with all of the other ingredients – save for the cheese. Pulse the mixture until it breaks down but still has a bit of texture to it – a smooth paste isn't what you're looking to achieve.
If there's room in the container, add the cheese (keep about 20g aside for later) and a good pinch of salt and pepper, stirring them through gently. If it's a bit tight, simply do this in another bowl.
Lay the ready-rolled puff pastry onto a chopping board, cutting it down to size if needed. Spread the mixture down the longest side of the pastry, leaving about two inches from the edge, shaping it so that it's roughly 2 ½ inches wide x 2 inches high. Use your hands to make sure it's tightly packed together.
In a little bowl, whisk the egg and use a pastry brush to lightly brush the egg wash onto the two-inch pastry gap, which will help the pastry to stick at the other end.
Now comes the rolling. Take hold of the two-inch line and drape it over the beetroot mix, and then carefully roll the whole thing over, supporting the length and keeping the pastry firmly hugging the contents. As you get close to the other end, do another two-inch strip of egg wash to help the final bit of pastry stick together. Once rolled, make sure the seam is touching your board, rather than facing up at you, and cut into six (or so) even slices.
Position each slice onto a lined baking tray and add a bit more egg wash to the top of each piece. Sprinkle the extra cheese over the top and let them cook for 40 minutes until golden brown and tempting.
This recipe was created by our chefs at our cafe, The Provenist. If you're ever in the city of Bath, be sure to pop by – you'll find us next door to Neptune Bath just off artisan Walcot street.