Oh Easter tree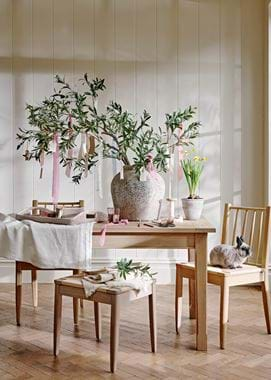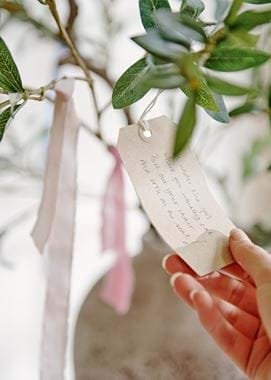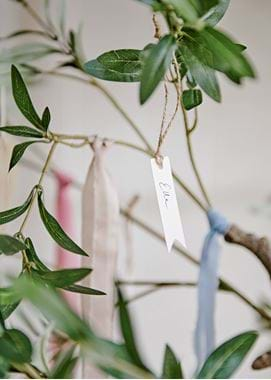 Oh Easter tree
Much like its December counterpart, the Christmas tree, it seems it's the Germans we have to thank for the tradition of bringing branches into the home and decorating them with painted eggs each Easter. It might not quite share the fame and status of the Christmas tree, and its origins are somewhat shrouded in mystery, but we think the Easter tree is a particularly charming idea nonetheless.
This year, our own take is a slightly different one. Instead of hanging the branches with eggs, we've chosen to tie floaty, raw-edged silk ribbons from them in spring-fresh colours along with paper tags. On these we've written the name of each family member as well as a clue that'll lead them to their hidden Easter egg – incorporating the tradition of the egg hunt too (although, without the tags, the tree would also make a lovely, purely decorative piece). It's a simple but effective idea; keep reading for the how-to and our tips.
How to make our Easter tree
You'll need:
Branches
A large, sturdy vase or pot
Ribbons
Tags
Scissors & pen
Bunny rabbit (optional)
What to do:
Start by arranging your stems in your vase or pot. We've used olive branches but you could also try willow (try to find it with catkins on) or blossoming branches such as cherry or magnolia (don't worry if they're still in bud as they'll open in the warmth of your home). Life-like branches such as our apple blossom will work well too. Just be sure to add water to your vase if you're using the real thing
Cut lengths of your ribbon and tie them onto the branches. We think that relatively long lengths of ribbon looks loveliest, so they can trail romantically.
On your tags, write each person's name on one side and then the clue to finding their Easter egg on the other. For instance, 'I'm under the spot where you usually eat, pull out your chair and look on the seat!'
Finally, tie each tag to the tree and let the egg hunt fun begin!
For more Easter decorating ideas, including our video tutorial on how to naturally dye eggs, follow us on Instagram.