Making a statement with Clemmie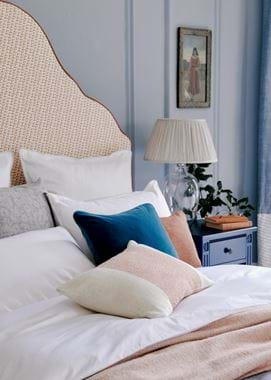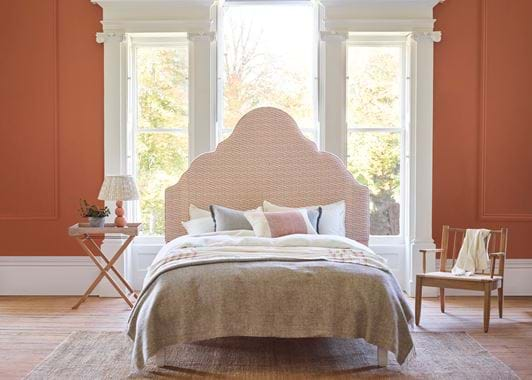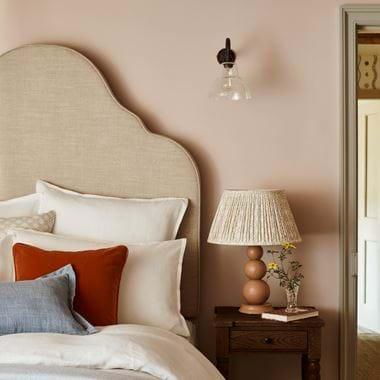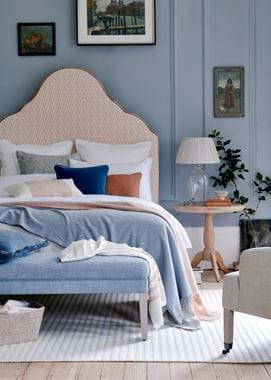 Making a statement with Clemmie
We do love a statement headboard. Much like a fireplace in a living room, it'll anchor your bedroom and create a focal point to draw your eye in to the comfiest, most inviting part of the space. As far as statement headboards go in our collection, you could opt for shapely Eva picked out in velvet, tall George in a bold plain linen, or winged Charlie in cosy wool. Or, if you really want to create an eye-catching centrepiece, you could plump for our newest upholstered headboard: the Clemmie. Here, we look at how it can bring a little baroque opulence into a pared-back contemporary home, and some of the fun you can have with its styling.
A baroque sense of style
Clemmie's curvaceous silhouette owes its inspiration to the baroque movement of the 17th and 18th centuries. This style – which encompassed architecture, art and design, even music – was the biggest trend in Europe from the early 1600s until around about the 1740s, and was characterised by extravagance. Baroque was not about being understated; it was about making an impression, creating a sense of drama. Curves and movement were a key part of that, and motifs like scrolls, ogees (double continuous S curves) and stylised acanthus leaves, tulips and shells were heavily featured in architecture and design.
Some of the first upholstered headboards date from this period. They were usually only found in 'state' bedrooms – rooms which were created by wealthy individuals in their homes as a statement of wealth, and which were purely for show. These headboards were also usually accompanied by curtain-swathed four poster frames with tester canopies, all in rich, matching fabrics.
By the reign of Queen Anne (a short five years at the beginning of the 1700s), a simpler style was developing that was less about intricate carving and surface decoration and more about the form and silhouette of a piece. An approach we adopted with Clemmie, taking all that baroque grandeur and distilling it into something distinctly more contemporary.
Considered details for a modern home
As much as Clemmie has one foot in the past, it's also perfectly suited to homes today, and we've adapted it to the way with live now in more ways than one. All those curves work really well at the larger super-king and king sizes, for instance, but start to feel fussy once you get down to doubles and singles. So we took the silhouette of the super-king and gradually simplified it with each size down. It gets progressively shorter too, although still never losing its sense of stateliness.
Flexibility is king nowadays too, so you also have a couple of options on how to fit it: for wall-mounting, there's a strong timber French cleat on the back (you simply fix one half to the wall and it then slots into the other half which is attached to the back of the headboard); or if you'd prefer to attach it to the bed, there are sturdy oak struts included which will work with most bed bases and divans, and are height-adjustable.
Styling with Clemmie
We already touched on focal points earlier, but they're worth coming back to. A focal point in a room can be part of the architecture, it can be a piece of furniture, it could even be the view from a window – whatever it is, it's the thing your eye is first drawn to. Without one, it can be hard to feel at ease in a room. Things can get bitty and busy. Where a statement piece of furniture like Clemmie really comes into its own is when your room doesn't already have a focal point as part of its architecture, or where it has a less than desirable focus that you'd like to draw attention away from. This principle applies just as well in small rooms as it does large ones: you might not think to use a big headboard such as Clemmie in a tiny bedroom, but it'll detract from the petite proportions and stop the space feeling meagre with its generosity (especially important when you don't want a small guest bedroom to feel like an afterthought).
As for fabrics, the world really is your oyster with Clemmie. It might have a more intricate silhouette, but the flat front face means it can take any textile, including patterns. We think it's a great opportunity to experiment. You'll spot that in both our photoshoots from our spring 2021 collection we've used it to show off one of our new small-scale patterns (Lara Burnt Sienna), although it would work equally as well with a larger print such as Emma. And then there's the contrast piping, which we've included with some of our prints, and which defines the silhouette while also adding a touch more creativity. That said, you could also make Clemmie all about a statement of shape rather than colour and pattern. Just imagine it upholstered in a plain linen with the wall behind in a tonal colour. Harry Cloud and Mist, for instance. The effect would be subtler, but no less splendid.
See Clemmie in more detail for yourself here.