Winter pearl barley, wild mushroom and truffle arancini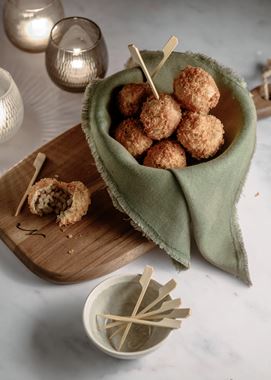 Winter pearl barley, wild mushroom and truffle arancini
With their hearty, risotto-like filling, crispy breadcrumb casing and couple of bites size, arancini are the perfect wintertime canape or starter. Ours are made with a trio of mushrooms and pearl barley (a good source of both fibre and protein) rather than rice, and you can easily adapt this recipe to be suitable for plant-based diets. This makes about 30 arancini, enough to feed quite a crowd, but at step seven when you freeze your arancini, you can absolutely leave some of them in the freezer to use another day (up to a month). Simply then take them out when you're ready to cook and carry on with step eight – no need to defrost.
What you'll need
1 shallot
2 garlic cloves
200g pearl barley, soaked for at least 20 minutes
125ml white wine (optional)
700ml vegetable stock
A small handful of dried mushrooms, soaked in boiling water for 10 minutes
100g chestnut mushrooms, finely diced
100g mixed wild mushrooms, finely diced
200ml oat milk
A bunch of chives, chopped
1 tsp truffle oil
Salt and pepper, to taste
100g panko breadcrumbs
1 egg, beaten (or 30ml plant-based milk)
A dusting of spelt or regular plain flour
250ml vegetable oil
What to do
1. Finely dice the shallot and garlic cloves and sauté in a large saucepan with a glug of olive oil.
2. Drain the pearl barley and give it a really good rinse before adding to the saucepan.
3. Stir through the white wine and allow to cook off before adding in all the stock. Simmer for about 30 minutes on a gentle heat, stirring occasionally.
4. Drain the dried mushrooms – pouring the flavoured water into the saucepan – and finely dice them before adding to the barley as well.
5. Tip in both the chestnut and wild mushrooms and cook for another five minutes. At this point, when your pan is beginning to look a little dry, add in the oat milk and continue stirring.
6. After a total of about 40–45 minutes, the barley should be soft and tender. Check the seasoning before stirring through the chives and about a teaspoon of truffle oil.
7. Allow the mixture to cool down completely before rolling into small balls and placing on a tray in the freezer for at least two hours.
8. Once the arancini are frozen, you can start breadcrumbing them. Take three separate plates, place your panko breadcrumbs in one, your beaten egg (or plant-based milk) in another and dust the final one with flour.
9. Heat the vegetable oil in a saucepan. You'll know it's hot enough when a breadcrumb dropped into the pan starts sizzling straight away.
10. Take your arancini from the freezer and first roll them in the flour, then egg, then lastly the breadcrumbs before placing in the hot oil in batches (taking care to slowly place them in so they don't splash you with hot oil).
11. Turn the arancini over whilst they are cooking to make sure they do so evenly on all sides.
12. As they're ready (you'll know because they'll have turned golden brown all over), remove the arancini from the pan and place on some kitchen towel to drain the excess oil, before serving immediately while still warm.