Skye McAlpine's Pistachio Panettone cake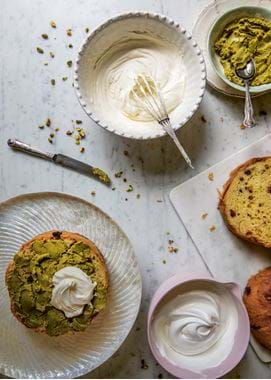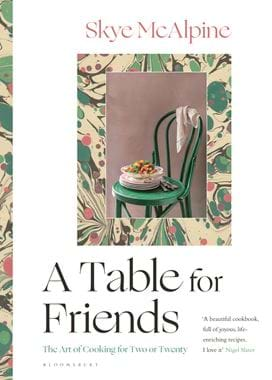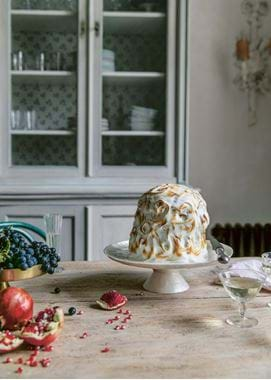 Skye McAlpine's Pistachio Panettone cake
Food writer Skye McAlpine shares a recipe for Christmas Eve from her latest book, 'A Table for Friends: The Art of Cooking for Two or Twenty'.
The idea to use pistachio butter here, between each layer of sweet panettone and whipped cream, comes from Lisa Markwell, my editor at The Sunday Times and a brilliant cook. It is inspired. Otherwise, the recipe – for all its wonderfully extravagant appearance – is simply a matter of assembly: shop-bought panettone, soft whipped cream and a cloud of caramelised Italian meringue. 
These days, panettone comes in many incarnations. If you can get your hands on a chocolate-studded cake, it works particularly well, but I also love the more traditional sweet raisins and candied peel with the pistachio cream here. And you will need a blowtorch, if you don't already have one (this is my favourite piece of kitchen kit). It's not expensive, it's easy to store and is transformative for burnished, marshmallowy meringue, as here.
What you'll need
30 minutes
8 - 10 servings
For the pistachio butter
120g unsalted roasted pistachios
60g white chocolate, coarsely chopped
1 tbsp caster sugar1 tsp vanilla extract
For the cake
450ml chilled double cream
2 tbsp icing sugar
750g panettone
6 egg whites
300g caster sugar
2 tsp vanilla extract
What to do
First make the pistachio butter: combine all the ingredients in a food processor and blitz until smooth and creamy. This will take 10 minutes or thereabouts, so be patient and bear with it.
In a mixing bowl, whip the cream until it begins to stiffen, sift in the icing sugar and whip again until stiff peaks form, taking care not to over-whip. You want the cream soft and pillowy, rather than clumpy.
Discard the paper wrapping around the panettone, then cut it horizontally into 3 layers. Arrange the bottom tier on a serving dish or cake stand, spread with half the pistachio butter, spoon over half the whipped cream and top with the second tier of panettone. Repeat this process a second time with the last of the pistachio butter and cream, then crown it with the top of the panettone.
In a large, spotlessly clean mixing bowl, whisk the egg whites with an electric mixer until they begin to froth. Add the caster sugar 1 tbsp at a time, still whisking, until you have a white, glossy meringue with stiff peaks. Whisk in the vanilla extract.
Spoon the meringue over the tower of pistachio-and-cream-laden panettone, using the back of a spoon or a butter knife to spread it out evenly, covering the entire cake. Create swirls and peaks with the spoon, then use a blowtorch to gently brown the surface, so it caramelises.
——
Store in the fridge: the cake can be made up to 1 day in advance.
——
The panettone makes this an innately Christmas-y cake. Seduced by its ease, it's a recipe I turn to often in the build-up to the holidays... and in the immediate aftermath, to make good use of uneaten (and slightly stale) panettone. 
Extract taken from A Table for Friends: The Art of Cooking for Two or Twenty by Skye McAlpine (£26, Bloomsbury)
Photography © Skye McAlpine
You can purchase a copy of Skye's book from Bloomsbury here.