Ginger & pecan fruit cake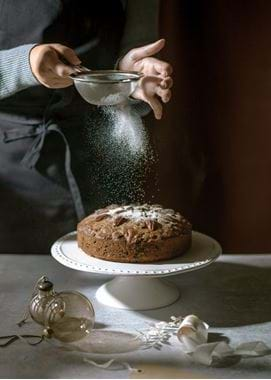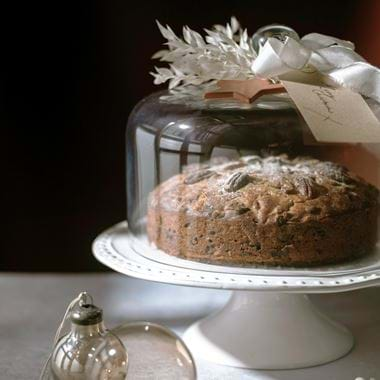 Ginger & pecan fruit cake
An alternative (but still festive) Christmas cake idea, for those who'd like something a little lighter, for those who'd prefer a bit less in the way of sugar, and for those who need to eat gluten-free (although we're confident everyone else will love it too). This is also a wonderfully simple recipe – one you can whip up in half an hour before the big day. It'll keep well in a tin.
What you'll need
4 eggs, beaten
250g gluten-free plain flour (we use Dove's Farm)
1 tsp baking powder
2 tsp ground ginger
1 tsp cinnamon
1 tsp ground allspice
250ml olive oil
175g dates, chopped
100g stem ginger, plus 50g syrup
175g raisins
175g pecans, roughly chopped
50ml brandy
A pinch of salt
What to do
Add the dates, raisins, brandy and olive oil to a saucepan and cook on a gentle heat for five minutes. Take off the hob and allow to cool slightly.
In a large mixing bowl, combine the flour, baking powder, pecans, salt and spices.
Mix the fruit and oil from the pan into the dry ingredients and whisk in the beaten eggs.
Pour into a greased spring form tin.
Bake in the oven for 50 minutes at 140°C.