Christmas brunch: poached eggs with cashew hollandaise, spinach and sourdough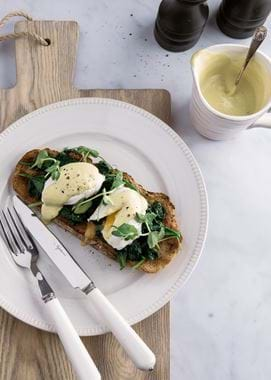 Christmas brunch: poached eggs with cashew hollandaise, spinach and sourdough
The third in a trio of breakfast recipes created by the team at our café, The Provenist, to turn your Christmas morning brunch into something extra special – our take on eggs Florentine, served with a turmeric and cashew hollandaise. Makes enough for four.
What you'll need
150g cashews, soaked in hot water for 20 minutes
¼ tsp turmeric
130ml oat milk
Salt and pepper
A handful of chives, finely chopped
2 tbsp white wine vinegar
8 free range eggs
A drizzle of olive oil
150g spinach
4 slices of your choice of bread (we've used sourdough, but rye would also be lovely)
What to do
Start with the cashew hollandaise. Drain the soaked cashews and place in a high-speed blender with the turmeric, oat milk, a good pinch of salt and pepper and a small handful of finely chopped chives (leaving a little for serving at the end). Blend on high until you have a very smooth and thick but pourable sauce. This may take a few blends to achieve the right consistency. If your blender struggles, add in a little more oat milk, but be careful not to make it too thin. Check the seasoning and place to one side.
Heat a large saucepan of water to a rolling boil. Add in the white wine vinegar and carefully crack each egg in, poaching for three minutes. You may need to do this in batches depending on the size of your saucepan. If that's the case, when the second batch is nearly done, drop the first batch of cooked eggs back in very briefly just to reheat.
While the eggs are cooking, heat a frying pan with a little olive oil, add in the spinach and sauté until just wilted before removing from the heat.
Toast your bread.
To assemble, place a slice of bread on each plate (butter if you like), top with the spinach and two eggs per person, then drizzle over a generous spoonful of cashew hollandaise. Finish with cracked black pepper, sea salt and a sprinkling of chives.