You'll find me in the orchard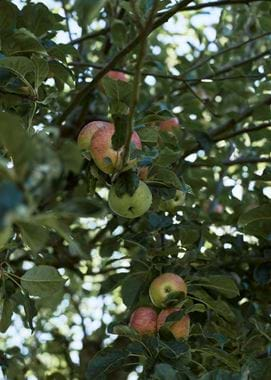 You'll find me in the orchard
An apple orchard can be a place of wonder; the gnarly old trees transforming with fragrant blossom in spring, providing a lush, green canopy to adventure beneath, which turns into a bountiful harvest of juicy fruit in late summer into autumn. Then, in winter, the sparse brackets and thickets stripped bare of foliage and fruit create a somewhat eerie wilderness, and along with the misty, crisp winter mornings, a moody and slightly frightening place to be.
At least that was my impression of these magical places growing up in Somerset, the home of one of the fruit's most famous by-products, cider. Some of my fondest childhood memories are of exploring these verdant apple orchards with my sisters; climbing trees and rummaging through the thickets to find creatures like frogs, toads and newts sheltering under old pieces of wood and in ponds and ditches, my imagination elevating this already mystical place into one of magical wonder and adventure. All the while, dad tended to and pruned the apple trees.
Our shared history with apples goes way back, the fruit has been cultivated for centuries – there's evidence, for example, in the Jordan Valley, of apples dating back to 6,500 BC – while other types are relatively young. New varieties are being discovered and bred every year as global demand continues to grow.
An apple orchard provides a plethora of benefits, not only to those who seek to turn its fruit into jams, chutneys, cakes, crumbles and, of course, cider and apple juice, but they also provide a home to a huge variety of nature and help propagate a bustling and rich biodiversity.
While you'll find many large commercial apple orchards throughout the country, orchards were traditionally very small affairs, with farmers and small-holders planting a humble number of trees to help feed himself, his family, livestock, and labourers, as well as encourage bees and the like onto his pasture to help pollinate his crops. Apple trees would be present in many gardens up and down the country and, come harvest time, people would swap varieties depending on what they were hoping to cook with them, or pop bags fit-to-bursting outside the front door for passersby to take away with them.
Somerset-born James Rich is a cook, food writer and author. His debut cookbook, ''Apple: Recipes from the Orchard' was published in 2019 by Hardie Grant Books. This piece is an extract from James' article in volume twelve of our lifestyle anthology, Stories. You can read his advice on how to grow your own apple trees in our online Stories archive, here.