How to grow baby leaf spinach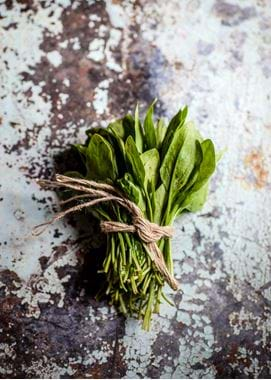 How to grow baby leaf spinach
There's much lore regarding spinach. The legendary pipe-smoking sailor, Popeye, got his strength from eating cans of this iron-rich green leaf, while it's said that Catherine de Medici, the Italian wife of Henry II of France, had a love for spinach so great that, in 1533, she decreed that it be served with every meal. It seems that Catherine de Medici and Popeye may have been on to something, as writer and food stylist Louise Gorrod goes on to divulge, along with tips on how to cultivate your own little crop.
Believed to be of Persian origin, spinach belongs to the goosefoot family of nutritional powerhouses which also includes beets, chard and quinoa – all favourites on the seasonal menu at The Provenist. It's perhaps because of its reputation as a superfood that spinach has been experiencing a sort of renaissance at the kitchen table, in particular the chef's favourite – the baby leaf variety.
Baby leaf spinach is a term used to describe regular spinach that has been harvested during a fairly early stage of its growth. There are a couple of windows in the gardeners' calendar in which you can sow baby spinach leaf; mid spring to early summer for summer leaves, and then now, in autumn, for a supply of leaves to see you through the winter months.
Spinach can be a bit of a prima donna if the conditions aren't quite right. Seeds can struggle to germinate in hot weather, so by waiting until autumn you'll be setting yourself up for success. Here's our quick guide to get you on your way:
Spinach can be grown directly in your veg plot, or interwoven between other plants in a flowerbed. Given its compact size, baby leaf spinach can also be grown in containers; try a generously-sized terracotta pot or zinc trough.
Regardless of where you choose to grow your spinach, enriching your soil will help to nurture a plentiful crop. Spinach needs lots of moisture and nutrients, so apply a general fertiliser and some well-rotted manure or compost to the soil before sowing. Next, rake the soil surface so that it's level and fine.
Sow the seed directly in drills (shallow V-shaped valleys using a hoe or cane) about 1cm deep in rows 30cm apart, then cover with soil and gently press down over the seeds.
Water the soil until it's evenly moist. If you want a continuous supply of fresh leaves, make successive sowings of small amounts of seed every few weeks.
You can expect to start harvesting the first baby leaves in 15–35 days after sowing, just remember to keep the plants well-watered and weed free.
Three varieties to try
'Perpetual Spinach' – spinach beet with narrow stems and dark green leaves.
'F1 Amazon' – a fast-growing true-type spinach with smooth, round leaves.
'Bordeaux' – an attractive dark green leaf with contrasting red leaf veins and stems.