The right note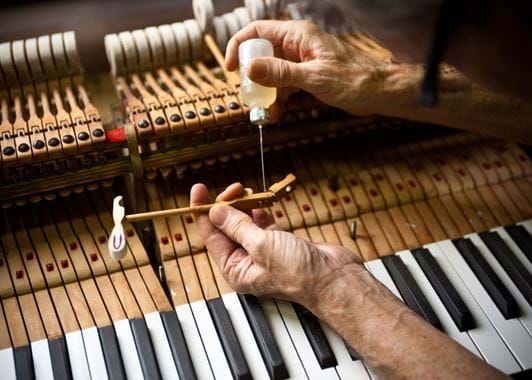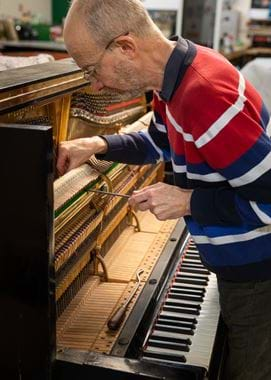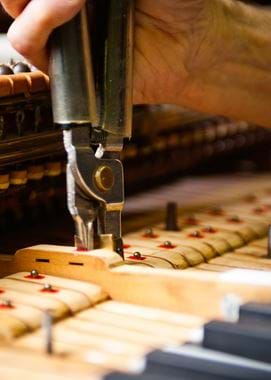 The right note
Hidden in a London basement is that most specialist of workshops – the restoration centre for broken Steinway pianos. Deputy editor of House & Garden, David Nicholls, takes a tour.
Something from Stories
In these unusual times, we knew that not everyone would be able to get hold of the spring edition of our lifestyle anthology, Stories. So, rather than printing it, we're publishing all the articles here on our journal instead, including this one. That way you can still read it, wherever you are in the world.
People can form deep attachments to their pianos. Earlier this year, a well known classical pianist announced on Facebook that hers had suffered catastrophic damage while being moved. It was unsalvageable. "I adored this piano," she wrote. "It was my best friend, my best companion. I hope it will be happy in piano heaven."
For those pianos that are not yet ready (or destined) for piano heaven however, there is the option of checking into the 'piano hospital'. If the piano is a Steinway, that is. Hidden away beneath the company's elegant showroom on Marylebone Lane in central London is the Steinway Restoration Centre. This is where countless classical pianists turn to when their uprights or grands suffer from ailments that are beyond the odd bum note. Led by David Widdicombe, a team of skilled technicians might be considered first responders of the music world.
"They're designed to last a lifetime, so when we have a piano that's over 100 years old it makes sense that some of the components will need replacing or repairing," David says. It's a little like having a knee replacement. In fact, one of the old pianos that is in the process of being restored on my visit has had one of its four legs replaced. Such is the skill of the woodwork and finish that it's impossible to tell which.
It takes five or six years for an apprentice to learn all the skills they'll need to repair and restore a Steinway "from the ground up," David explains. Rob, who previously trained as a classical pianist, has recently completed his apprenticeship and has four or five pianos on the go. It's exacting work, requiring huge amounts of detail – and a good ear. Does he miss performing? Not a bit. "It was way too stressful," he says.
The abilities of the technicians lay somewhere between that of fine furniture restorers and supercar mechanics. These pianos are incredibly complex instruments with countless components that can fail with age or misuse. Hitch pins, tuning pins and pin blocks; keys, dampers and soundboards. "It's so important that we continue the tradition of fixing these individual parts," David says. "There's always a danger that you could lose these skills." Indeed, the Heritage Craft Association has put piano making on its red list of Britain's endangered crafts.
A single technician will see a restoration through from start to finish over the course of days, weeks or months. Sometimes they see the same piano come back into the workshop years later: it's like meeting an old friend for a catch-up. Patrick is the longest serving technician at the Steinway Restoration Centre, and in his 47 years he has worked on pianos that have been played on by monarchs as well as pop royalty. An example of the latter is a 1905 Model K, known as Mrs Mills' Upright. It lives in the Abbey Road recording studios in London and you can hear its wonderfully wonky notes on the Beatles' 'Penny Lane' and 'Lady Madonna'. "That was one of the challenges of working on that piano," David says. "It has a distinct sound and it was crucial to make sure that we didn't change that." It was a case of conservation rather than restoration.
Needing rather more work was the piano that arrived in the workshop having been attacked by a woman scorned. "She took a hammer to it," recalls Mick, a polisher who has worked in the 'buffing room' for 20 years. "It was a mess. She even had a go at the strings with the claw part of the hammer." But even this poor instrument was resurrected by the Steinway technicians and was returned to the (presumably now single) gentleman.
Although the world of Steinway is admittedly a rarified one, the idea of mending and keeping our cherished belongings is one that seems particularly pertinent at the moment. The world is changing. Many of us have already long been uncomfortable with the disposable consumer culture that we find ourselves unavoidably participating in. But perhaps we will begin to see less of that. If so, places like this, with specialists that have the ability to breathe new life into beautiful objects that were created to last for several generations, will become increasingly important to us.