A potted history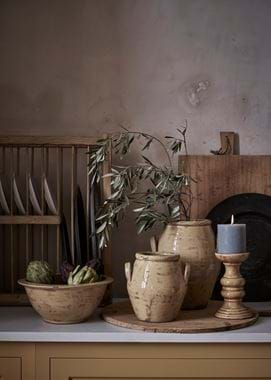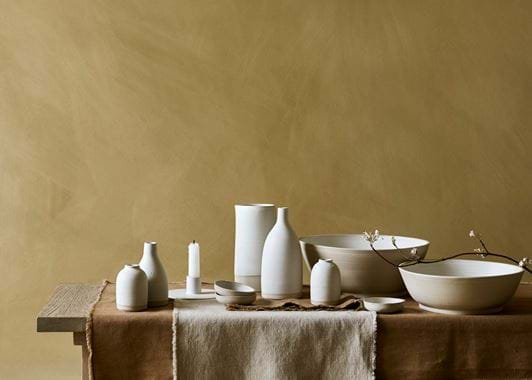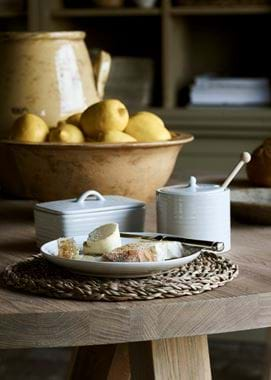 A potted history
The dinner parties held by Catherine the Great must have been a sight to behold. In 1778, the Empress of Russia ordered a tableware service from the renowned Sèvres factory. Consisting of 800 pieces, it was one of the most expensive ever made, known as the "Bleu Celeste" thanks to its vivid turquoise glaze. It was made of porcelain, prized at the time for its delicacy. This material would be the well-to-do hostess's ideal for at least another century, as refined etiquette and multiple dinner courses demanded lavish amounts of fine china.
Something from Stories
In these unusual times, we knew that not everyone would be able to get hold of the spring edition of our lifestyle anthology, Stories. So, rather than printing it, we're publishing all the articles here on our journal instead, including this one. That way you can still read it, wherever you are in the world.
Fashions change, of course. In modern times, when life has sped up and formal dining rooms have all but disappeared from the home, porcelain and its equally dainty relative, bone china, have found less of a place on our tables. Neptune's new collection reflects a move back towards a more relaxed, rustic style in natural earth tones and textures. The mood's summed up by the terracotta earthenware Bayswater vases, which you can see being made in our online Journal, and potter Rebecca Williams' softly rippled Bayham stoneware. "Bayswater is reminiscent of something you might see in an old farmhouse kitchen," says Amy Conn, who works on our design team. "The glaze, which is done by hand, is a softer version of our Saffron shade and has distressing that gives it character. With Bayham, the potter mixes the glaze herself to a secret recipe – the shapes are simple and robust, and will stand the test of time."
In fact, this trend has been growing since the 1960s, when art potter Bernard Leach championed speckled stoneware inspired by traditional Japanese ceramics. His handmade pieces were beyond many people's pockets, but makers like Troika and Hornsea Pottery stepped into the breach, creating solid, farmhouse-style crockery that bridged the gap between fashion and functionality. It was no accident that stoneware – one of the most rugged and resilient types of ceramic – surged in popularity at this time. It perfectly suited the laid-back mood of the Sixties and Seventies, when fondue parties and buffet spreads seemed unsuited to formal serve-ware.
It's easy to assume that our choice of ceramics is governed simply by appearance, but we're often unaware of how much raw materials affect looks and function. Each type of ceramic has very different properties. Paradoxically, bone china and porcelain are the strongest, although as pure white clay can be made into wafer-thin vessels, they're still the easiest to break. Earthenware is the weakest – it's quite porous, but it's fashioned into thick-walled shapes, which stand up well to daily use. Stoneware is the most versatile of all. Made of iron-rich, speckled brown clay, it's fired at a high temperature and resists thermal shock, so you can often use it even in the oven.
As you might expect, earthenware was the earliest form of ceramic - it's easy to stretch and mould by hand, so you don't need any machinery. The invention of the wheel, around 3,500 BC, signalled the arrival of pottery as we know it, allowing us to make symmetrical, hand-thrown vessels.
Stoneware first appeared in China around 2,000 years ago, when high-temperature kilns were invented. From there it migrated to Japan and Europe, where, along with earthenware, it remained the customary form of ceramic until the 18th century. It took this long for Europeans to figure out the oriental secret of making porcelain. Factories like Meissen and Wedgwood led the way, with Josiah Wedgwood adding bone ash to porcelain to make an extremely hard, yet fragile, china. Unlike rougher brown clay, which loves a thick salt glaze, its smooth whiteness suited lacy, hand-painted patterns. The distinction between "posh" china and its humbler, country relative had been made.
Our love affair with ceramics goes far beyond the table. Since the 1850s, they've made a huge contribution to fields like electricity and transport – think of the industrial porcelain insulators you see on London Underground tracks. In the digital age, ceramic elements power robotic devices. It's funny that this should be happening alongside a revival of craft pottery, with its wobbliness and traces of the human hand. But perhaps that's no coincidence at all.