Ten kitchen FAQs answered by our designers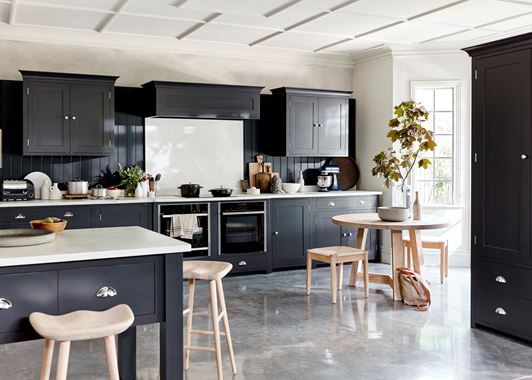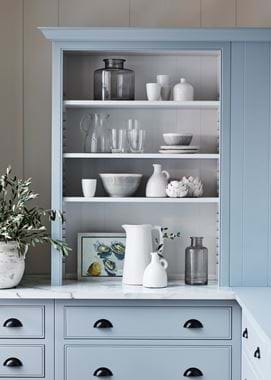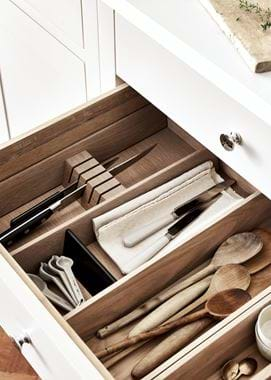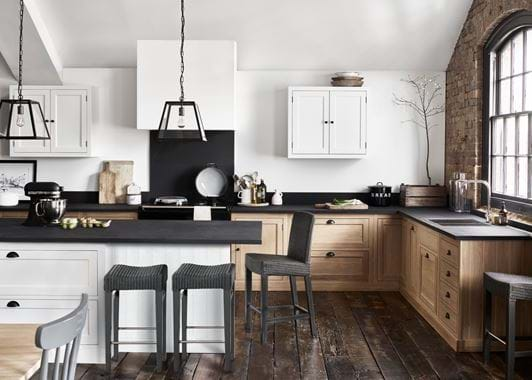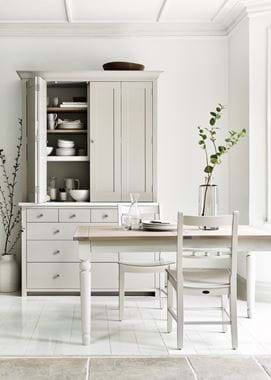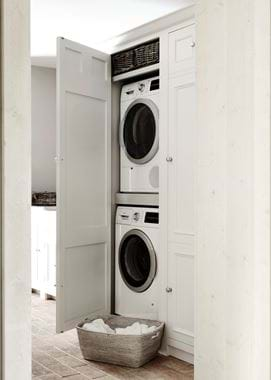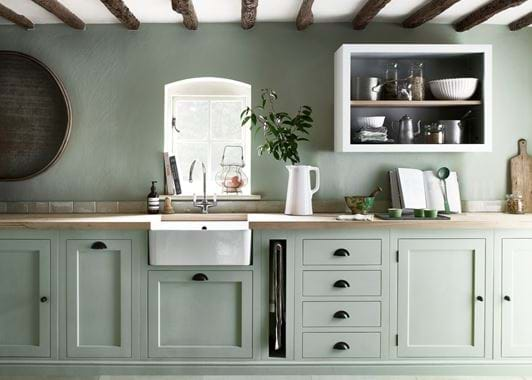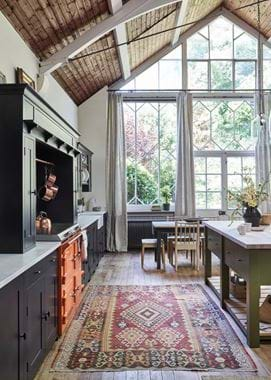 Ten kitchen FAQs answered by our designers
Designing a new kitchen is fuelled by questions. There's a huge amount to ask yourself and your designer the whole way through the process to make sure it's everything you want it to be (and more). Whether you're about to start a new kitchen project, are teetering on the edge of doing one, or are looking for advice on rethinking the one you already have, it can be helpful to know the answers to some of the questions you might have going around in your mind. So, we spoke to the designers from three of our stores – Charlotte and Hannah from Edgbaston, Karon from Weybridge and Becky from Bristol – to share a snippet of their advice on some of their most-asked questions.
I'm not so keen on wall cabinets, but am worried about not having enough storage. What can I do to avoid having them without missing out?
Drawers are your first point of call. When I'm designing, drawers are always at the front of my mind because they're far easier to use and can fit a great deal inside. We're so used to seeing glassware or crockery in wall cabinets, but it really doesn't have to be that way. Inside a drawer is a worthy option. 
The other storage element that I'll usually suggest if there's space is a larder and/or a freestanding dresser. They look beautiful and they give you mountains of storage space. A countertop cabinet is another thing to consider. Yes, they cover some of your wall space, but because they sit on the worksurface rather than suspended on the wall, they look much less boxy. 
Floating shelves are a great way to make a feature out of your storage as well. 
In brief, there's nothing to be worried about. We can work storage into a room in a whole host of ways.
I don't want a freestanding cooker hood, but I don't have space for one of your cooker surrounds, have you got any other suggestions?
Your builder should be able to box in a canopy hood and then paint it in the same colour as your walls to help it blend in. You can design it to be as small or as large as you like, but we can help you with deciding on that so you can be sure it'll suit the style of your kitchen and the room's architecture. For example, if you've chosen Chichester, we might suggest adding a cornice to the bottom edge to tie it back into the rest of the kitchen. Leaving it blank results in a much more contemporary look. It's something we often do in-store in our Henley kitchen if you want to see an example in practise. 
I want to keep my current freestanding washing machine and tumble dryer, but I want them hidden away. How can I do that without having to get integrated models instead?
You've got two options there. The first, you can have it factored into your run of cabinetry – we do ones that can house most standard machines. Even if yours isn't standard, our bespoke workshop can always create a cabinet to suit your dimensions. The other option, which I think is far better, is one of our laundry cabinets. Unlike the base cabinet we talked about in the first idea, this cabinet has been specifically designed to take two machines – one on top of the other – with ventilation chambers built into the back and top. It means your machines aren't taking up two lots of floor space. If you've got space, it's always nice for us to create a small laundry room in a neighbouring utility with a few of the other pieces of our laundry cabinetry, like the broom cupboard (my personal favourite) and perhaps one of the washing basket cabinets.
I'm desperate to have a clutter-free work surface. I've thought about how I can hide away most things, but have no idea where I could put my kettle and toaster so that they're still easy to access. Help!
Three words – bi-fold countertop cabinet. Countertop cabinets do exactly as they say – sit directly on top of your work surface. They're much more spacious than a wall cabinet and they're much more of a feature. What makes it perfect for what you're after is that there isn't a bottom shelf. When you open the bi-folding doors (another lovely feature that saves on space), you'll see that the worktop runs into the cabinet instead of having a base shelf. It means that you can keep things like toasters, kettles, coffee machines or mixers on that low level, on your work surface, plugged in and easy to use, but they'll be hidden behind the bi-fold doors when you aren't using them. Some people like to turn these cabinets into a mini breakfast larder, with teas, coffees, cereals, bowls and so forth on the shelves above. 
How can I fit all the elements that I have on my wishlist into the space I have? It seems like an impossible feat.
Your kitchen designer will always try to make the seemingly impossible possible. It's amazing what clever layouts can do. It's helpful, though, to create two wishlists – one for the parts that are for aesthetic reasons, and the other that's all about function. Then, rank them in order of priority. It's a process that really helps you to think through what are the genuine must-haves and what are the would-be-nice-to-haves. As kitchen designers, we aren't magicians – if you have a small cottage kitchen and you want an island, a double larder and huge pan drawers might be pushing it – but we try to be!
I want to pull together my living room and dining room into the kitchen so I have one big living space, but I don't want it to feel like your standard open-plan living. What do you suggest?
Colour is so important. It's not a case of needing to use the same shade the whole way through, but you absolutely need to consider the entire palette otherwise the connected spaces end up look disparate. You can use subtly different colours or ones that are a complete contrast, so long as they're tonal and are planned together as a whole scheme.
The flooring is also a key part of designing one living space. Using continuous planks of timber is what I suggest most of all, because it's practical and warming so makes sense for living and relaxing. Layer rugs throughout to soften things and to help the kitchen feel more in-tune with the living area.
And remember, the positioning of the furniture is just as important as the choosing. Consider a dining or kitchen table – they always look at their best when placed near a window or doors onto the garden and when you've thought about lighting the surrounding area with a few table lamps and perhaps a single floor lamp. It's common to put a pendant light over it, but this will limit you because it means your table has to remain in that position, and if you have pendants over your island, they'll compete for attention. If you want a soft seating section, that can happily go at the opposite end where a view onto the garden isn't quite as necessary. There are no hard and fast rules, but these might help you with prioritising your space.
Calm and clutter-free is what I'm hoping my kitchen will look like. What are your top tips for helping me achieve that?
One of the best ways to make your kitchen feel calmer is by having as few appliances and objects on the work surface as you can. I'll often talk to clients about integrating a microwave and coffee machine into a cabinet, replacing a kettle for a hot water tap, and as Becky suggested, our bi-fold countertop cabinets are perfect for hiding juicers, blenders and toasters.
Should you want to bring in decorative pieces or art, by having a small shelving section destined for nothing put family pictures, artwork and a beautiful vase or two, it has a specific function and will help you to resist using it as storage space. When elements of the kitchen are multi-use, that's when things can begin to get cluttered.
What's the standard size for a kitchen island?
We get asked this all the time, but honestly, there's no such thing. From kitchen company to kitchen company, the sizes vary and most places will offer lots of different sizes so it really is impossible to say. Figuring out the size shouldn't be a task for you though. Your kitchen designer should suggest what size makes the most sense for you. And it's not just about your room's dimensions and what can physically fit in. It's about what's happening in your whole design, what you need from your kitchen and what makes sense to position where. For example, if you want all the action to happen at your island – from washing up and cooking to having somewhere to sit and have a glass of wine – we might want to design a larger island that'll be able to do all of that, keeping the rest of the cabinetry for storage. 
What's better – Silestone or Quartz?
They're one and the same thing. The only difference is Silestone is the name of a brand, but their product is quartz. Sometimes people ask if Corian is the same as well, but it's not and it's nowhere near as durable as quartz. There are a number of other quartz worktop specialists but we use Silestone. Their choice of finishes is quite extensive, they have a 25-year guarantee and the quality is superb.
What colours do your collections come in?
Every one of our 28 shades from our core palette. On top of that, we have our paint archive, which is where we keep our seasonal shades. If you happen to have fallen for one of those archived colours, we still have the colour recipes so can blend them for you – no problem. For every collection, we choose a painted finish that we think suits the collection best of all, but you don't have to go for it. It's just a suggestion. Our bespoke paint finish is an additional cost but we can explain the pricing when looking at your design. 
If you'd like to talk to one of our kitchen designers about your kitchen project, you can book a free consultation online or in one of our stores. Find your closest here.