Small kitchen design ideas and inspiration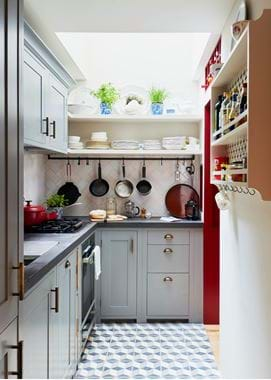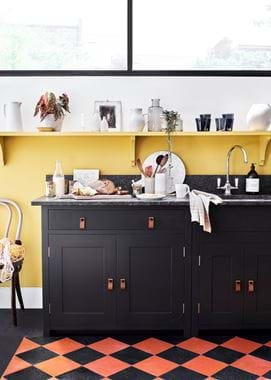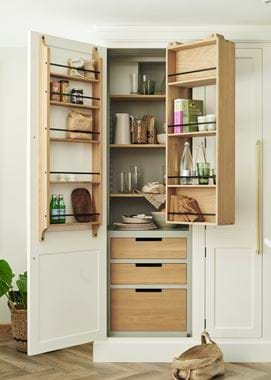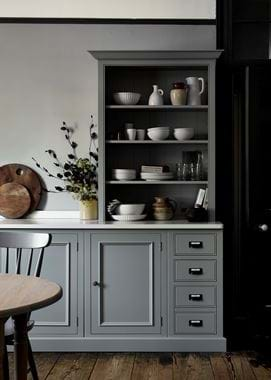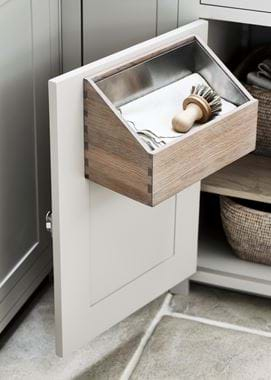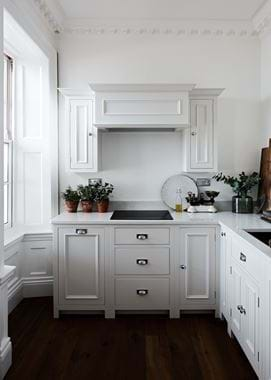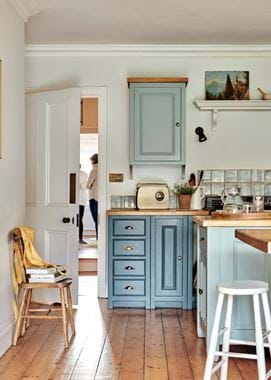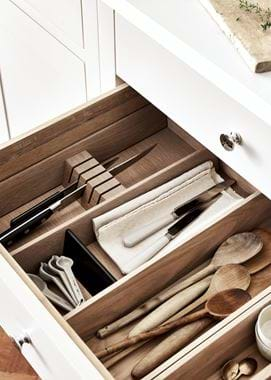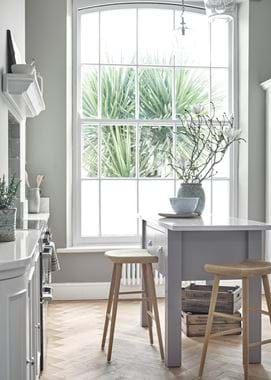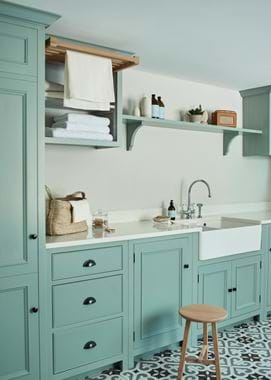 Small kitchen design ideas and inspiration
Whether yours is a kitchen in a city apartment or a narrow galley kitchen in a countryside cottage, designing in a small space may seem as though it's limiting. The key, as any Neptune kitchen designer will attest, is to know those steps, those tips and those interiors tricks that will help a small kitchen to feel far bigger than its real footprint. Here are six for starters which should reassure that your dream kitchen is always within reach, even if it means dreaming small.
1. Go wall cabinet-free…
Storage is one of the ways to a happy kitchen. The more, the better. But in a small kitchen, wall cabinets can give rise to the feeling of the walls closing in. The more wall space you can show, the better, as it gives your kitchen more breathing room. Instead, consider open shelving which, by its very nature, is all about openness – precisely what a small kitchen benefits from. Plus, this is a helpful option for when you're designing to a tight budget.
Exceptions to the rule might be if you have an extractor fan and want to bring in a sense of stature with a full cooker hood and surround, as the contemporary Chichester apartment kitchen shows (pictured).
2. …or stick to just the one statement wall cabinet
Another exception to the wall cabinet 'rule' is to allow yourself one feature piece. Here, we'd always suggest a countertop cabinet rather than a smaller, wall-hung design, because it is what will create a sense of a dresser or larder – something that generally scores highly on kitchen wishlists. If you can, go for an open-fronted cabinet (or one that's glazed if you're worried about dust gathering) as solid doors will produce a heavier aesthetic that's not ideal for a kitchen short on space.
Your kitchen designer will likely position it at the end of a run of cabinets so that it doesn't interrupt the main look and feel of your new kitchen – again, something that would have otherwise made the room feel far smaller.
3. Cause distractions
Whether it's a small kitchen, a small bathroom or a small hallway, a classic trick in the interior designer's handbook is to make noise in a certain aspect of the room to distract from the lack of space.
Flooring is a common tool for achieving this – patterned tiles, though not to everybody's taste, are one option, but rustic wooden floorboards, tumbled edge limestone tiles or unexpected materials like terracotta brick will serve their purpose, just on a subtler scale.
Otherwise, speak to your designer about making a statement through wall texture (tongue and groove panelling for example), lighting (such as low-hung pendants) or arresting wall tiles (think pattern or colour) so you're encouraged to focus on aesthetics rather than the fact your arm span almost touches either end of the room.
4. Organise, then organise some more
While your kitchen is there to be lived in and loved – a space to cook in, make a mess in, relax in and dine in as you please – a little organisation always goes a long way. This is especially true in a small kitchen.
From what's on display on the work surfaces (or what's not on display, more to the point) to what greets you when you open cabinet doors and drawers, a display of calm and order will make your space feel far less cluttered, and therefore more spacious.
Kitchen organisation shouldn't fall solely on the shoulders of those who live within it; kitchen design has its part to play too. Knife holders, spice racks, wet stores, larder bridges and drawer dividers are all instruments that help to clear up the worktop and display your contents in an orderly, beautifully arranged fashion.
5. Take on colour
There's one school of thought that says small spaces benefit more from muted colour palettes. But what's more likely to give a greater sense of space in a little kitchen is a consistent application of the same colour. See the Sage Henley kitchen as a case in point. With Sage on the cabinetry, the walls, the neighbouring table and chairs, every part of the kitchen feeds into the next, which gives the illusion of more space.
One step down from this is to have a palette using tones from the same colour. Choosing colour on the walls to match the cabinetry may well have made the rooms feel a notch larger, but that amount of the same colour can feel too much for some. Handily, this is why our core colours are organised into palettes, so you can always find a similar hue to pair them with. 
All that said, don't discount strong contrasts. Sometimes, the bold and brave use of colour is what's needed to transform a room from small and drab to cosy but characterful.
It's a lesson that shades of white and pale grey aren't the only options for small kitchen homes – far from it.
6. Don't let go of your dreams
When entering into a kitchen renovation, you may be under the impression that some of the 'dream kitchen' pieces after which you've been hankering won't be achievable in a smaller space. This isn't always the case, however.
Sometimes an island is possible, even in the tiniest of kitchen patches. The key is to limit your expectations though. You likely won't be able to include an all-singing, all-dancing island that incorporates worktop space, appliances and seating. Instead, try a design like Charlecote, Carter or one of our Chichester or Suffolk chopping blocks. They're freestanding, so are more about prep and display than anything else, but will still give your kitchen a sociable focal point.
Larders, likewise, are most definitely not off the table. Each of our kitchen collections incorporates a larder design no bigger than a standard full-height cabinet, and Henley and Limehouse in particular have a three-layer design that is made to maximise a small space.