Book club: A Place Called Home by Cath Kidston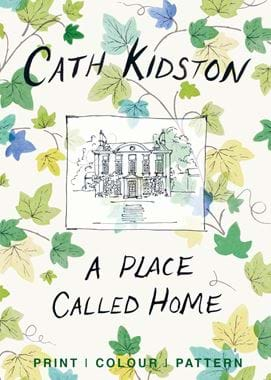 Book club: A Place Called Home by Cath Kidston
As the Founder of her eponymous brand and creative design studio, Joy of Print, Cath Kidston has long been associated with vintage ditsy prints and nostalgic interpretations of a bygone age. Her latest project, however, focuses on something much closer to home; a Cotswolds country house called Paradise. Having spotted the mansion advertised for sale in Country Life and realising it was located nearby to her previous home, a 17th century farmhouse, Cath and her partner Hugh took the plunge and purchased it straight away.
This book details the journey, from purchase to renovation, room by room (22 in total) and gives us an insight into Kidston's approach to design, furnishings and how she brought the house back to life. Each space is beautifully pictured by photographer Christopher Simon Sykes and gives us a glimpse into how Cath's style has evolved to combine and embrace both old and new. Along the way, she shares design tips, decorating hints and the stories behind her style. From traditions including always having a sweetie jar of Quality Street ready to be shared, to stories of the special pieces, keep-sakes and art that line the walls, shape the surfaces and adorn the shelves that make each room a personal space full of personality. The imagery beautifully illustrates how to combine antique and vintage furniture with contemporary touches. Three oversized white paper lanterns make a dramatic statement in the hallway, suspended on red electrical cord, an alternative take on a traditional brass one or chandelier.
Featured on the cover of the June issue of The World of Interiors, is an image of the whitewashed entrance hall of Paradise. A defining room shared in the book that perfectly strikes the balance between contemporary flourishes, such as a banana yellow lightning strike sculpture with a classic old portrait and circular mahogany table stacked with books. An inherited club fender sits in front of the open fire set within a stone surround and panelled walls (four legged friends are welcomed with a giant dog bowl signalling for them to make themselves at home too). The portrait has a cracker hat added to cover a bald patch on the canvas, a quirky addition that is an instant conversation starter and adds a hit of colour and personality.
From the Inner Hallway to the Telly Room, the Messel Bedroom (named after the beautiful floral fabric on the bed designed by set-designer, Oliver Messel) and on to the Greenhouse, each room tells a story that will inspire readers to collect, re-use, re-invigorate and bring all of their most favourite things together to create a home that reflects every part of their personality.
A Place Called Home is published by Pavilion and is available to purchase at Waterstones and independent bookshops.
Want to read more?
If you like the sound of this book, you might also like Cecil Beaton at Home: An Interior Life by Andrew Ginger (Rizzoli).