Raw texture: welcoming in natural materials this spring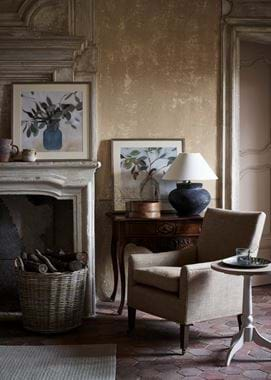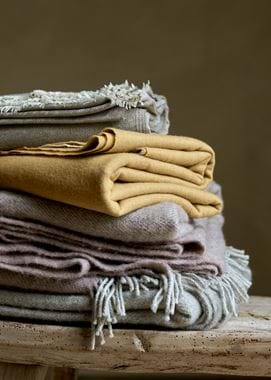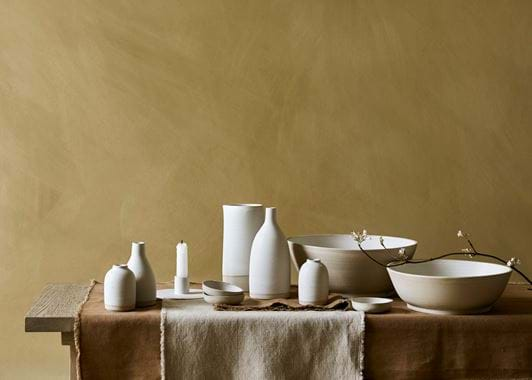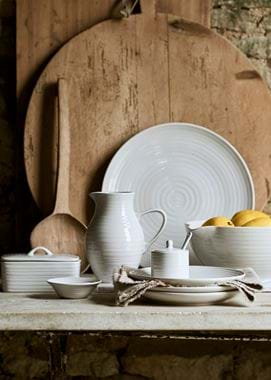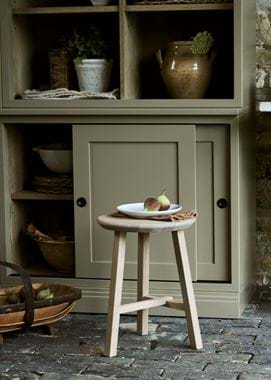 Raw texture: welcoming in natural materials this spring
If you've been reading our journal this week, you'll know that our newest collection was inspired by the pared-back, carefully-balanced Belgian aesthetic. (If not, you can read all about that here.) In this piece, we're looking at how that's influenced the materials we've chosen, and the effect they'll have on your home.
We've always favoured natural materials, but this season's style – more about texture and light than strong contrasts in colour – means we've really put the spotlight on them. "The Belgian style is very much about layering tonal clay-like colours and tactile finishes," says Amy from our design team. "The way they mix wood, ceramics, linen and woven materials like rattan and rush creates a comfortable familiarity." Together, they'll give your home a timeless, lived-in feel, whether it's an old building or a new one.
The key thing about these finishes is that they get better with age. You've probably noticed the lovely old house where we photographed the collection – its timeworn walls and woodwork reveal how beautiful organic materials can be when they're loved and used every day.
As always, oak had a big part to play in the new designs. Our favourite timber, it's something you can hold onto through the years; any scratches and scuffs will only add to its charm. And we've combined this heritage material with designs that have a sense of history too. Like the Moreton kitchen table, which is inspired by farmhouse furniture with its simple, sturdy shape and useful drawers. "It has the potential to very easily become a well-loved kitchen table. Without looking old, it already has the feel of a piece that's seen countless Sunday suppers and is truly part of the family," says Amy. We've left Moreton's surface its natural pale hue, the better to show off the oak's grain and texture. Over time, it'll take on a warm patina, but from day one you can pair it with antique chairs – in fact, the contrast between new timber and old flatters both.
Rush's raw, organic quality and light colour make it a natural match for oak. Our Wycombe dining chairs, stools and benches have woven seats made using rush fibres – inspired by the traditional rush-seated, ladder-back chairs that became so popular during the Arts & Crafts movement. "With use, the rush will weather and give slightly, so it grows even more comfortable," adds Amy.
The textures of both oak and rush are just right with linen, our key fabric for the season. Like all natural materials, every piece of linen is different, with its own pattern of slubs (raised threads) showing that it's made from natural flax fibres. Left unbleached, it's almost the same colour as rattan and oak, so on several designs, we've kept it that way. It makes it easy to layer up textures and tones. We've added a few earthy accents – cushions and tablecloths in apricot, terracotta and our new Saffron yellow shade – that complement linen's nubbly weave. And we've given some pieces a raw-edged fringe that highlights its softness and natural imperfections.
When it comes to ceramics, we've gone for an aged look that chimes with both furniture and fabrics. The Bayswater stoneware vases and bowls are made by hand; each one's a little different, so you'll really notice their rustic texture and crackled glaze. Stoneware can be speckly, too, as with the Bayham tableware. It's hand-thrown by Sussex maker Rebecca Williams, so it has a slightly rippled finish left by the potter's fingers. She mixes her own, off-white glaze too, applying it to some areas of each piece and not others, so you have a gentle contrast between milky, speckled glaze and the raw texture of bare clay.
Throughout the collection, you'll find lots more pieces like these that celebrate natural texture and the human hand. The cherry on the cake is that they're sustainable too: made from honest substances and with many years of life to give.
Take a look at spring's new furnishings, accessories, colours and fabrics here.