Brilliantly bold Saffron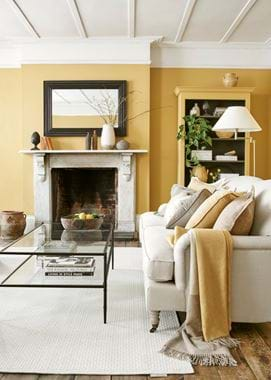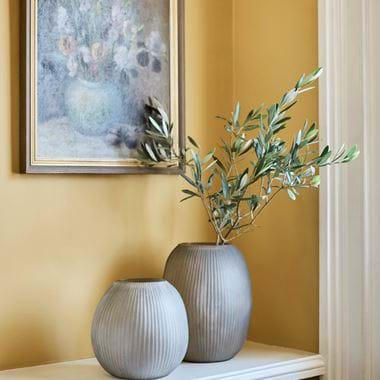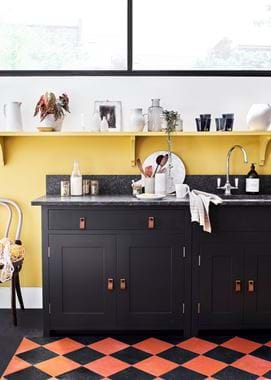 Brilliantly bold Saffron
There's nothing new in the world of decorating about using a larger-than-life colour on every wall, but that doesn't mean it's something we do lightly in our own homes. Whether you're naturally adventurous with colour and need only a touch of inspiration or you've just started dipping your toes, read on for a handful of thoughts and ideas to help you dive in, focusing on our new-for-spring paint shade, Saffron.
At the heart of your home
Saffron's ability to bring sunshine and warmth where there might not be any means that the first place you should consider using it wall to wall is in your entrance. What could say 'welcome in' more than such a cheery shade? Or brighten up a space that's often lacking in natural light quite like yellow? Continue down the hallway and up the stairs and you'll be carrying those same feelings into what, for many houses, is the literal heart of the home, making them perceptible from every room that leads off.
If your hallway and staircase are physically at the centre of your home, then the kitchen and the living room are its metaphorical heart. Top-to-toe yellow might feel incredibly daring in rooms you spend so much time in, but actually, you'll be following in the tried-and-tested footsteps of many before you. The great tastemaker and co-owner of Sibyl Colefax & John Fowler, Nancy Lancaster, painted her entire drawing room in a startling shade of yellow in the 1950s, prompting home-owners the country over to do the same. More recently, architect Ben Pentreath turned his once-white kitchen into a vibrantly yellow space (stopping off at mustard along the way. And, in fact, if you're looking for more inspiration, Ben's books 'English Decoration' and 'English Houses' are both full of examples of yellow rooms). The effect? You'll be drawn into these spaces by the alluring promise of the warmth waiting there.
In a tucked-away space
If you want to try wall-to-wall Saffron but you either don't want to use such a strong shade in a really big way or you're attached to the colours you already have in the above mentioned rooms, then consider one of the spaces you use less. You might not want to paint this stimulating shade in your own bedroom, but guest bedrooms, downstairs loos and even cupboards are all places you'll personally be spending very little time, making them perfect for experimentation. If you get it wrong, you won't be constantly reminded.
More than that though, these are rooms that can often feel a little forgotten, partly because they're not lived in very often and partly because we tend to focus all our decorating attention (and budget) on the main rooms. Brave colour is a very simple way to give them some personality – especially important in a guest bedroom, which you really don't want to feel like an afterthought.
Turning down the volume
If you've just painted Saffron all over and you're worried that you've made a mistake (or, indeed, you haven't reached the painting stage because you're paralysed by fear), then don't worry – there are some things you can do.
First things first, hold your nerve. Any colour, but especially a very strong one like Saffron, can look wrong when it's the only thing in the room. By the time you've moved your furniture back in and filled the space with all your bits and bobs, you likely won't notice the wall colour as much and it'll fade into the backdrop of everyday life. A gallery wall is also a particularly excellent way to break up the expanse of yellow and make it less of a focus.
If you're still concerned that so much Saffron will be too much, then consider limiting it to the bottom section of your room. Whether it's panelling that reaches part way up the wall, the area below the dado rail, or even the underside of a bathtub, when it's below your eyeline, it'll be less overwhelming.
In a kitchen, painting your cabinets in a bold colour can actually feel more powerful than if you painted it on the walls. That's because your cabinetry literally juts out into the room and into the spotlight. So, if you'd like to err on the side of caution, use Saffron on the walls – which are more in the background by comparison and will be diluted by lots of cabinetry – instead. Or, just as with panelling and dados, use it on the floor cabinets only.
The perfect pairing
The key to making all-over Saffron work in one room is to decorate the rest of the rooms on that floor so they carry on in a similar way. A good rule of thumb is to choose paint colours that have the same kind of strength (like Aqua Blue, Cactus or Shale). But if you don't fancy the idea of so many boldly-painted rooms, try a lighter but complementary shade (like Salt), then link back to the Saffron room by using it as an accent colour instead (more on that to come in our next Saffron blog). Looking for something in between? Try Lead Light or Honed Slate. Both are neutrals, but have the same intensity and earthiness as Saffron.
When it comes to ceilings and woodwork, there are a few ways you can go. The first would be to not choose another colour at all and paint everything the same – even your radiators. This is a good option if you have less-than-perfect architectural details that you don't want to draw attention to as it'll blend them into the walls. It might sound counterintuitive, but it'll also help if your room's on the small side by blurring the boundaries. Another option – and the most classic – is to pick a sympathetic white and use that for woodwork and ceilings. Salt pairs well with Saffron because it has similar warm undertones. You could also go for something half-way in between: Saffron from skirting upwards, stopping before the coving (or picture rail if your room's tall enough), and Salt from then on. The third look uses a darker colour on the woodwork. This could be paint (try Ink, Charcoal or Walnut) or it could be a dark stain. Either way, this is the most dramatic route to go down.
In search of more inspiration? Head to our Pinterest board on all things Saffron and yellow.