Spiced celeriac and parsnip soup with sourdough croutons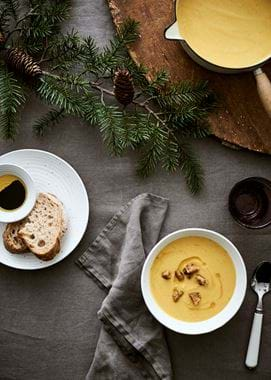 Spiced celeriac and parsnip soup with sourdough croutons
Is there anything quite like a good bowl of soup in winter? Both comforting and nourishing, it gives you something warming to wrap your hands around when you return from a chilly walk with the dog; it acts as a supper substitute when you just don't fancy something heavy or labour-intensive; or it can easily take the role of warm-up act (quite literally) to the main event. Spoons at the ready, your starter awaits… Makes enough for six portions. Put aside 25 minutes for prep and 15 minutes for cooking.
What you'll need
3 cloves garlic, peeled and finely chopped
1 large onion, peeled and finely chopped
450g parsnips (about two large parsnips), peeled and cut into chunks
500g celeriac (about one large celeriac), also peeled and cut into chunks
1l vegetable stock
400ml milk (dairy or plant-based)
1 tsp ground turmeric
1 tsp paprika
2 slices of sourdough (slightly stale is possible)
What to do
Begin by adding a little olive oil to a large saucepan on a medium heat. Add the garlic and onion, frying gently for about five minutes so they soften while being careful not to burn the garlic or it will taste bitter.
Next, tip in the spices along with the celeriac and parsnip, stirring everything together so they get a nice coating.
Pour in the vegetable stock and allow the mixture to cook through for about 15 minutes – the aim is for the vegetables to be completely soft, so keep going if they're not. Then, add the milk.
Turn down the heat and season with salt and pepper. Taste to check the temperature has cooled (and to adjust your seasoning if need be), and empty the soup into a blender, ready to blitz. Whizz it for about 30 seconds to get your desired consistency – we like this soup smooth and velvety.
At this stage, you can chill your soup until it's ready for heating and serving. You could even freeze it to enjoy at a later date – simply defrost, and reheat thoroughly. Whenever you choose to enjoy it (we'll be having it on Christmas Day for sure), you can make your croutons as it warms through.
Heat your oven to 180ºC fan or gas mark six, chopping up the sourdough into little nuggets as you wait. Now, drizzle a baking tray with olive oil, scattering the croutons across it before adding a dash more oil over the top along with salt and pepper so that every crouton gets seasoned. Bake for 15 minutes – or until crispy.
For serving, ladle fresh-from-the-stove soup into a bowl with a drizzle of olive oil in the middle of each one and at least four or five croutons per person – the more, the merrier.
For dishes similar to our seasonal soup, stop by our Bath-based cafe, The Provenist if you're ever nearby for a morsel to eat and something to sip.