Weaving in wood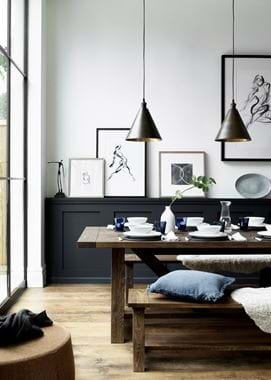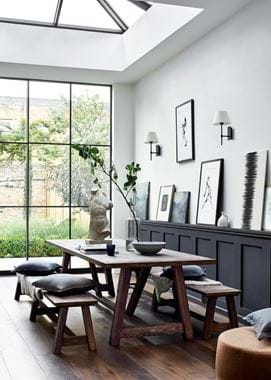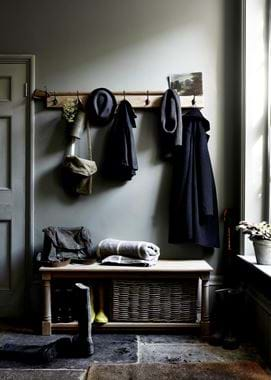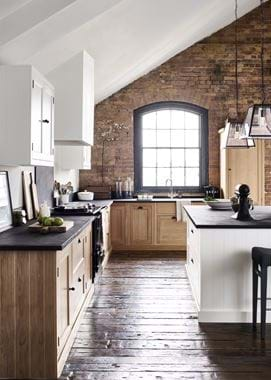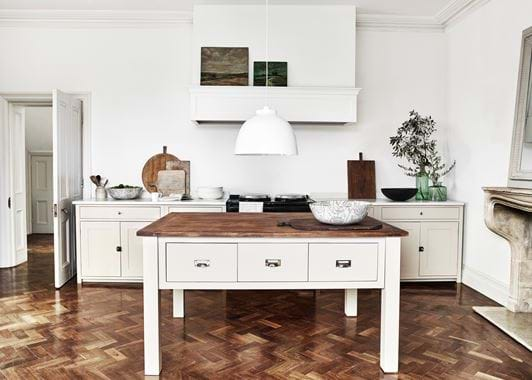 Weaving in wood
To oak or not to oak? To go dark or remain on the light side? To stick or to twist? These are the questions that flurry through your mind when decorating a room, be it a sitting room, kitchen or bedroom. Even hallways call into question how many types of timber can happily co-habit. Here, we explore the many ways to successfully and seamlessly blend more than one wood finish in your interior.
Tone on tone
While having two or more wooden tones in the same space works well – as we'll see shortly – that's not to be said that one constant colour isn't an option either.

Our Dark Vintage Oak Savernake flooring precisely pairs with the new dark wood finish on the Arundel dining room furniture. Two tones akin with one another, and yet in the same room, with no other wood present, the scheme doesn't appear flat in any way.

This is because the variation in colour and texture come from all of the other elements in the room. From the rough stone bust on the tabletop to the painted wall panelling and expanse of glass on the Crittall wall and atrium ceiling, there's enough differentiation elsewhere that allow the wooden aspects to perfectly match.
Dark meets light
Opposites certainly attract, and so unsurprisingly, combining a darker wood finish with a lighter one is a match made in interiors heaven.

In that same dining room setting, we also laid the more honeyed Savernake flooring finish to show how well it works against the Darkened Oak Arundel.

What helps it to especially triumph is that the same tale of contrast is told on the walls where Salt meets Ink – two paint colours at opposite ends of the spectrum. It's a space where dissimilar tones are encouraged and where each act as a foil to the other.
And old meets new
Forget not that a popular (for good reason) way to play with opposing wood characters is to have fresh-out-of-the-workshop pieces alongside a weathered, time-honoured antique.

Vintage finds naturally introduce a new specie to a scheme – pine and walnut being favourites in the brown furniture arena. And while seemingly poles apart in look and feel to the pieces never before owned, they can be surprisingly sympathetic and add a storytelling side to your decor.
A place in every space
Weaving in wood isn't all about incorporating numerous wood varieties in the one room, but how to continue them in other areas of the home.

If you decide to mix different shades of oak, different tree types, or new and antique wooden pieces, think about how to repeat them in upstairs and downstairs zones. By repeating the same finishes, you'll weave them in gradually so that each feels like it has its place.

Look to even the most unassuming spots, like hallways where there's often opportunity for a timber piece or two, be it a wooden console table or oak bench – ideal for putting on boots before you head on out.

Even postage-stamp-sized hallways need not miss out; an oak coat rack or picture frame or two won't go unnoticed.
From little to large
Coat racks and picture frames are just the beginning. A combination of timber is produced by giving attention to not just the bigger characters in a room (such as flooring, kitchen cabinetry and furniture) but to the smaller players – in other words, accessories.

Don't overlook the impact that a gnarled and rustic breadboard will have leant against a kitchen wall. In fact, add more than one in different shapes and finishes and the tapestry grows richer still.

Another area to think about is a kitchen's work surface. One stretch in timber means your wooden worktop adds a band in the middle of the room to create distinct layers of timber tones.
Too many cooks
Remember though that while the aim is to knit together a whole home's scheme of complimentary wooden pieces, there is a tipping point, and too many types of timber can look confused.

Similar to the advice on choosing the number of colours in a palette, more than two is welcome, three certainly isn't a crowd, but venturing into the realms of four, five and beyond should be down slowly and surely. That way, you'll quickly detect whether your interior is beginning to feel overwhelmed with wood, preventing each type from shining as bright as they should and reducing how well they all come together to create one compelling cast. Because yes, less is, so very often, more, more, more.