Kirstie & her Chichester kitchen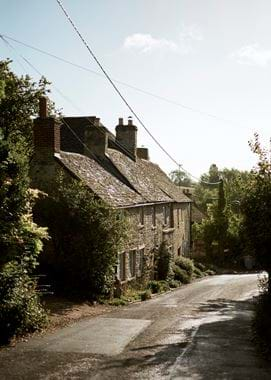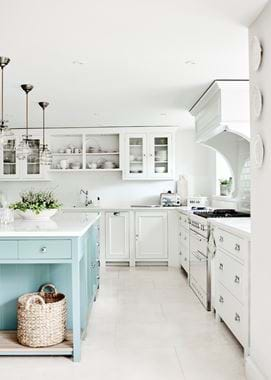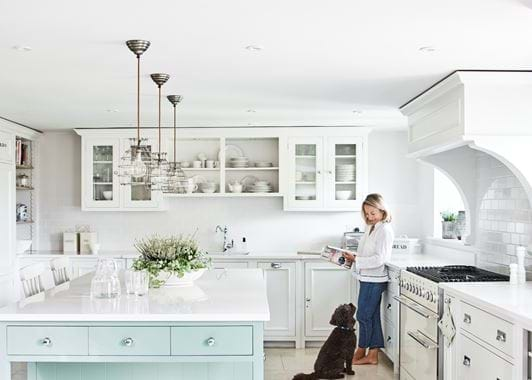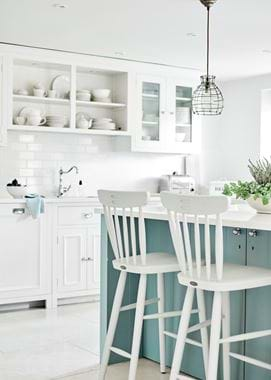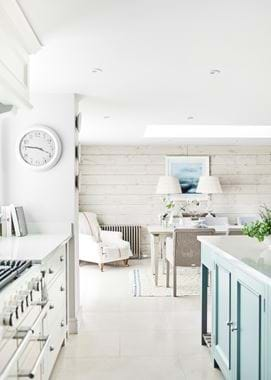 Kirstie & her Chichester kitchen
There are all sorts of ways that we discover our Real Neptune Homes, but one of our favourites is to trawl through our tagged Instagram posts or search for anybody using our #realneptunehomes hashtag. It's how we've come across so many inspiring home stories (such as Vivienne's Chichester kitchen) and it's precisely how we stumbled across Kirstie's colourful, Cotswold take on our classic Chichester collection.
Home profile
The glimpse of buttermilk-coloured stone at the end of the kitchen gives a firm clue as to where this Real Neptune Home is set. A quintessential Cotswold cottage in the village of Wootton, under its roof you'll find Kirstie, her husband Tim, their son, daughter and 'third child' (as Kirstie refers to her) Florrie, the cockerpoo. They moved to cute-as-a-button Wootton twelve years ago, snapping up the cottage that neighboured that of Tim's parents', and thus returning to his childhood home. With Tim working in central London and Kirstie running her own high-end tennis wear business (Six Love London), they spend their working week in London, returning to their country retreat the moment that they can on a Friday night until "the last bitter moment on a Sunday night" (again, Kirstie's words rather than ours).
The project
As is often the case, this Neptune kitchen was part of a whole home renovation. When Kirstie and Tim bought the property, they did so knowing it was in desperate need of an update, having not been decorated since the 1960s. Thankfully, there was already granted planning permission to extend into the garden, opening up the original galley kitchen with its lean-to breakfast area. "It soon became clear why the previous owners decided against extending. The access is incredibly tricky and we had nothing but a cottage garden that made manoeuvrability for the builders harder still. Thankfully, Tim's parents next-door had a much larger garden and offered to knock down their garden wall to create a large, communal family garden for the children. It was such a dreamy idea, and when the time came for our kitchen project, the access issue was solved," Kirstie recounted. "The extension has completely changed the feel of the cottage. Now we can invite people for proper table-seated lunches rather than small gatherings of awkward, squashed kitchen picnics. And upstairs, it's given us another master bedroom and ensuite. It works so well."

For her family's kitchen, Kirstie had long pictured one very clear look – something traditional but with a modern edge, an updated classic. Being a devotee to glossy interiors magazines, she was confident that it was a Neptune kitchen that was right for their home, and so travelled to nearby Burford to visit our partner store, Closa. "My parents live in Burford and so I was very familiar with the charming little shop, Closa. In I went and found myself drawn straight away to the Chichester kitchen. I thought it fitted the style of our house, and naturally whenever you're in a Neptune environment – I'm always popping in to Neptune Fulham which isn't far from our London place – you're drawn to the whole look. You just want it all," she continued.

Designing her dream kitchen was completely bump-free. The team at Closa worked with Kirstie who set out her vision, her wants and her needs for them to interpret into her family's new kitchen. Her main criteria was to create a lovely, family entertaining space. She hoped to have an island to satisfy her breakfast bar wish that could also double up as somewhere for company to sit and share a glass of wine as she cooked. And she also asked the Closa design team to come up with a focal point that she felt was needed to anchor the room. "They were very intuitive. I had spent a lot of time dreaming about this moment and this kitchen over the years and I felt they appreciated that and wanted to bring to life precisely what was in my mind's eye. They presented us with various options in the design and everything fell into place quite naturally. Our island is a fantastic space; it's three metres of fabulousness. And the cooker hood is immediately where your eye is drawn as you come into the room. It almost looks as though it could have been part of the original chimney breast."

Amongst her favourite cabinets in the kitchen are the pan drawers – "we have a few of those because there are just amazing"; the larder – "it's rather lovely and gives us not only somewhere to store things like spices and canned goods but our microwave as I didn't want that cluttering the work surface"; and the narrow pull-out cabinet to the side of the stove – "it is so useful. I put oils and all sorts in these so that they remain close to hand while cooking".

When it came to choosing her kitchen's colour palette, Kirstie enlisted the expertise of her close friend Jo, who just so happens to be a talented interior designer (she runs and owns JJP Interiors). "I knew I could have gone for a beautiful Neptune paint colour but I wanted to make the most of Jo's eye and to literally hand that part of the decision-making over to her to use colours I probably never would have done. She suggested Farrow & Ball's Strong White on the cabinetry, Papers & Paints' CC4 on the island and Dulux Heritage Quartz Grey on the walls. Her selection was utterly perfect." To add further depth, she exposed some of the Cotswold stone on one of the walls by the kitchen table which complemented the limestone flooring (from Indigenous in Burford) as well as having a full wall cladded in our Cranbrook shiplap boarding. "I'd seen it at Neptune Fulham and just had to have it somewhere in our home," she added.

"Our kitchen has made our home everything I'd hoped it could be. We've been so happy that we've continued to work with Neptune and Closa to furnish our London home. It feels as though we're taking a bit of the Cotswolds back with us that way every time Sunday night comes and I feel sad to be leaving my lovely Neptune kitchen behind."
What's your favourite thing to do in your new kitchen?
"I just love having family and friends here for long Sunday lunches. It's a great party space too when we push the dining room table out the way."

What's your favourite part?
"Easy, the island. It's just such a versatile space. I sit at it, I chop at it, I cook at it, I do all sorts at it. In London, we have such a small kitchen, so this feels such a luxury and I'm hugely appreciative for that."

What could you now not live without?
"Our double fridge with its ice machine for my evening gin!"

What's next?
"That's it sadly! We renovated the whole house in one swoop so we're officially done and dusted. I'm so glad that we did, it's completely changed our lives."