Emily & her Suffolk kitchen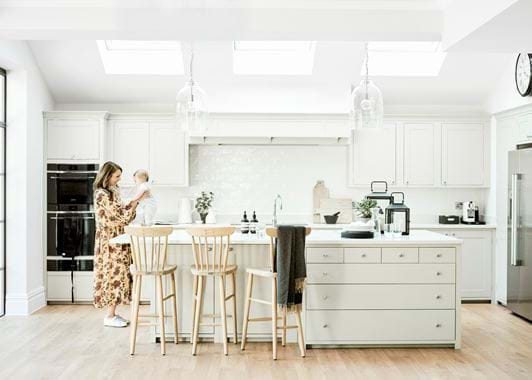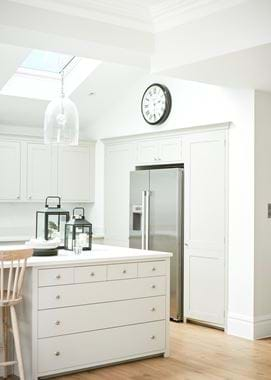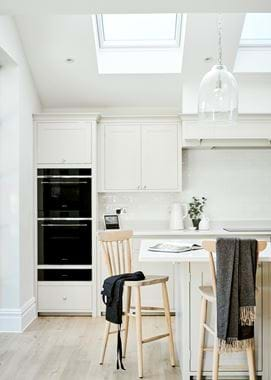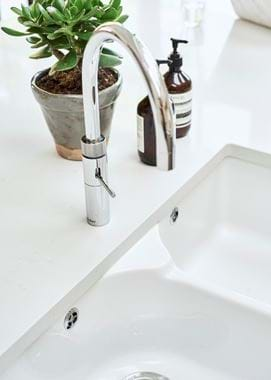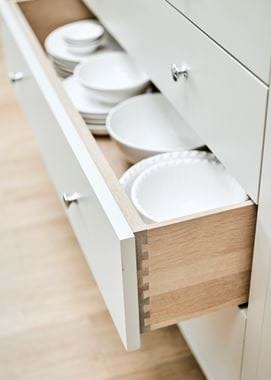 Emily & her Suffolk kitchen
Home to a couple with a penchant for 'do-er up-ers', this Suffolk kitchen was on Emily and her husband's wish list for some time and was their ultimate reward for yet another property renovated and restored to beauty. Here, we hear all about how Emily and her family's kitchen came into being and the years spent walking past it in the Neptune Weybridge store window, willing and wanting to take it back home with them – until they did just that.
Home profile
Inside this detached Victorian Weybridge home, you'll find secondary school teacher Emily who, alongside teaching biology, playing mum to four-year-old Sophie and six-month-old Chloe, and renovating entire properties, runs her own successful interiors blog and Instagram account @blogmebeautiful. Emily and her husband, Gareth, bought the property two years ago and six months of hard decorating work later, were finally able to call it home.
The project
This was certainly not Emily's first renovation project, though it may be her family's last. Their latest became a true labour of love and the result is one that's hard to move away from; it's blossomed into a true forever home.
Having relocated staircases, rewired and re-plumbed, and reconfigured the layout of every space (it was once a bedsit, therefore many of the rooms had their respective kitchenettes that need removing), it felt like a different property altogether, even before the interior decoration began. Rumour has it, the house was built for one of the Grand Old Duke of York's illegitimate children, so it's fair to say that this is a property that's lived many lives.
From numerous kitchenettes to one dream kitchen, Emily had long known exactly what kitchen she wanted for her new Victorian home. 'I remember when Neptune Weybridge first opened. It's such a beautiful store and I feel very fortunate that we have it in walking distance on our high street. You had a Charcoal-coloured Suffolk kitchen in the store window at the time, and I honestly gasped when I saw it. That is my dream kitchen I told my husband. I knew that when it came to doing another house, that would be the one my heart would be set on,' Emily recalled.
Fast-forward a few years and Emily came into Neptune Weybridge ready to discuss the dark grey kitchen she'd had in mind all that time. The window display had, of course, long since changed, and on that particular visit, it was Suffolk in Driftwood. 'I came in to talk to Chris and to begin designing our kitchen. I had been considering your archived Navy shade, but Chris' advice was to just try Driftwood as it would avoid us having to pay for a bespoke paint finish and a dark colour like Navy is much harder to undo. He said that if we decided in the end that we would still prefer to have the cabinets in Navy, we could simply repaint it. We're so glad we took his advice. We absolutely love Driftwood and have no intention of changing it. It's a soothing, warm neutral and allows me to add colour through accessories for different seasons, which is how I like to decorate,' she added.
When we asked Emily about the design process, she talked of how Chris adapted his way of working to better suit the busyness of family life. They had visited one other kitchen company, by way of comparison on price and service, and had struggled with the hours on end spent sat in front of a screen designing in-store. 'Chris was fantastic,' Emily told us. 'We had our initial consultation in which he was so efficient, extracting everything we wanted and needed from our kitchen and said, right, let me come back to you and we'll go back and forth in whatever way you want. It meant that we weren't struggling to entertain the girls and could carry on with our lives. Chris slotted in perfectly. We gave him full creative control and trusted him entirely.'
When it came to sharing her wish list, Emily's first contender was a Neptune larder. She had hoped for a double-door design but having symmetry in her design mattered more to her so, in the end, decided to have a single larder. Suffolk's iconic pan drawers were also on there and an island as large as her kitchen's plan would allow. 'I wanted wow factor in the kitchen. The island is the place to congregate so it made sense to make it a sizeable statement,' she continued. 'Chris didn't just show us it on the plan. During one visit to Neptune Weybridge, he used one of the store's islands as a point of comparison to help me see just how big ours would be to be sure I was happy. It sounds simple, but it was so useful and thoughtful. That sums up everything about the experience we had with Neptune. They were there for us every step of the way and couldn't have done more to help and guide us.'
Before we left, we asked Emily a question that we usually ask at the beginning – what was it that fundamentally drew her to Suffolk and to Neptune? 'It was that kitchen in the window moment that got me. It was never really going to be any other kitchen. The style feels like an up to date take on a classic. I know we've brought something timeless into our home. Every week when our Ocado man arrives and asks if he can take it through to the kitchen, I reply with an "oh yes, please do", and just love it when they gush over how lovely it is. I feel very lucky and proud indeed.'
Life in her new kitchen
What's your favourite thing to do in your new kitchen?
'I must say, while I love cooking in it, my favourite activity has to be in the evenings, when the girls have gone to bed, lighting a candle, getting the surfaces clear and simply sitting and enjoying the space.'
What's your favourite part?
'The front of the island where the beautiful drawers are. It's so useful. I use one of the little drawers at the top for all of Sophie's hairbands, one for Tupperware and one for placemats. It shows just how we use our kitchen – it brings together all aspects of our house, our lives and the people inside it.'
What could you now not live without?
'Can I have a few? The double sink, the boiling water tap and the bin cabinet. Is that a sad thing to say? I just love how everything is contained and hidden!'
What's next?
'We're mostly done. Next are the built-in wardrobes in our bedroom which I'm so excited for because, at the moment, we have hanging rails in there that make it impossible for the room to look pretty. The baby is moving out of our room this weekend too so it's on the cusp of being the serene environment I need it to be!'
You can also see more of Emily's kitchen over in our Instagram videos. Watch the film here.