Make more of your front door with paint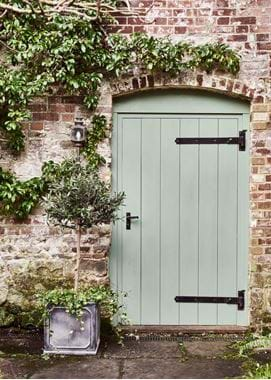 Make more of your front door with paint
This autumn, our interiors anthology, Stories, turned ten-issues-old. So, to mark our entry into double digits, we've dug into our archives to bring you nine articles from the nine previous volumes. This is the second, taken from our spring 2018 issue. And you'll find the rest right here on our journal now and in the weeks to come.
It used to be that front doors mostly came in glossy basic shades. A bit like the first Ford motor cars, you could have your door in any colour, as long as it was black. Or red. Or blue; green, at a push. Happily, front doors are now decorated in a dazzling array of colours – as are house facades.
From the classic French Grey doors and window frames of Cotswold country homes to the well-known candy-fronted mews houses of London's Notting Hill. Exterior paint colours immediately evoke a strong emotional response. They make a home unique. And they create memories. But, on the whole, it's interesting that our front doors seem to live a life quite separate from the interiors style that lies beyond the threshold. Even those Notting Hill residents probably don't continue their ice-cream coloured exterior walls indoors. And we see this as a missed opportunity.
Whether you have a classic Victorian portico or a rustic cottage porch, a front door can be a fitting prelude to the shades that adorn your walls inside. A front door can introduce a shade that is subtly repeated as you progress through the home, perhaps on a hallway console table or in a carpet runner. Similarly, why is it that repainting a front door seems far more challenging a task than changing a wall colour? Sanding down aside, tackling a door is a whole lot more straightforward than repainting a room. If you do it yourself, set aside a bright spring weekend and, come Monday morning, you'll have an entirely fresh face to present to the world. Unlike Mr Ford's first customers, the colour choice is wide open for you. It could be influenced by new shades that arrive with the season. You could coordinate it with some newly-painted window frames. You could even pick a shade that works beautifully with a neighbour's door.
Finally, just as with a freshly painted room, bring out the beauty of a doorway by 'dressing' it. Flank it with potted plants or invest in new brassware: a door knocker that gives a rewardingly solid sound, or a letter box cover with just the right amount of 'give'.
Welcome to a new entrance – and a new way of thinking about your most significant door.