Two summer flower arrangements, step by step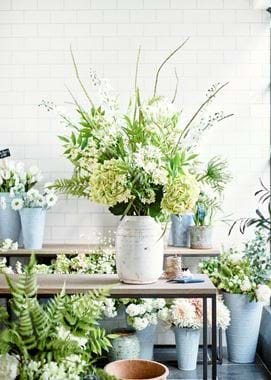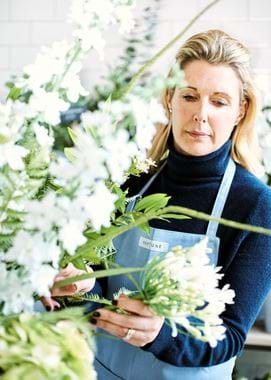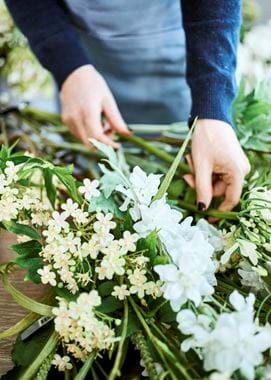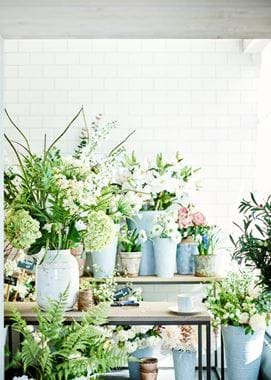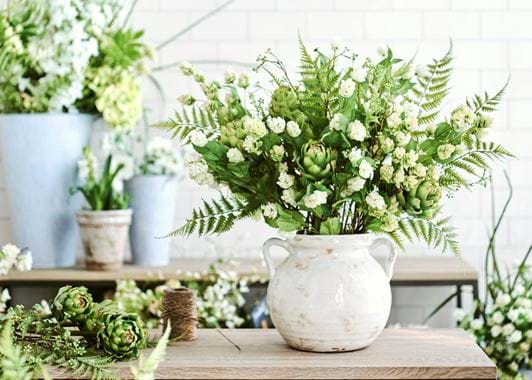 Two summer flower arrangements, step by step
In our ninth volume of Stories, Stories for summer, our resident floral expert, Hannah Redman, fresh from a workshop with florist Shane Connolly, shared three bouts of bloom inspiration – one for spring and two for summer. Using generous cuttings from our Flower Shop's mainstays amongst many of our newest hedgerow blooms, and carefully choosing stems that reflect what's naturally in bloom at this time of year.
Now that spring has passed and we're stepping into summer, Hannah's back sharing the two arrangements that'll last you from now through to September, to use in any of the rooms in your home.
The midsummer bouquet
"When I change my flowers, I like to try to keep at least one aspect from the previous arrangement in my next one. I've kept the Corn Parsley from the spring bouquet (see what that looked like by ordering your free copy of Stories for summer) and moved it into this, a real showstopper of a vase. Delphiniums are what this display is all about. They dictate that this is to be a tall arrangement – I'd keep Delphinium stems tall, as the stem's a huge part of its profile. So just go with the height and the drama. It's quite a country look though, and that stops it from being overly imposing. Every type of stem should stand at a different height so they all get airtime. Add your foliage first – this is your mass. Keep the Hydrangea low. Let the Lady Ferns stay tall and wispy, but not as tall as the Delphinium, and the spires of the Sea Arrowgrass can soar as high as they like. You can bend the stems rather than cutting them – you won't be able to see as the vase isn't glass. This also helps them to appear more life-like. The overall shape you're looking to create here is a soft arc."
Chosen stems: White and Green Delphinium, Corn Parsley, Rowan Blossom, Lady Fern, White Agapanthus, Sea Arrowgrass, Green Hydrangea 
Potted in: Haybrook, large
Most suited to: May–late August
Hannah's advice:
"Greenery is worth its weight in gold. If I were to invest in anything, it'd be greenery. You can reuse it in so many arrangements. And, if your stems aren't staying in the position you want, create a nest at the base of the pot using chicken wire. This is especially helpful when using lower pots where you have less support, such as in our summer's end bouquet."
The summer's end bouquet
"Artichokes are a sure signal of late summer. They're so fantastically architectural and strong. But I've added the Lady Fern, continuing it from our previous arrangement, and that really mellows things, as I believe bouquets at this point of the year should feel. I've also reused our Corn Parsley – this also makes the bouquets less costly – and if you wish to bulk it out further, add more Hops or some Gypsophila. I rather like this as a smaller, simpler arrangement though. Lead with the Fern in this case, and then feed the Artichokes through. Six or so Hops should suffice, or a few less will do just fine. And then add your Corn Parsley. This one's all about greenery and I'd use it in any room in my home."
Chosen stems: Lady Fern, Artichokes, Hops, Corn Parsley
Potted in: Haybrook, round
Most suited to: August–September
Hannah's advice: 
"These arrangements do reflect what would be blooming in nature, but there's equally no reason that you can't use them all year long."
For more floral arrangements, gather your own stems from our Flower Shop.