Taking mirrors al fresco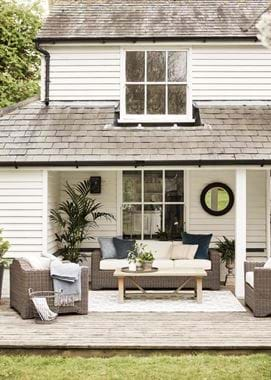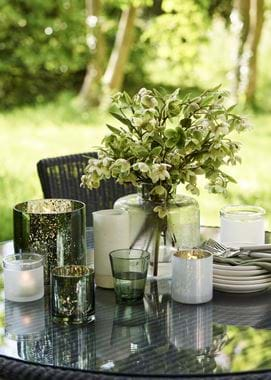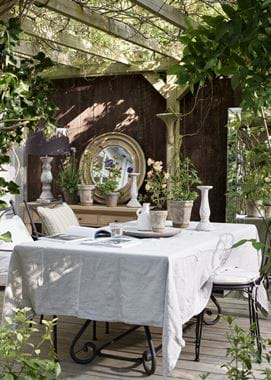 Taking mirrors al fresco
Arabella St John Parker, freelance gardens editor, shares her home-grown ideas for all the different ways she likes to use mirrored surfaces in her precious patch of green.
When it comes to using mirrors in the garden, I favour the less is more approach. Shiny surfaces everywhere, à la Hall of Mirrors at Versailles, quite frankly, would induce a minor migraine. I would also feel distinctly self-conscious, surrounded by multiple reflections of myself. No, no. I recommend a subtle approach. Think of the mirror and its surface as your garden's accent colour and statement piece combined, and one of the ideas below could be all you need to propel you into mirror-dom.
Create a focal point
Use a decorative display of wall-hung mirrors to draw the eye, to reflect one of your favourite sections of the garden (it then means you get to appreciate that view twice – the real version and the reflected one), or to ornament a particular area of your garden, such as a backdrop to your dining terrace, glimpsed on the wall at the far end of a path. Be creative with your choice of mirrors (think about their shapes, sizes, frame types and colour), and look out for vintage pieces and mix them with newer finds, including interior mirrors. Neptune's Lavenham and Carter mirrors are favourites of mine. Remember though, they'll weather and show signs of age when they live outdoors. But embrace it, celebrate it. They're signs of habitat and nature at play. 
Style up your tabletop
A permanent arrangement of mercurised glass candlesticks and holders (like Neptune's Kimmeridge), bowls and objects on a weathered garden table reminds me of long summer evenings, even in spells of April showers. Collect mercurised glass pieces as often as you see them – the older or more mottled the better – revelling in how they reflect sunlight, moonlight and candlelight.
Add a glint to garden pots
Mixing one or two decorative mercurised glass vases into a group of planted containers is a quick, easy way to work mirrors into a plant scheme. If you decide to plant up the vases, you'll almost certainly need to drill decent-sized holes into the bottom so the soil can drain freely. If the neck is wide enough, you could keep the plant in its plastic pot and place it inside the glass one, resting on some stones. After a heavy rainfall, tip away excess water to save the plants from drowning.
Structural highlights
Use a sheet of mirror as an underlay for a wall trellis or decorative fence. Choose a natural, textured structure such as woven willow or hazel, chestnut palings or even a fine, old, wrought-iron gate, and plant scramblers and climbers that are not too dense – roses, clematis and honeysuckle – so you can still see the glint of the mirror behind.
Acrylic mirror sheets would work well here too, and better still when used as veneers for the front of a raised bed or the risers of your garden steps, creating dashes of mirrored light at ground level. The acrylic is shatterproof and lightweight, so it's safe from stray cricket balls.
Finally, keep an eye out for salvaged architectural pieces that are already mirror-glazed. Candle wall sconces are classics, or for something more unique, you might like a mirrored sundial – both of which I've spotted at The Decorative Antiques & Textiles Fair in Battersea Park over the years. Who says mirrors have to be on a wall, after all?
Explore our collection of mirrors online here.