Sourcing stories: Ivy House Farm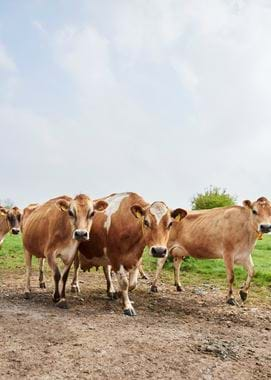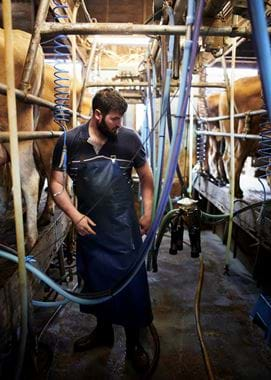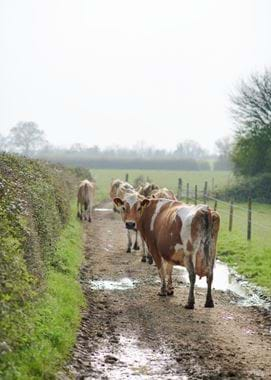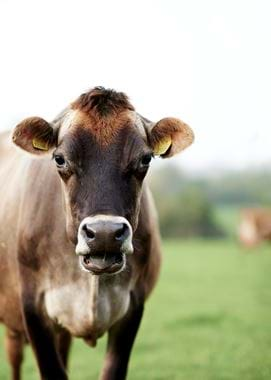 Sourcing stories: Ivy House Farm
Whenever you're sipping a cup of breakfast tea or a mug of frothy coffee at The Provenist, you have Ivy House Farm's local herd of notoriously curious Jersey cows to thank. It's the Frome-based farm who supply us with all of our creamy milk and buttery cream, freshly delivering it to our doorstep every morning. You'll also get to enjoy it if you pick scrambled eggs off the menu or our seasonal tart – we add just a splash to make it that bit richer. Here, we speak to Geoff, one of the farm's two founders.
When was it that you set up Ivy House?
"Kim [Geoff's wife and the farm's co-founder] and I came to the farm back in 1982. It had always been Ivy House Farm, we didn't call it that, but it would've been four or five smaller farms merged to form one big one sometime in the 1970s. That's what happened with a lot of them, because the smaller ones struggled to survive. We set up the creamery and turned Ivy House Farm organic in 1999 though."
And why did you decide to turn to dairy farming?
"I guess we came to it because I come from a family of farmers – I'm fourth generation, but the first on Ivy House. I grew up on a pig and arable farm near Bradford-on-Avon, which turned out to be no help at all seeing as I went down the dairy route. It wasn't so much our decision to do dairy farming, but the farm's. It's well-suited to it – the grass grows well here and there were all the existing buildings in place, like the milking parlour and the cow feed areas. It was the natural course for us to take. The reason for us turning to the creamery side of things though, was because we needed to diversify and thought we had a niche if we could produce the cream using our own milk, rather than buying it in like many do."
Has Ivy House always been a pure dairy farm?
"Yes it has. A by-pass was put in a few years back and it went right through our farm, cutting it into four and meaning we lost scale. We still kept to dairy, but we turned organic and to Jersey cows, and started bottling our own milk."
And was that an easy transition?
"Yes and no. The move to a Jersey herd means we get far less milk than we used to as they produce a higher quality, creamier milk but a lower yield. But that's fine by us. Quality is always the goal and we'd never put that on the line for quantity's sake.
"It's had a knock-on effect with how intensely we farm too. Back when we had far more land, cows and milk volume, we had huge suppliers, but they had the power to call us up and say, we're paying 5p less per litre of milk, and there'd be nothing we could do. By processing ourselves though, we no longer work with huge names and can have close, direct relationships with local businesses. We've given ourselves control and stronger, co-dependent relationships. It's a much nicer way of working."
Tell us about the herd. Was quality the main reason for choosing Jersey cattle?
 "Absolutely. It's the only reason really, because their milk is second to none. We have 120 Jerseys on the farm at the moment and they're all organic, pedigree Jerseys at that. We chose them because they really do produce the best milk. It's high in fat, really mellow in taste, yellow in colour, and very creamy stuff. It's the crème de la crème of the milks, if you'll excuse the pun!"
Do you find you end up having a close bond with your cows?
 "It's hard not to because they're such pleasant and placid creatures to be around. I go into a field and they'll all come running over to me to have a good sniff. They're nosy things. I think they're half-cow, half-goat in origin and you can see that in them. They've got that grab-something-off-the-washing-line look to them. We believe in being very respectful of our herd. They're beautiful animals that deserve to be cared for with patience and kindness. I really think that comes through in the quality of the milk too."
Does that mean you have a favourite?
"I can't deny that I do. She's called Holly, or number 18 as the computer calls her. When I first came here in '82 with just a few Friesians, they all had names. Even when we got to 60 cows, it was all on names and not numbers. But then when things got bigger and the computers got going, you needed numbers or my spreadsheets went haywire. We don't ever just call them number 10 or number 27 though. It's always, dear old number 27. Some still have names though, like our Holly. She's mine and my son's favourite – on our website, he's the big bloke giving her a big hug. She's been a sweetheart since she was a calf and loves putting her head on your shoulder so you can scratch it."
At what age do you start milking?
"The calves are all born here on the farm and then they spend a year or two in the fields with all of their mates. They'll have their first calf at about two years old – that's when the vets say is best for them, no sooner than that – and that's when we can start milking."
What's a typical day like at the farm?
"Every day, all of the cows come in at 5am to be milked. We get orders in by 9am and have everything processed ready by the end of the afternoon. Then we bottle it all up, ready to go out fresh as a daisy the next morning to local cafes and restaurants."
And finally, who are the other faces at the farm?
"There's only the six of us full-time. Two making milk, two making cream, one batching and one in the office. We've got a few lads that drive too, my son runs the farm, and Kim looks after our accounts. I'm not sure what I do really. I just wander around taking it all in."
Try Ivy House Farm's milk and cream whenever you stop by The Provenist.
Where to find us