Grilled sardines and chimichurri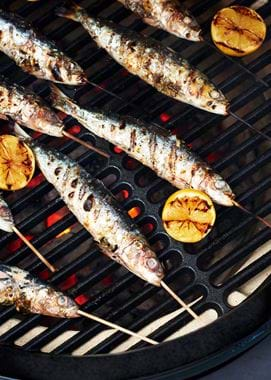 Grilled sardines and chimichurri
In volume six of Stories, we introduced you to a Somerset-based chef who we've known, loved and worked with for many years – Sam Wylde. The six mini festive recipes he 'cooked up' went down a treat with our readers, so for summer, he's back with four dishes for a fresh and wholesome summer barbecue.
The thinking behind the dishes – by Sam Wylde
I went to write, 'who doesn't love a barbecue?', but then I thought, I actually know a number of people who don't. And I think the reason for that is because if you want to do more than classic burgers, hot dogs and vegetable skewers, it can be a bit confusing to know where to start.
But that's a great opportunity. British barbecue cooking has steadily become more adventurous over the last decade. Flavours from all over the world translate to the barbecue, from sweet and smoky hickory aromas of the Deep South, to Portuguese and Latin marinades like the Mojo de Ajo I use in the first recipe.
Overall though, I've come at each of these barbecue recipes with the same approach as I do with everything – simple ingredients that go together brilliantly, are easy to cook, and taste great. There's a good balance between depth of flavour, fresh aromas, lightness when eating (so you can eat as much as possible!) and a fresh aftertaste. They're what I cook when I'm chief barbecue-r at home with my friends and family.
They work really well all together, but you can just add in one or two to sit amongst burgers in buns and coleslaw if you'd rather.
Makes enough for four–six.
Put aside: 15 minutes for prep and six–eight minutes for cooking. It's best to soak the skewers overnight too so they don't burn on the grill.
What you'll need
For the sardines
8 whole sardines gutted and cleaned by your fishmonger but with the head and tail left on
8 bamboo skewers 30cm long
3 tsp (ish) olive oil
1 lemon just the juice – you' ll need the zest for the dressing
1 tsp sea salt flakes
1 tsp cracked black pepper
For the chimichurri
5 tbsp extra virgin olive oil
2 tbsp white wine vinegar
2 garlic cloves finely chopped
1 red chilli deseeded and finely chopped
1 lemon zested
1 small bunch coriander roughly chopped
1 small bunch flat leaf parsley roughly chopped
A pinch of sea salt flakes and cracked black pepper
A tip or two
If you don't fancy using sardines, any other silver-skinned fish will do, such as seabass or bream.
And wherever we refer to grilling, make sure you heat your barbecue until the charcoal is burning white, the flames have gone, and the grill-top is piping hot.
What to do
1 Place your sardines side-by-side onto an unlined baking tray.
2 Finely grate your lemon, keeping all the zest for the chimichurri. Slice it in half and squeeze the juice, then drizzle over all of the sardines.
3 Drizzle the olive oil over the sardines and sprinkle them with salt and pepper. Move them around a little so they're evenly coated.
4 Poke a skewer through the mouth of each sardine and back out close to the underside of the tail.
5 Now you're ready to barbecue (the sardines are best eaten hot off the grill, so only start cooking them just before you eat). Brush the grill with a little oil and place each sardine skewer onto the grill, cooking each side for three–four minutes, turning them only once.
6 While they're grilling, quickly mix your chimichurri dressing by combining all of the ingredients into a little bowl.
7 When both sides are cooked, carefully transfer the skewered sardines onto your serving dish and spoon over the chimichurri.