A hearty, wholesome broth for winter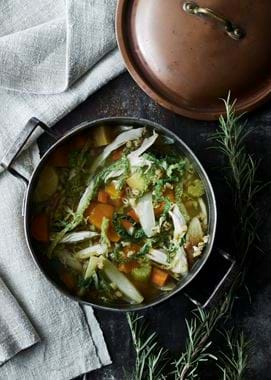 A hearty, wholesome broth for winter
Homemade soups, winter fruit crumbles, one-pot wonders that bubble away for hours on end – wintery eats conjure up different images for different people, but they all share the same cosseting kind of warmth.
One of our favourite meals to make all the way through winter is a homemade chicken broth. Hearty and healthy at the same time, this recipe calls for lots of colourful root vegetables that'll be in season now and well into the next. To put even more of a spring in its step, add in a handful of frozen peas – a hint at the fresh ones to come.
Chicken and barley winter's broth
Makes enough for: four–six people
What you'll need
For the stock
1 cooked chicken carcass
3 celery sticks roughly chopped
1 bay leaf
1 sprig of fresh thyme
1 large white onion roughly chopped
1 carrot roughly chopped
½ leek roughly chopped
A sprinkling of black peppercorns
For the broth
1 free-range chicken cooked and shredded
150g pearl barley
250g squash chopped into generous chunks
250g parsnips roughly chopped
2 carrots roughly chopped
1 large white onion finely diced
1 stick of celery finely diced
A handful of kale torn and shredded
1 bay leaf
A knob of slightly salted butter
A pinch of salt
A dash of pepper
A dollop of crème fraîche for serving
Good to know
This is a great recipe to make after a roast dinner, because it'll use up any chicken you have leftover. You can also make the stock ahead of time and store it in your freezer – it'll keep for about six months. Just let it defrost completely before you use it.
What to do
1 Start by making your chicken broth. Strip the chicken carcass of any meat, keeping any of the tasty parts for your broth. Then, tear the carcass into little bits, dropping them into a deep saucepan. If you have any leftover skin or jelly, you can add those for extra flavour. Add in your chopped vegetables and herbs (it should all fit rather snugly), and pour over 1–1.5 litres of cold water so that everything is just covered.
2 Now, bring your pan to the boil, and as soon as you see bubbles, let it simmer uncovered for at least three hours, adding your peppercorns for the last hour or so. You can top up the water once or twice if you need to. When the time is up, strain your stock mixture using a fine sieve into a big-enough bowl and leave it to chill.
3 Stock made, it's onto the broth. Taking another large saucepan, tip in the barley and cover with cold water. Bring it to the boil and let it simmer gently for 30 minutes. Keep a close eye on it so it doesn't catch.
4 When the time is up, drain the barley and leave it in the pan. Pour the chicken stock over the top and simmer once more so the barley begins to take on the flavour of your home-made stock. We like to let it gently bubble for about 20 minutes.
5 Meanwhile, add the butter to either a frying pan or saucepan. Sauté the onions and celery for five minutes before adding the squash, parsnips and carrot, and cooking on a low heat for a further ten minutes. The kale can go in for the final few minutes. This step is to help sweeten the flavour of the vegetables before you add them to the broth.
6 If, after 20 minutes, the barley is cooked to your liking, add the sautéed vegetables to the broth and let them cook through on a medium-high heat until tender.
7 For the final few minutes, take the cooked chicken meat and spoon that into the broth to warm. If you're adding frozen peas, pop them in now too. Taste, season, taste again and serve straight away in a deep bowl with a good chunk of bread at the side (soda bread goes brilliantly) and a generous spoon of crème fraîche on top.
You could always...
If you'd like to make this broth vegetarian, simply leave the chicken carcass out of the stock, adding in a couple more of each of the vegetables and stirring in a chopped garlic clove instead. You could make the broth as is, without the chicken, but for something more filling, swap in mushrooms or beans (such as butter or cannellini beans).