James & his Chichester kitchen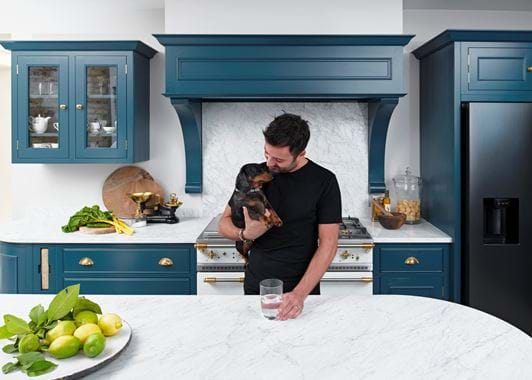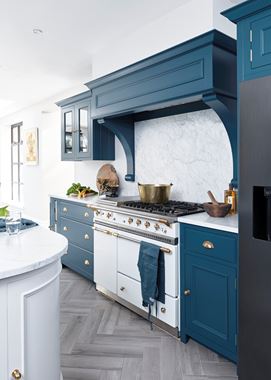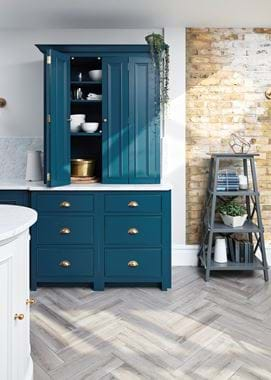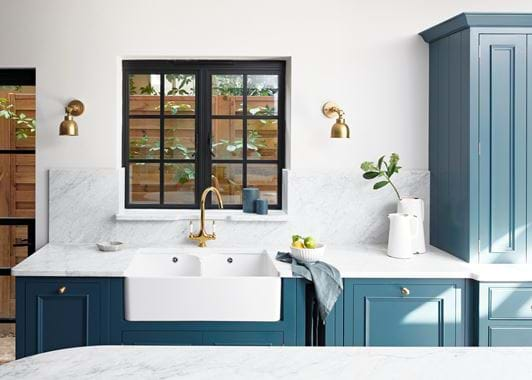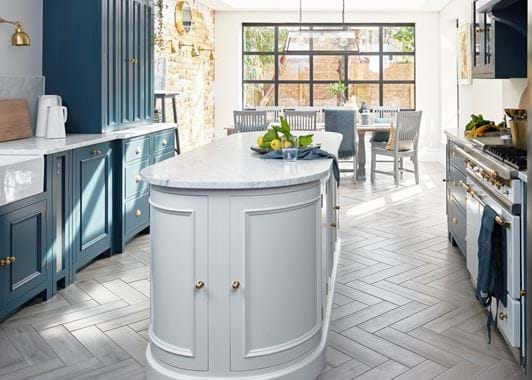 James & his Chichester kitchen
Chichester's a kitchen often described as being more traditional and country. But homes like James' show how it can be interpreted in ways much more contemporary to suit city pads and townhouses.
On first glance, you'd be forgiven for thinking that this sleek and smart Chichester kitchen lived in a home with grown-ups alone. But, it's actually the family kitchen of photographer James, his husband, Owen, and their three adopted boys, Rhys, Leo and Ollie. Not forgetting their dappled dachshund, Ralph. The six of them live in a three-storey, red brick, 1920s property in suburban Chiswick, which they're in the process of renovating from top to toe.
The project
James and his family are no strangers to Neptune. Having had a Neptune kitchen in their previous home, they knew exactly what they wanted when it came to renovating their next property. 'We had a Chichester kitchen in our old house and were so happy with it. It just feels so high-end but down-to-earth at the same time too. I usually find kitchens are one or the other, but not my Neptune one,' James told us.
Their first Chichester kitchen was quite different to their new design though. Pale and quieter in character, this time around, they wanted to stick with the same kitchen collection but to switch things up by going down the colourful route instead. A classic colour scheme was a 'definite no' on their design brief. 'We weren't tempted to go with a different kitchen collection. I like the detail in Chichester. It has that bit more tradition than the Shaker Suffolk and I like that. For me, it's still very understated. I think because I feel nostalgic whenever I think of my mum's old mahogany kitchen, I want my kitchen to always look elegant, to have a bit of the past to it too.'
As part of their renovation, James and Owen chose to open up the kitchen to bring the dining space in too. They also chose black aluminium windows, similar to Crittall, to give their Chichester cabinetry a bit of a contemporary tone. And then they turned their minds to considering colour and layout. 'So, my brief was that I wanted a kitchen that works in the day when the kids are running about, but that transforms at night for entertaining. I was picturing the kids going to bed, turning the lights down low, and it being like I've got a cocktail bar vibe going on. I knew I wanted colour and for everything to feel open and full of air because there's a lot of us living under this roof and Ralph's got little dog syndrome.'
With their brief defined, James went along to his local Neptune store to start the design process. 'We went to Neptune Chiswick for our design, working with their fabulous designer Karim. Our house is full of Neptune. Literally full. I love the stuff and I love the staff – I know them really well because I'm constantly nipping in to have a coffee, a chat and a shop, of course. Karim is the one who first mentioned the word "Teal" to me. And I just thought, oh gosh I don't know. I called mum and asked what she thought. I was scared it would be oppressive. Karim came to our home to reassure me. He looked at the space, the architect's plans and the light and told me that our house can definitely take it. So we trusted him and, wow, I'm so glad. I've got to say, when he showed us the elevations I did start to panic and thought, oh my God are you sure about the Teal? But then I just went with it and have never looked back. I love it. Everyone loves it.'
James also explained to Karim during the design process that he wanted a kitchen that felt completely unique to them. He didn't want to go to another person's home and ever see a kitchen quite like their own. Individuality is something that every Neptune kitchen promises, but Karim kept this at the forefront of his mind when coming up with ideas for James and Owen's kitchen. He suggested using Neptune's antiqued brass hardware, hinges and lighting, as well as a brass kitchen tap, and a striking, contrasting cooker. 'We were going to have an Everhot. I wanted a very elegant stove and Karim suggested I look at Lacanche instead. He showed me this white model with brass knobs and I swooned. He helped me with finding all the right appliances actually and took care of everything for me.'
When we asked James how he found the whole process and what were the parts that stood out most to him, he told us that, yes, he loves his new kitchen, how it looks, how it makes him feel, but that it was the design process that stood out to him the most. 'I knew I'd have a beautiful kitchen by the end of it. That's why I wanted Neptune. But what I really loved was how it felt like the whole family were involved and how everyone at Neptune Chiswick was invested in our home. They all seemed to want to help and to offer advice when we needed it. We didn't even have an island initially. We'd toyed with the idea but Karim said why not see how you feel and we can always add one in later, which is exactly what we did. It was the store leader who suggested having a curved one – such a good idea. They were all in the loop and it was just so lovely. Now I go in to see them all more than ever.'
Life in his new kitchen
What's your favourite thing to do in your new kitchen?
'I just love spending Sundays in there with the kids. They run around that kitchen island like there's no tomorrow. It's amazingly child-friendly in here. My mum was worried about fingerprints spoiling the paintwork but we don't get any at all.'
What's your favourite part?
'The curve of the island makes me so happy. But more generally, I'm just incredibly happy that it fits every part of the brief.'
What could you now not live without?
'Our appliance cabinet where the microwave and oven live. It tucks all the boring stuff away with room to hide the kids' things and all the chocolate too!' 
What's next? 
'We've already started our basement dig which we're going to transform into a playroom for the boys. It'll give us space to keep all the children's stuff downstairs so our home works for all six of us.'