Ideas for using leather furniture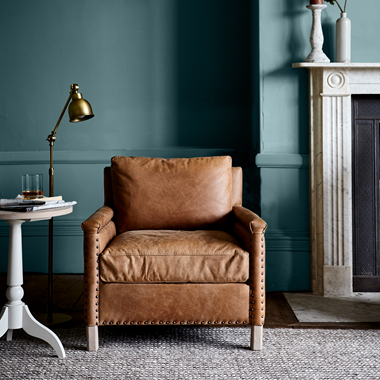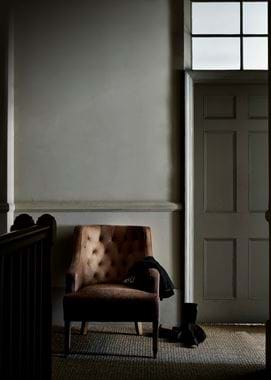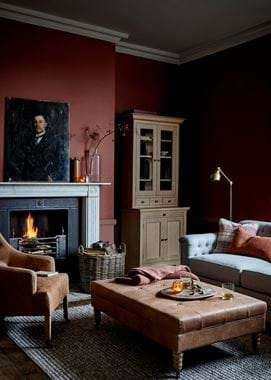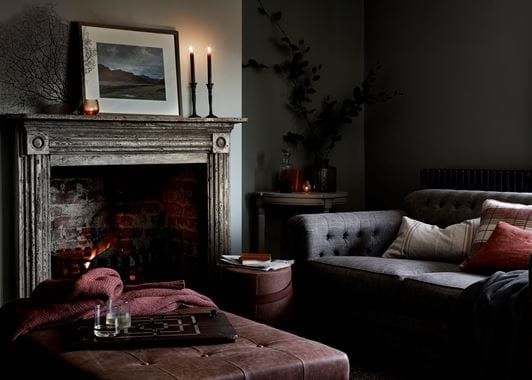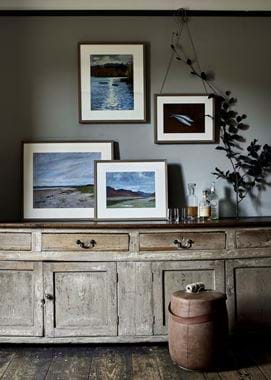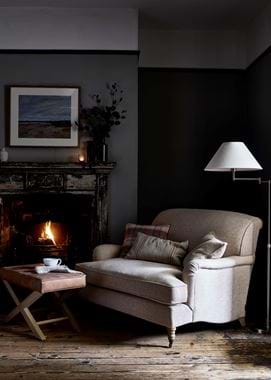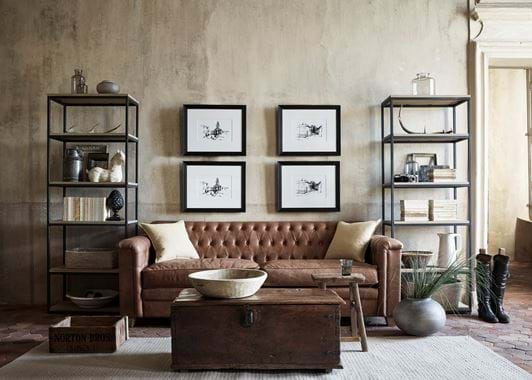 Ideas for using leather furniture
Leather furniture's been used for comfort in the home for thousands of years – even the Romans were known to have leather sofas for luxurious lounging. Today, there are more than a few reasons why leather's loved as part of our interior schemes – not just for its looks and feel, but also because it's practical and can last a lifetime. Here are a few ways you might want to use it…
Armchairs & sofas
While a whole suite of leather furniture might be too much, an armchair or a single sofa brings just the right amount of cosiness to a living room. Like wool or velvet, leather's got a natural visual warmth to it, which makes it great for mixing and matching with other fabrics.
Our occasional armchairs are available upholstered in our St James leather. Butter-soft and matte, it's got a timeworn look that reminds us of vintage leather furniture, so it'll instantly feel like an old favourite you've had forever.
It's a type of leather known in the trade as "pull-up" – this means it's treated with a mix of oils and waxes to make it soft and flexible, and give it a unique texture. If you "pull up" the leather with your fingers, or rub your hand across it, you'll notice subtle movements in the grain and colour – almost like you would on velvet pile. These subtle changes are part of its charm, and they're a sign that it'll get even lovelier with age, absorbing any small scratches or scuffs and growing more characterful.
Just one leather armchair is enough to transform the feel of a room – think of it as an extra layer of texture with other natural materials like wool, stone and wood. If you really want to embrace it, though, opt for our Lottie sofa in leather instead. It's our contemporary take on a Chesterfield, so it suits this material perfectly.
As an accent
If you're not sure whether leather's for you, or you just prefer it in small doses, try using it on accent pieces instead, such as a footstool. Our Arthur, Alex and Milo designs, pictured here, double up as side or coffee tables too, and as leather is softer and more comforting than a hard finish like timber or metal, using one of these pieces instead of a table can help warm up rooms that feel a little chilly, as well as bring just a hint of leather's charm to a living room or bedroom. 
Colours and finishes
Leather can change character dramatically depending on the shade and finish – something shiny or pale will be much more formal than a natural colour.
For us, shades that stick close to the hide's original hue feel more right, which is why our St James leather comes in a classic tan shade. We chose it because it really does go with everything, from neutrals and pale woods to deeper, richer colours and glossier materials like glass.
Other shades of brown or grey leather have a similar feel and are equally at home in the city or the country, whether your style's traditional or modern. And they're easier to live with day to day than something like black leather, which has a bit more of a contemporary edge and sets a very different mood.
What to team it with
Our St James leather's designed to be versatile. You can play it up or down to make it feel more polished or more relaxed. With metal or glass, it'll take on a more city-like feel, while with raw wood and unbleached linens (like Imogen and Samuel), it'll seem more laidback and organic.
We also love this tan leather contrasted with brighter colours, such as the ones in our paint palette. For warmth, try it with the Chestnut or Paprika shades. For something lighter and prettier, Old Rose is lovely, or for a really contemporary look that nods to trends, Teal or Blakeney Blue make a strong contrast.
One of the best things about leather is that it needs hardly any upkeep because it looks best when it's a little lived in. Just treat it to a restorative, protective layer of petroleum jelly buffed in once in a while, and use a soft brush attachment on your vacuum cleaner or a cloth to dust it.