Goat's cheese, red onion marmalade & walnut sandwiches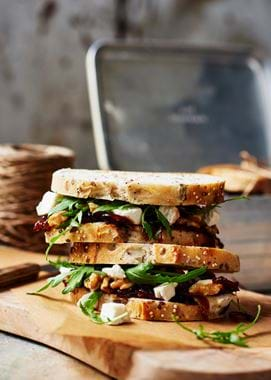 Goat's cheese, red onion marmalade & walnut sandwiches
Meet Jay and Carol from Kindness and Co – the cooks and creators of our autumnal picnic recipes. Just for us, they've come up with two vibrant and nourishing dishes that are perfect for this time of year, ready to be made at home, wrapped up and taken with you on an afternoon walk and enjoyed with a blanket beneath you.
Put aside: five minutes for prep and ten minutes to cook the marmalade 
Makes enough for: four 
What you'll need
For the marmalade
2 red onions finely sliced
50g light brown sugar
10ml soy sauce
5ml olive oil
1 heaped tbsp apricot jam
A pinch of sea salt flakes
For the sandwiches 
200g goat's cheese crumbled
80g walnuts chopped
20g fresh rocket
1 fresh spelt loaf
What to do
1 Put a thick-based saucepan on a medium heat with the olive oil, red onion and a pinch of sea salt.
2 Let the onions gently cook until they're soft and tender.
3 Add the sugar, apricot jam and soy sauce. Turn up the heat a notch so the mixture bubbles and reduces down (so all the liquid disappears and you have a jammy consistency).
4 Let the mixture cool as you slice the loaf into 1cm thick wedges.
5 Spread the onion marmalade onto one half of each sandwich with the crumbled cheese, walnut and fresh rocket on top.
6 Now all each sandwich needs is the top slice of bread and they're ready to be wrapped up and packed up.
You could always...
Go the extra mile and individually wrap the sandwiches in parchment paper tied with string. Such a novelty, but a lovely picnic touch.
If you're a Cheltenham local or stopping by some time, you can always drop in for a mug of something warm and a bite to eat at Kindness and Co's own café. They work with local food producers to serve fresh, vibrant dishes for breakfast, brunch, lunch and everything in-between.

Kindness & Co, 38 Clarence Street, Cheltenham, GL50 3JS