Apple, blackberry and cinnamon puff pastry tarts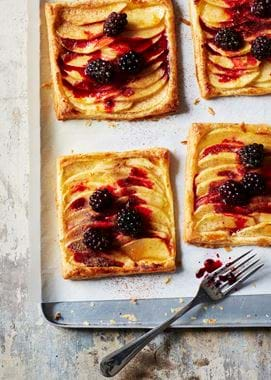 Apple, blackberry and cinnamon puff pastry tarts
Aslightly different take on that autumn staple, apple pie. One that's ready to be wrapped up and taken with you on an afternoon walk, whether you're venturing out on a proper ramble or simply heading down to marvel at the changing leaves in your local park.
Put aside: ten minutes for prep and 15 minutes for cooking
Makes enough for: four 
What you'll need
2 apples (we like Cox's for this recipe. Granny Smiths also work well as they keep their shape)
320g pre-rolled puff pastry
8 blackberries 
1½ tsp apricot jam
10ml cold water
Ground cinnamon, for dusting
What to do
1 Preheat the oven to 180°C (160°C fan, gas mark 4). Lay out your rolled puff pastry, keeping it on the parchment paper, and cut out four sections – each one 11cm x 8cm.
2 Peel, quarter and remove the core from your apples and slice each quarter lengthways as thinly as you can to get multiple slices.
3 Place them, overlapping, on each pastry piece to cover them entirely, except for a 0.5cm border around the edges.
4 Do the same thing again so you have two layers of apple slices on each rectangle of pastry.
5 Now, take a small saucepan and heat the apricot jam with the water.
6 Once warm, brush the apples with the jam. Make sure you leave the pastry edges otherwise they'll burn.
7 Pop the tarts onto a baking tray and cook for 15 minutes until the apples are tender and the pastry is golden brown.
8 When they're out of the oven, dust each one with cinnamon and tumble the fresh blackberries on top.
You could always...
Pack a small pot of clotted cream or crème fraîche – these tarts are delicious on their own, but go really well with something soft and creamy too.