A place to ponder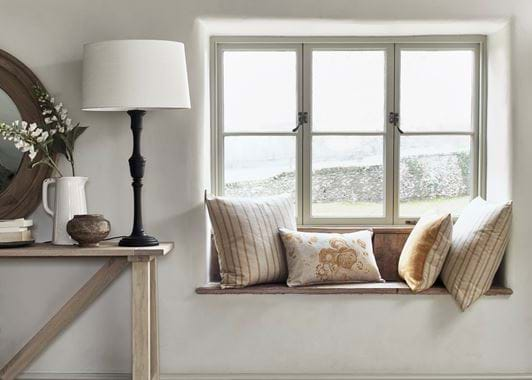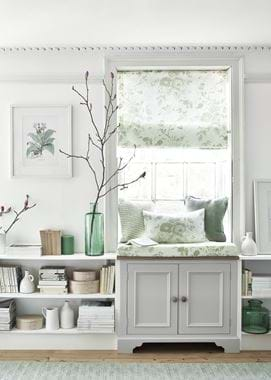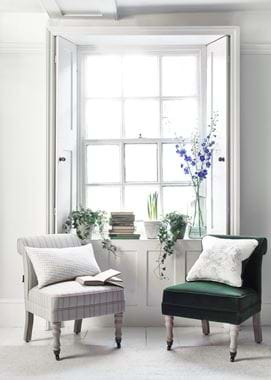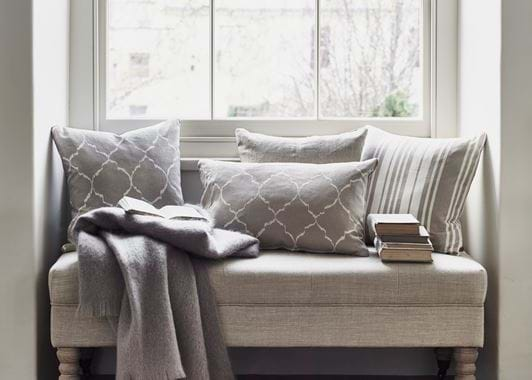 A place to ponder
A window seat is a special place. It's not quite the same as a sofa or armchair. It's out of the ordinary. It's a 'happy place'. There's a charm to a window seat that's hard to put your finger on.
Filled with cushions, it's somewhere to settle in with a book, to give yourself the quiet time and space you need to think things through, or to simply do nothing at all except to sit and stare.
But equally, a window seat can be a place of inspiration and imagination. Where better to puzzle over big ideas than looking out at the changing seasons and the world outside your window?
The other beauty of a window seat is the way that it turns something relatively simple into another different 'zone'. It can feel like a cosy snug in a much bigger space.
It's the ultimate multi-tasker.
And another way to build a bridge between your interior and exterior worlds.
Two build-free ways to create a window seat
Make the most of what you've got
If your home is lucky enough to have deep window sills, you can persuade the space into becoming a seat, even if it's not quite as deep as you'd like or it's a touch higher on the wall than you would've otherwise chosen. All you need is to have a full-width base cushion made-to-measure in a fabric and filling you like (contrast piping works particularly well on a window seat cushion). Choose foam for structure or go for densely-packed feather and down so it's comfortable but can still hold its shape. A small ladder stool will help little ones (or those of us with very high windows) with climbing up and you can use it as a useful table when you're there.
Where there's a will, there's a way
If you can't do the above, and if you're keen to avoid taking on any sort of carpentry construction for your window seat, all isn't lost. Far from it. Take the meaning of 'window seat' quite literally and position a chair or even a padded footstool beneath the window you want to frame, and then add a cushion or two for good measure.
And remember, a window seat is something that has a place in absolutely any part of the home. Hallways, bedrooms, kitchens and living rooms. Under windows little and large. In alcoves and corners. For children, for guests, but more than anything, all for yourself.