A Chichester-shaped bedroom: taking the traditional into today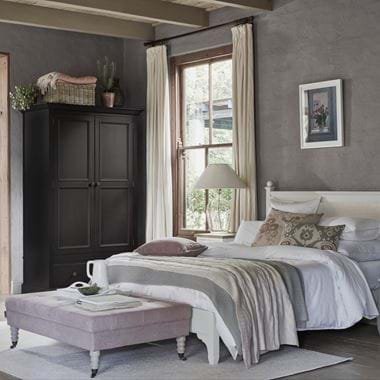 A Chichester-shaped bedroom: taking the traditional into today
Chichester. The first furniture collection we ever created. From kitchen cabinetry to dressers and side tables, it's all about classic English style. The bedframes come with cannonball finials at the top of the posts. The wardrobes have cockbead moulding (so they look like Victorian panelling). The cabinet tops have flared cornicing. Out of all of our furniture collections, it's the softest; there are lots of rounded corners and subtle details.
It's easy to look at Chichester and picture country cottages and traditionally-styled interiors. And yes, it absolutely will look the part if that sounds like your home. But, like with most of our collections, Chichester is by no means limited to country style.
Take this bedroom scene for example. Chichester is the key feature – the solid timber bedstead, the statement wardrobe, the peep of the bedside table. Yet traditional is certainly not the word we'd use to describe it. Perhaps there isn't just one. It's a mix of contemporary, sophisticated, arty and creative, provincial and textured. The faded pastel palette of blush pink and serene greys gives you room to go for a strong, look-at-me colour on the biggest piece of furniture in the room – the wardrobe. Look closely, and you'll see we've used oak knobs, which help to pull it back to its traditional roots. The bed is purposefully a little unmade and there's a lot of contrast in texture and print so it doesn't feel too obvious and put-together. And the contemporary Shaftesbury table lamp with its glass base changes the perspective of the Chichester bedside table.
Like with any scheme, it's what you surround your furniture with, how you use colour and light and how you bring in texture that defines your style. It's something we all know, but images like this one really bring that message home…