To island, or not to island?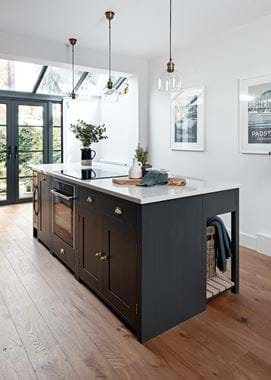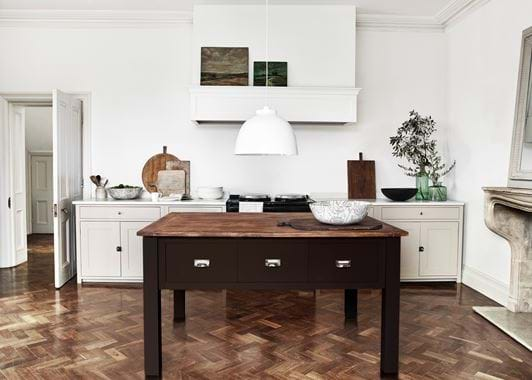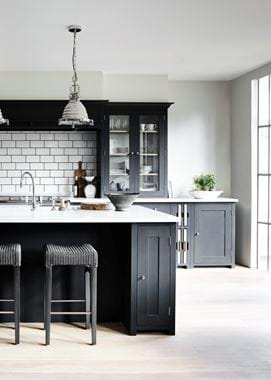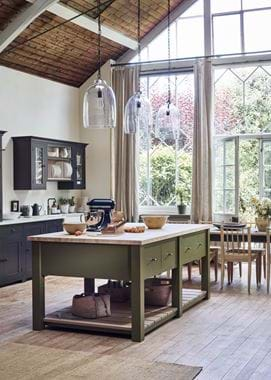 To island, or not to island?
Most people put an island at the top of their kitchen wishlist. It's usually jostling with larders for first-place. They're incredibly useful additions, they're a functional zone but also a social one, they look good, and importantly, they make you feel good as soon as you walk into the room. While you don't have to have an island in your kitchen to make it the best it can be – in smaller spaces or galley kitchens it isn't always doable – our advice is that if you have the room for an island – then always go for it. Let's talk about why.
Function
An island is hugely useful. That goes without saying – almost. It has storage that you can get to from any angle, whether that's drawers, shelving or cabinetry. Some designs can be plumbed in so that you have a sink, a dishwasher or both. We like to put integrated hobs into the work surface sometimes too.
The point being, an island is a space to get creative. There isn't a one island fits all approach. They're configurable to perform precisely how you want them to.
Go bespoke
Still on the 'function' note, if there's not an island design that does exactly what you want, you can choose to go down the bespoke route. Our kitchen designers and bespoke workshop team can come up with all sorts of island options that serve the exact purpose you need. In the image to the left, we've designed one that's made of a mixture of countertop glazed cabinets that we've popped a worktop over. The brief here was to build an island with lots of storage space, that could be on display, but protected from gathering dust.
They're social spaces
The other slightly obvious point to make (but it wouldn't feel right to ignore) is that islands are a great way to bring people together. It's something not to underestimate. Even if you have a kitchen table and a little breakfast bar at the end of a cabinetry run, we always suggest factoring some seating space into your island. They're seats that you'll likely use every day and that guests will immediately head to because they feel less formal and more inclusive.
Island seating has a totally different 'vibe' to any other sort.
Pace
One of the biggest design points about islands is that they change the pace of your kitchen's aesthetic. An island can bring in a bit of the unexpected. Nothing too radical, but you can change paint colour so that it separates it from the rest of your kitchen cabinetry, creating a wider palette to play with and to highlight different zones. You can change the worktop too which will do the same sort of thing. For example, if you desperately want carrara marble but are terrified of damaging it, you could move all of your chopping and pan spitting work to the island, leaving the rest of your kitchen a food-prep-free area where marble will live a little less under threat. Or vice versa.
Scale
It's such a misconception that you need a big kitchen to have an island. Not true. It helps – of course it does – but islands come in all shapes and sizes. 
Take our Charlecote island. There are various setups that you can look at, not just in storage and seating, but in size too. We designed it so that it could be as flexible as possible in every sense. The smallest configuration measures just 625mm x 1160mm. Even if you have a galley kitchen, you might be able to use the 625mm Charlecote against a wall as a breakfast bar – not quite the same as an island, but more of an island 'sentiment'.
It cuts both ways. Charlecote can be made to be as big as you'd like too. So, if space is on your side, you can put multiple pieces together to fill a chunk of central floorspace.
They're a showcase
The other thing to say about why islands should always be a yes (if you can), is they're not just a feature themselves, but they make a feature out of what you choose to put in them. Go for an open island like Carter, and everything that you put on its shelves become display pieces in their own right. Yes, it means you can't get away with just shoving things in and closing the doors to the mayhem going on behind them, but it does mean everything definitely has its own very precise place.
If you're looking to bring an island into your new kitchen design, or into an existing one, chat to our kitchen designers in your closest Neptune store.