Kitchen hacks – the ones that have our attention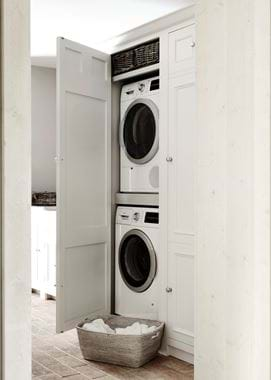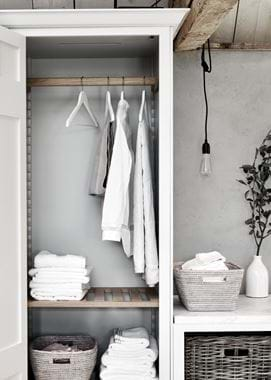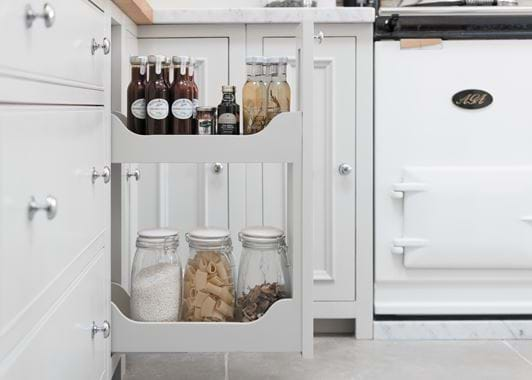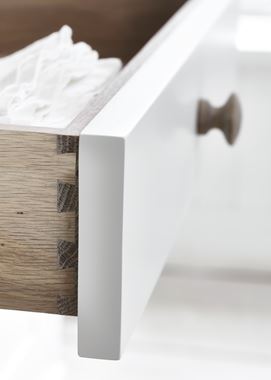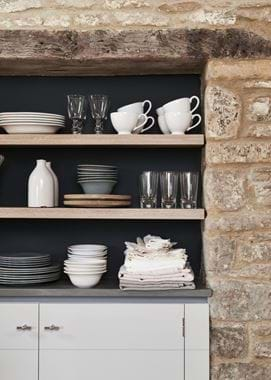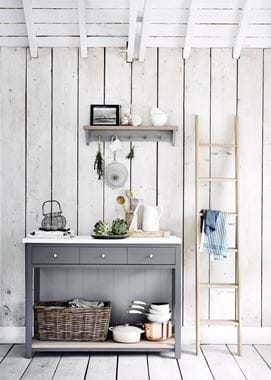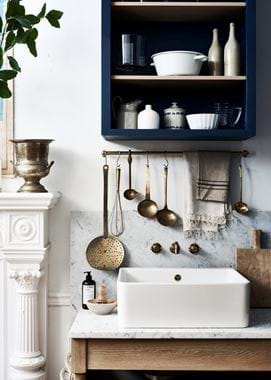 Kitchen hacks – the ones that have our attention
Lifestyle press and the likes of Pinterest and Instagram are continually reporting on the latest interiors trends, be it the reign of copper accents or the latest motif (pineapples one moment and palm leaves the next). At Neptune, we pay attention to trends, but we're in the game of timelessness, seeking to create or invest in the things that won't ever fall out of favour. But hacks are something quite different. If anything, they reveal trends in lifestyle, offering new ways of doing things that respond to how we live or problems waiting to be overcome. They're often intelligent, sometimes responsive, other times more 'on a whim', and occasionally not really necessary but fun nice-to-haves.
It sounds like a cliché to say that the kitchen is the heart of the home, but it really is true. What other space performs so many different roles? Cooking and cleaning, eating and storing, entertaining and relaxing; your kitchen is nearly always the most hardworking room in your home, which means it has to function effortlessly.
We're always exploring ways to make our kitchens work harder, without losing their elegance and serenity. So, whether you're embarking on a new kitchen design, or looking to introduce updates to the one you already have, we've sifted through the latest reported kitchen hacks to highlight the good ones from the merely gimmicky, in search of the ones that have the potential to be a little life enhancing.
Food for thought…
The 'living kitchen'
The idea of borrowing elements from the living or dining room has been slowly happening over the course of the last decade. It all began with the notion of open-plan living, but now it's certainly gone up a few gears. Bringing an armchair into an unused corner or adding atmospheric mood lighting alongside task fittings makes your kitchen feel more relaxed. Other things that don't traditionally 'belong' in kitchens, such as bookshelves, rugs and even indoor wall gardens, are encouraging us to treat it as a completely different type of room – one that's not just functional but also designed for enjoyment and entertaining.
The quiet life
We're now used to looking for good energy ratings on kitchen appliances, but what about noise ratings? A rumbling extractor fan or loud washing machine can be an annoyance or a conversation killer. Look for appliances with the Quiet Mark label – this organisation seeks to minimise noise pollution in our lives, and lists approved kitchen equipment on its website. There's everything from washing machines to extractor fans, kettles and even irons.
Bring back the utility room
For a time, it seemed like modern technology had killed off traditional spaces like pantries, laundry rooms and broom cupboards. But we're very happy to say that these older spaces have been fully revived – something that we're absolutely behind. Taking these practical tasks out of the main kitchen into a smaller side space allows you to create the kind of 'living kitchen' we talked about in point one. However, if you don't have the luxury of an extra room, a freestanding housekeeper's cupboard organises everything in less space.
Where to put the washing machine
There has been heated debate recently about the appropriate place for a washing machine, with some suggesting it belongs not in the kitchen but in a spare bathroom upstairs as many of our European neighbours do. This isn't an option for many people, and so different suggestions have come to the fore for how to work it into the kitchen. That's why we designed our full-height washing machine cabinet. It blends seamlessly with the rest of your kitchen and hides the appliance out of view with room for a tumble dryer too. An added bonus? The closed cupboard muffles any noise when it's in use.
Drawers vs cabinets
Have you ever found yourself bent double in front of a low kitchen cupboard, hunting for the pan you need right at the back? A sensible solution is to opt for deep drawers in your base cabinets, where heavy utensils such as pans and mixing bowls can be stored. It's a simple adjustment, but it can make all the difference to the user-friendliness of a new kitchen. Drawers are becoming more multifunctional, too, with built-in features such as wine racks and spice jar organisers freeing up valuable space on your worktop.
Organise waste
It's easy to get caught up with the more glamorous details when planning your kitchen, but waste disposal is important to get right. Every local authority has different rules about what categories of rubbish need separating, so if you're buying a kitchen for a new home, check the council website first. That way, your kitchen designer can build in waste storage that's convenient and out of sight.
Micro storage
Little things like tea towels, trays and chopping boards can easily clutter up even a well-planned kitchen. Make use of 'dead' space in-between cabinets to slot in vertical storage and keep your worktops free for prep and essential everyday tools. Our designs incorporate neat storage niches like this that make the most of every inch of space. Today's kitchens are so much more than the traditional cabinet.
Paint to update
Buying a kitchen is a big investment and you'll want a new one to last for years, but everybody fancies a change occasionally. The best way to guarantee an easy refresh is to choose solid wood cabinetry – unlike lacquer, for instance, it's so easy to update. If you want to change your colour scheme, you can simply repaint the doors. Swapping the handles is an easy way to update the look of your kitchen too.
Hidden lighting
LED technology makes it simple to install hidden strip lights and spotlights wherever you need them most. Strip lights underneath wall cabinets can be used to light up worktops and hobs when you're cooking, for example. Or you could backlight a set of wall shelves to add an atmospheric glow at night.
Break the mould
An all-fitted kitchen is the simplest route, but we're increasingly seeing non-fitted rooms, furnished with a series of standalone pieces. Island sink units, pot boards and butchers' blocks are useful in smaller spaces and you can easily take them with you if you move house. The unconventional touches are often the best ones: at our last press show, for example, we repurposed our Edinburgh bathroom washstand as a freestanding kitchen sink. A clever mix-and-match approach with fitted and non-fitted elements may be the ultimate modern kitchen hack.