Debbie Pearce & her Henley kitchen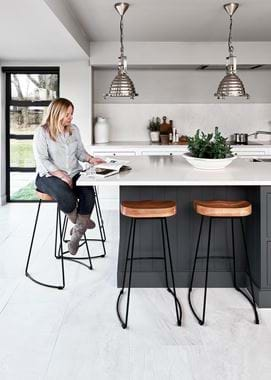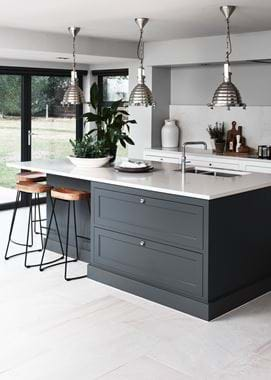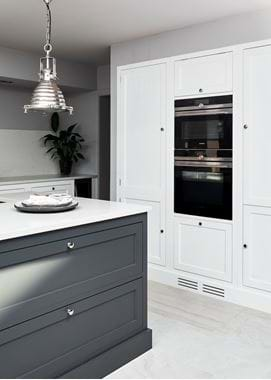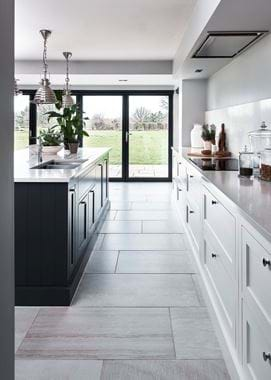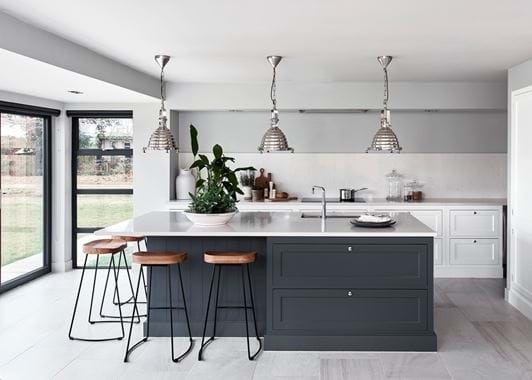 Debbie Pearce & her Henley kitchen
A family of architectural designers (and designers-to-be) and interiors enthusiasts live under Debbie's roof. This was a kitchen project that was destined to run smoothly and turn out wonderfully. And there's a slight twist. Debbie is in fact a home specialist at Neptune Colchester – our Essex-based store. So she knew exactly what she had in mind…
Home profile
The Pearce family home was made for them – literally. Debbie works part-time at Neptune Colchester, but is also director of the company she runs with her husband Dean – Dean Jay Pearce Architectural Design & Planning Ltd. Based in the village of Long Melford in Suffolk, they specialise in building bespoke homes for discerning clients and developers, as well as dealing with land acquisitions, planning and the necessary building regulations that need to be met. Their son, Ben, has just joined the family business as an apprentice CAD technician, assisting in all aspects of their many projects. And their daughter, Rosie, (who's in the build-up to her GCSEs) is always on hand to help with moodboards. "She doesn't know what she wants to do yet, but she tells us that she wants to work in interior design – 'probably in New York'. It seems to be part of the Pearce DNA!" said Debbie. It perhaps now comes as no surprise to say that their family home began as a plot of land, and that they designed and built it themselves.
The project
Until October 2017, Debbie and her family lived in a house about a mile away. They were approached by a land-owner in nearby Yardley who wanted to build a house on her two-acre paddock and appointed Dean to seek planning permission for the build. "Our plan always was to build our own home, but we were waiting for the right time, the right plot, the right opportunity. The project presented itself to us on a professional basis, but it felt perfect for us on a personal level too. So, we ended up building two houses, one for the land-owner and one as our new family home," explained Debbie. "Dean designed them so that they're similar and complement one another, but are different enough to have their own character. Ours is entirely cladded in cedar for example, whereas our neighbour's is rendered." While the Pearces designed their home and were in control of the build, they decided to hire a project manager so they didn't need to sacrifice working on other commissions. "We worked with Acorn Properties Suffolk Ltd, who are locally based and one of our company's best clients. They were absolutely brilliant and just made everything we said happen with a minimum of fuss and exceptional attention to detail," Debbie continued.
Onto kitchens. Having been part of the Neptune team for over three years, Debbie knew all four of our kitchen collections inside out, although she surprised herself with what they chose. "I've always loved Limehouse. From the moment I started at Neptune, I thought that when I came to re-do my kitchen, that would be the one for me. But, when you're surrounded by Chichester, Suffolk, Henley and Limehouse every day, you start to love them all and you learn about the spirit behind all of the collections. Last year, when Henley was redesigned, I fell for it, head over heels. It's so simple but still classic and with regal undertones. That's the overall feel of our home: very Scandi, open and light, with lots of glass. But above all, pared-back, less-is-more and enduring. Details like Henley's neat and contemporary square skirting go really well with that. In the end, what made me ultimately pick Henley was that it's just what my heart wanted. I can't really articulate it any better than that. I remember thinking to myself, I have to have that kitchen."
Debbie designed her kitchen at Neptune Colchester. "The whole process, including installation, was so smooth," she said, "the only complication was spilling a cup of tea over the designs! I had to charge to the store to get print-outs of new ones." Although Henley is available with exposed oak cabinetry as well as painted, the Pearce family opted to just have the painted finish. "There's a lot of oak in our house already," said Debbie, "so I wanted it to be a subtle feature in our kitchen – something that's seen when you open drawers and cabinet doors – rather than a big presence. We decided instead on Snow for the majority of the cabinets – where the fridge-freezer and larder are, and on the run along the back – but with the island in Smoke for contrast." When it came to the work surfaces, Debbie had practicality in mind. "The worktop is quartz, which is light and has a similar look to marble but is much more easy-going, something that's very much needed with children in the house. We used it throughout the kitchen and up onto the splashbacks." The final look, she said, is "contemporary, but not as much as Limehouse would've been."
Now that their kitchen is complete, we asked Debbie what she'd say is a 'must have'. "Definitely the larder. I can't believe just how much I can get in there, I was amazed, even though I've worked with these cabinets for years. I don't use any other cabinet for storing food now, although I'll admit mine's not all that beautiful inside. There are tins of baked beans in there! The big pan drawers are useful too," she continued, "I can fit everything in and it's all so neat. I especially love the oak and the secret drawers inside. And the black-bronze rods in the bottom that stop your pans from making scuffs. I'm not an organised person, but having a roomy kitchen makes me organised. And I really love that."
Life in her new kitchen
What's your favourite thing to do in your new kitchen?
"It absolutely has to be socialising. We've never had a space like this to do it in before. Christmas was just great; there were 13 of us, but the layout was perfect. Everyone was gathered on the other side of the island while I was cooking the dinner. It was so relaxed."
What's your favourite part?
"Of course I adore my larder, but I love the island too. It has four bar stools around it and it's where we have supper every evening – you can see our dining table from there, but we only use that for parties. We like to sit and chat here with friends too, or have drinks around it. And it houses both the sink and the dishwasher so it's a practical area as well."
What could you now not live without?
"Other than the larder, it would be the appliance cabinet and our double oven. Neptune have a list of recommended suppliers and products from Neff, Siemens and Bosch and now I can fully appreciate just how helpful that list is. We've chosen Siemens throughout and the cleverly designed appliance cabinet houses both ovens perfectly. And they can do so much. I was playing around with them the other day and found that they can even tell me the optimum cooking time for a certain style of cake tin – amazing."
What's next? 
"The garden is the next project. It used to be a paddock, so it's just level grass at the moment and needs a bit of thought. The house also needs dressing, although I don't want to add too much stuff. Less is more in this house. It means that the pieces we choose will be special and unique."