A place beyond the pines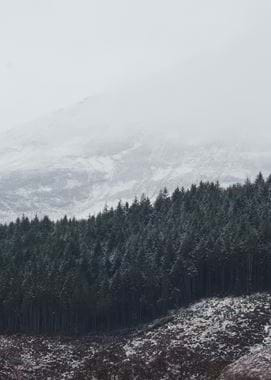 A place beyond the pines
As the months edge ever closer to midwinter, it feels like the perfect time to appreciate the beauty of the evergreen. From the fir, the calm elder statesmen of the tree world, to lower lying tangles of glossy holly bushes, evergreens have a special place in the winter landscape. And in our imaginations.
Evergreen trees and foliage lend a dose of life-affirming colour to a snow-dusted hillside. No wonder the ability of evergreen trees to remain luminous through the long winter has stirred the minds of storytellers and nature lovers over the centuries. Hosts of fairy tales are rooted in Germany's wooded heartland. A wealth of Native American legends pay homage to the power of the pine. And there are Celtic myths that grew out of Scotland's glades and densely covered hillsides.
The magic of the evergreen's year-round colour is all down to its leaves. They're designed to withstand the cold and retain moisture better than other types. Some, such as those on pine and fir trees, have long, thin needles instead of a wider, flatter leaf. Others, such as holly, have tough leaves with a waxy sheen. This means that, as long as they get enough water, evergreens still grow and release oxygen, but at a slower pace than more 'fair-weather' trees.
Top of the evergreens has to be the pine tree. And there's no better way to appreciate the majesty of the pine than by exploring the depths of a forest. Ancient woodland has a unique atmosphere, but even the more recent man-made plantations can emulate this enigmatic environment. In the midst of a dark pine forest, sound travels differently. The outside world seems muffled and distant. In fact, it's easy to lose your bearings, giving rise to the stories about the lure of the forest that have sprung up the world over.
Then there are those mysterious clusters of tall pines that you sometimes spot atop a hillock, seemingly in the middle of nowhere. They were planted along the old byways to help sheep and cattle drovers orientate themselves and their herd. Sometimes they were route markers saying, 'Yes, you're on the right track'. Often they were a sign of comfort: to mark an inn, a field where they could shelter or a safe place to ford a river.
As for the recent, rather regimented plantations that exist throughout the UK, most are a legacy of planting by the Forestry Commission between the wars. The well-intentioned aim was to create a reserve of timber, planting Douglas fir, Corsican pine, Sitka spruce and larch. This is what created the forests of Thetford and Holkham in Norfolk and even tracts of Scotland. However, as the decades passed, it was found that these dense forests were so dark that little else could thrive at lower levels. Today, many are being thinned out and replanted, so that wildlife and other plants can return.
A more authentic, ancient pineland can be found on the shores of Loch Arkaig in Scotland, where the native Scots pine grows alongside birch, juniper, willow and rowan. Smaller plants and mosses with ancient, magical names – bilberry, twinflower, ladies' tresses and wintergreens – also wind around the woodland floor.
To admire pine trees in a more cultivated environment, head to Bedgebury Pinetum in Kent. Some of its oldest trees have grown from seeds brought back by Victorian explorers, while others arrived from Kew Gardens in the 1920s, as they were failing in the polluted London air. Today, Bedgebury's forest trails are an expanse of greens, browns, yellows and deep reds. 
Because, as any gardener knows, the evergreen is rarely one single shade. Nature presents needles, leaves and berries in a wide spectrum of colours, from acidic yellow to lavender blue, rich berry red to sap green.   
In our own back gardens, the variety of evergreen bushes and hedges that can flourish through winter includes silvery-grey eucalyptus, the bay tree, laurel, yew and box. In larger spaces, there's the opportunity to nurture natives such as Scots pine or juniper. Then there's the holly bush, which brings the joy of harvesting armfuls of prickly, berry-rich sprigs come Christmas.
We have Prince Albert to thank for introducing Britain to the pleasures of an indoor Christmas tree. He recreated the German tradition at Windsor Palace in 1848. After that, every self-respecting Victorian followed his example, draping their trees with baubles and sugary treats.
These days, buying a potted tree that can live on in your garden is the greenest option. Mini potted pines are a lovely addition to your garden table, providing it with some winter warmth and including it in your Christmas scheme. Failing that, buy a tree that's grown locally, rather than imported. Just before Twelfth Night, your tree can be recycled, with the chippings used in local parks. We believe in cutting with regret, but using with integrity. Or go for a replica that'll last year after year and has been made slowly and carefully to match the 'real thing' as best as it can.
Evergreens are not just for Christmas. But, in our homes and in the natural world, they retain a certain appeal. Like its hardy leaves, the spirit of the evergreen endures.
Something from Stories
This article is from our second volume of Stories, Stories for winter, which came out last year.
For this year's winter volume, sign up for your free copy here.