Rio Barrett & her Suffolk kitchen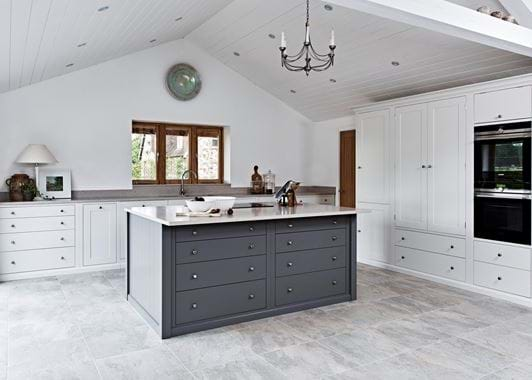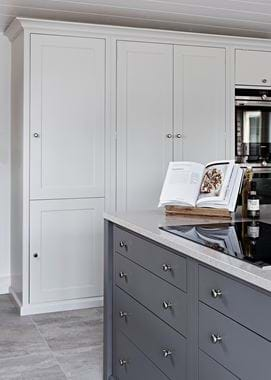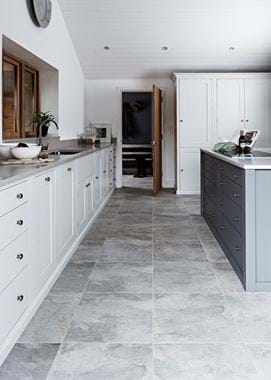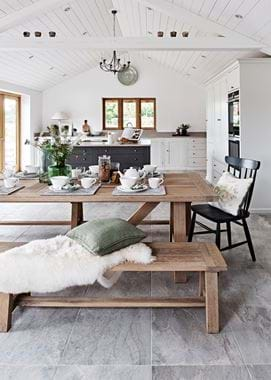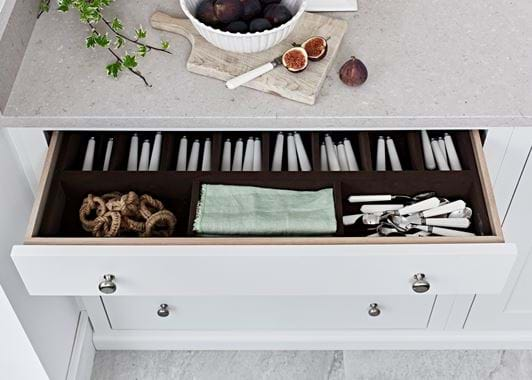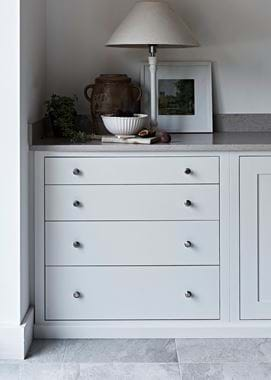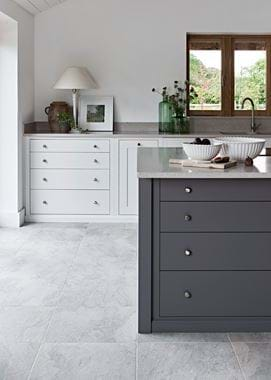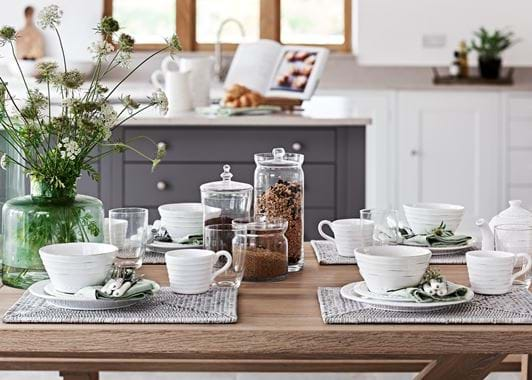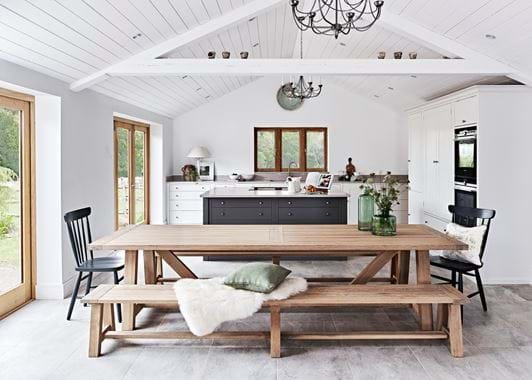 Rio Barrett & her Suffolk kitchen
Where Rio Barrett's Suffolk kitchen now stands, there was once a very different setup indeed. Until not so long ago, it was used as a working stable, before Rio built a further barn for her horses to move into, extended it and began renovation work so that it could become her and her husband's new home.
Home profile
Chapel Barn is the building next door to what was originally the Barrett's family home. Very sadly, when Rio's husband fell ill, they decided to convert the adjacent barn that was used as a stable for Rio's horses (she works as a horse trainer, specialising in horse psychology, and likens her job to "relationship counselling between horse and owner") into a single-storey home. A few years later, after finding a loophole in planning law, she worked with an architect to build a large extension to the barn, using it to create two bedroom suites and a 20m-long kitchen-living space; the kitchen takes up about a third of the room. The barn is flooded with natural light and has exposed pitched ceilings throughout. She lives there with her son and his girlfriend; her horses now in the newly-built neighbouring barn. "They're almost close enough to just reach out the window to touch them," said Rio.
The project
"Life's been a bit…full on," explained Rio. "The Chapel Barn conversion came at a very difficult time for us and so adding in, not just a house move, but essentially a house build, has been daunting to say the least. I've been working on the project for almost four years, and it's still not done, but the result so far is just fantastic."
Rio found her Suffolk kitchen almost a year ago through one of our partners, J&B Interiors based in Lavant, near Chichester. "Long before I started the renovation work, I'd been looking into kitchen companies and designers. I actually came very close to choosing a different company. I was a bit 'rabbit in the headlights' with the whole thing, and so I'm relieved that I noticed in the paperwork that, while I thought I was getting a kitchen very similar to my Suffolk, it was in fact a lower specification and much of it wasn't even made from timber. To bring it up to the Neptune standard, you had to add the various 'upgrades' and then it ended up being significantly more expensive than Neptune. That was it, decision made. I know Becca – she's the 'B' in J&B Interiors – and went into their showroom and pointed at their Chichester display and thought, I want that palette [it was in Shell and Shale] on that collection, and pointed at Suffolk. And she just said, 'Okay! Easy!'."
Suffolk's simplicity was what appealed to Rio most of all and she had a clear idea of what she wanted from her new kitchen. "My childhood home had an open-plan kitchen, but ever since then, I've lived in properties where all the rooms were clearly divided and I always seemed to end up cooking facing the wall. I was determined not to do that anymore. I wanted to face people and to chat. I wanted to be in on the party! So that was a big thing for me. Becca's husband is a Neptune accredited installer and he had some excellent suggestions too. We mocked up a to-scale version of my soon-to-be-built space and played around with orientations. It was such a collaborative approach." 
With the kitchen collection chosen and the design figured out, Rio then had a nine-month wait before her new kitchen was installed. She had decided to put her former home on the market to help fund Chapel Barn's renovation works and the sale process took a while to go through. In a lovely turn of events, it was one of her best friends who ended up buying the property. "It's been wonderful to have her on the doorstep – literally," said Rio.
"It's been a tough few years to say the least. Suffolk's uncomplicated design and the soothing Neptune colour palette I chose has given me some much-needed order and calmness in my life. I walk into my kitchen and the peace and balance means a great deal." 
Life in her new kitchen
What's your favourite thing to do in your new kitchen?
"To open the larder. And to sniff it! The smell reminds me of a gorgeous wooden boat cabin. My father was into sailing, so it really brings back childhood memories for me. My larder is the first thing that I show everyone and they always fall over backwards when they see it. I didn't find any of the other kitchen companies do larders like Neptune does. I adore it. It's so ahead of its time and it makes my life easier and more ordered."
What's your favourite part?
"Other than the larder, the endless amount of worktop space I have. Because I have so much storage in my cabinetry, it means I can keep almost everything hidden from view and my work surfaces beautifully clear and uncluttered. Much like the colour palette and Suffolk's minimal design, empty worktops make my kitchen the perfect place to de-stress."
What could you now not live without?
"My induction hob and the whole island that goes with it. Again, it's just so easy to use and to move around. I'd have to say my work surfaces again here too. I chose quartz, because, yet again, they're just effortless to live with. I've become Mrs cloth-in-my-hand because I just love it so much I want to keep it looking perfect. Although, I feel I'm affectionately stroking it rather than wiping it! My son is a mechanic and if he comes in with oily fingers I have to ask him to have a shower before he comes into the kitchen!"
What's next?
"Renovation of the original part of the barn. I'm at the quote stage and know roughly what it's going to be, I'm just not sure of the who and the when. The extension is perfect now I have my kitchen, but it's the rest of the barn that needs some love now. It's non-stop!"