Harvest. Pickle. Store.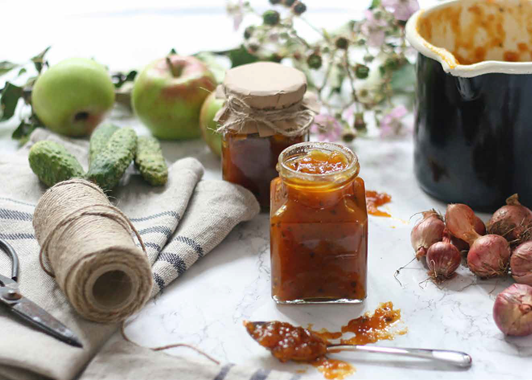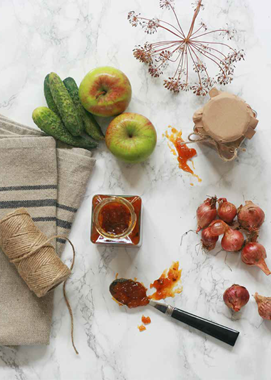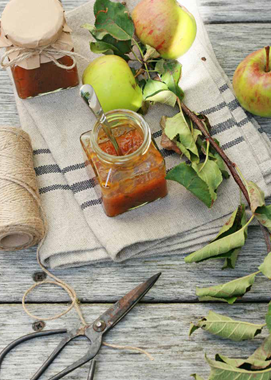 Harvest. Pickle. Store.
Autumn is most definitely the season of plenty. Farmers' markets are heaving with end-of-season crates, while the green-fingered are proudly reaping home-grown harvests. In recent years, I've been very lucky to be given bags of windfall apples and a neighbour's share of their courgette glut.
These rich pickings of fruits and vegetables mean that the fridge drawer can become just a bit full. Nobody wants to see food go to waste, or pass dishes of runner beans around the table for the fifth day running. You can have too much of a good thing. It's time to follow the lead of our parents' and grandparents' generation and pickle any surplus.
Pickling is a global and age-old culinary art. Travel anywhere in the world and you'll discover that almost every nation has their own variation, from German sauerkraut to Korean kimchi. It began around 4,000 years ago, as a way to preserve food for out-of-season use and for long journeys, especially by sea. The intelligence in preserving one season's excess for a less abundant one has lived on, and that's surely something worth embracing.
There are two basic types of pickling: long, fermentation-based pickling and quick, unfermented pickling. The former is the kind that will require a period of 'curing' at room temperature. Quick, unfermented pickling on the other hand, is where vegetables, spices and herbs are added to a basic brine of vinegar and water. Crunchy, tangy, no-hassle to make, many quick pickles are ready to eat just 24 hours after being made. Or, store them away in pretty glass jars, give them as Christmas gifts or crack them open to elevate a festive cheeseboard in a few months from now.
The secret to a really rousing quick pickle is in the selection of spices and herbs you add. Think creatively with your combinations. Carrots, for example, become more exotic when pickled with coriander, ginger, turmeric and thyme, while cucumbers pickled with garlic and generous sprigs of dill are truly delicious sandwiched inside a burger or served alongside any curry. Seek out more unusual produce too; pickled nasturtium seeds are perfect for scattering over salads or used in place of capers.
Time dedicated to pickling brings the promise of a lifetime's simple pleasure and a store of delicious condiments to dip into throughout autumn and winter months. So, find yourself an hour or two, or better still an entire morning, and bottle up some jars. Browse online for some inspiration, go to the library and borrow a cookbook dedicated to the subject, or ask about for a family recipe. Our go-to is Do Preserve by Anja Dunk, Mimi Beaven and Jen Goss (from the 'Do' series of books). Or, for more of a sandwich-style pickle, we love Georgina Hayden's 'Cheese Sarnie Pickle' in her book, Stirring Slowly. If you're keen, you could even look into pickling workshops such as the ones run by The School of Artisan Food in north Nottinghamshire – from its British summer pickles course to its day of warming autumn flavours at the end of October.
Louise Gorrod is the wishlist editor of slow-life magazine, The Simple Things. She's also the author of the blog Buttercup Days and works as an independent food stylist and writer.