On our doorstep: Hagbourne Copse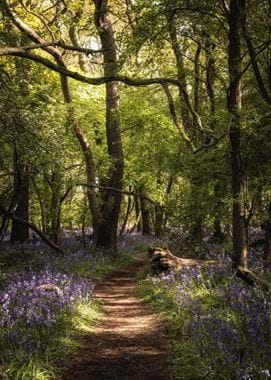 On our doorstep: Hagbourne Copse
Only a few minutes' stroll from our Wiltshire head office is a pocket of woodland called Hagbourne Copse. Because of where it's positioned, many of us didn't even realise it was there. It's tucked away and lies a bit beyond the turn that most of us take on the way in to work and on the way back home. And for those of us who've gone past and stolen a quick glance, it looks like a cluster of trees and nothing more.
But last week, a few of the team went for a lunchtime stroll, and it seems that we've been overlooking a spot of beauty that's right on our doorstep.
Hagbourne Copse – it's a bit of a hidden gem.
Spread across two hectares (just under five acres), there's currently a sea of native bluebells under the trees. They appear in April and should last until the end of May, so we're fortunate enough to hopefully have several more weeks in their company. But if you look beyond the blue, springtime in the copse also sees anemones, primroses, buttercups (the goldilocks variety that prefers the shade), and even purple orchids. Each species shows us a different side to this ancient woodland.
It was planted in the 18th century. It grew oak that was chopped and sold to build, and coppiced hazel for fencing. In 1999, it was bought by the Wiltshire Wildlife Trust, who've since cared for it with the helping hands of volunteers. Together, they cut back trees to allow sunlight through so the woodland flowers can thrive. They also continue to coppice sections in the traditional way, covering the 'stools' with twigs to protect them from deer and rabbits who'd otherwise eat the shoots and stop regrowth.
The nature within Hagbourne Copse goes much further than plant life. There are a variety of butterflies, such as the peacock and the comma; birds nest high and low, from blue tits to great spotted woodpeckers and even the occasional sparrow hawk; the corner pond plays host to newts, common frogs and mallards; and rabbits, foxes, shrews and roaming deer have also come to call it home.
That first lunchtime stroll will be one of many. There's a short, circular path that's easy to follow and, unless it's rained, we know we'll be able to go without needing to change our shoes. It's a new place for us to enjoy a bit of fresh air, to step away from our screens, to have thinking time and space. And when the bluebells are long gone, we'll watch the copse as it evolves with the seasons, bringing in newness and shifting in colour.
Simple pleasures.