Three things to do this Easter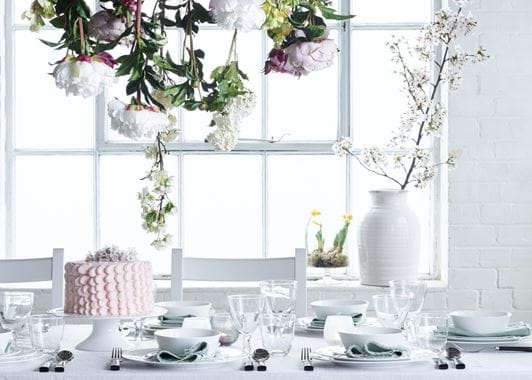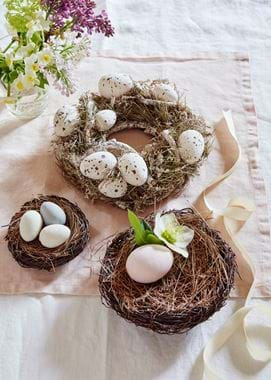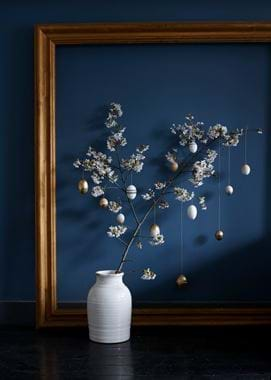 Three things to do this Easter
Every home has its own Easter traditions; egg hunts, bunny ear hats, and big family meals are to name but a few. Below, we've shared three of our favourite activities to make time for over the long Easter weekend. They don't take too much planning, just a simple trip to the shops to pick up a few bits and bobs, or a quick scout around the garden for a handful of fallen twigs that you can gather (you'll see why in a few paragraphs' time)...
Design your own eggs
Egg blowing is an activity that lets you get a little hands-on and crafty, even if you don't think of yourself as being especially creative. They might be delicate, but with care, you can store them safely and bring out your favourite ones year after year. We tend to use duck eggs because they're a bit bigger and their smooth white colour is perfect for decorating. All you'll need is a drawing pin, a toothpick and a bowl. Gently pierce the shell at either end with your drawing pin. Repeat this a few times so that each pinprick makes the holes slightly larger. Poke your toothpick through to break the yolk so it's easier to blow out. Now hold the egg over the bowl and blow through the hole at the pointed end of the egg. Make sure you give it plenty of puff so that the egg starts to come through the other end. It might take several goes. When the egg feels empty, rinse it under a gentle trickle of tepid water, and repeat for as many eggs as you hope to decorate. There are all sorts of ways that you can decorate your eggs from the very artistic to simple spray-painted finishes – Pinterest is full of ideas for you to try your hand at. Once you're finished, you can use them as place settings at your Easter lunch, or to hang from the branches of your Easter tree...
Make room for an Easter tree
Easter trees have grown and grown in popularity. We love them because they're understated and quite simply, a happy sight to invite into our homes. Just like the Christmas tree, they come in all shapes and sizes, but we think the best ones are the less-is-more twig formations. If you would prefer something on a smaller scale, consider a bundle of twigs in a large vase, and then place it on a window ledge in any of your downstairs living spaces. Gather real ones from your garden or choose life-like ones such as our Magnolia branches. You could even opt for Apple Blossom to bring a touch of softness to your tree with its fluttery white petals. Let your arrangement lean to one side so it doesn't feel too preened and then loop a small selection of Easter decorations from different heights. If this year is your first year with an Easter tree, you may well find that you've found yourself a brand new tradition to repeat for many Easters to come.
Bake an Easter cake
We're big bakers at Neptune. It's such a cathartic pastime to do by yourself but equally can become one full of laughter when children are taking part. An Easter cake is absolutely always something that we'll make, usually on Good Friday so we can nibble our way through it all weekend long. And we'll usually make two: one for the grown-ups (perhaps a classic Simnel cake) and one for the little people in your life (miniature lemon Victoria Sandwich cakes are always well-received). But this year, we decided to go with carrot cake: one version packed with chunky nuts and rum-soaked raisins, and one slightly simpler and alcohol-free for children. You can find the recipe below:
What you'll need
For the sponges
300g butter melted
300g soft light brown sugar
400g self-raising flour we used wholemeal
300g carrots peeled and finely grated
150g sultanas
150g pecans or walnuts lightly toasted and chopped
120ml dark rum
6 free-range eggs
2 oranges zested
2 tsp bicarbonate of soda
2 tsp cinnamon
1 tsp nutmeg
1 tsp salt
For the icing
300g full-fat cream cheese
100g light brown soft sugar
1 lemon zested
What to do
1 If you can, soak your sultanas in a spiced dark rum the night before you bake so they absorb the flavour and become lovely and plump. If not, a few hours before you bake will do the trick.
2 Preheat your oven to 180°C/gas mark four and line four 18cm sandwich tins.
3 Add your melted butter, sugar and eggs to a large mixing bowl and beat thoroughly until the mixture is smooth and glossy. It should almost double in size.
4 Next, sift in the flour, bicarb, salt and spices, gently folding them into your mixture, followed by the grated carrot and orange zest. Then, pour half of your cake batter into two of the tins to make your children's carrot cake and set aside.
5 Drain the sultanas and add them into your remaining cake mixture along with your choice of lightly toasted nuts. Divide the batter into the other two sandwich tins before putting them all into the oven to cook at the same time.
6 Bake for 20–30 minutes, checking that your cakes are cooked through by inserting a skewer into the centre. If it comes out clean, you're ready. The adult carrot cake will most likely take a little longer to cook as the mixture is much denser.
7 While your cakes are baking and cooling, make your cream cheese icing by beating all of the ingredients together. Keep the frosting in the fridge until your cakes have completely cooled. Put a thin layer of frosting in the centre of each of your sandwich cakes, and then cover the exterior of the entire cake in another layer. If you prefer yours thick, you may need to make an extra batch.
8 Finally, add your choice of seasonal decorations to the top of your cake, from a heap of mini chocolate eggs to iced marzipan Easter characters.