Henley, just look how you've grown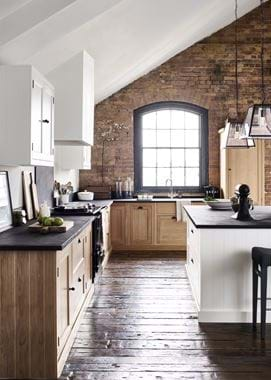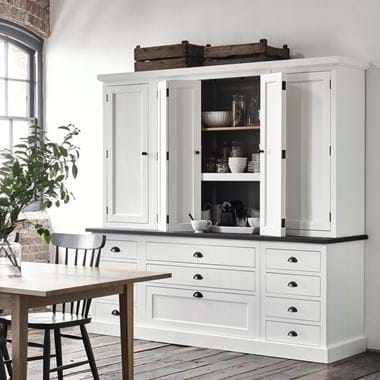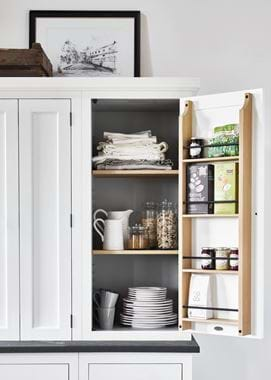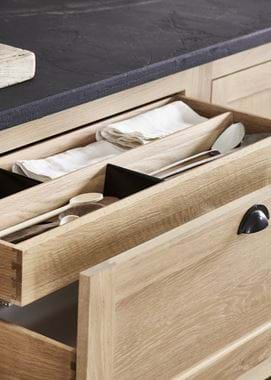 Henley, just look how you've grown
Henley was the second kitchen that we ever designed. We've learnt a lot since then and wanted to use that knowledge and apply all of those life lessons to it. So we rebuilt it, entirely.
This is Henley, except it isn't.
When we set about rethinking Henley, we didn't want to undo everything we'd already achieved. It wasn't that we felt it didn't have a place anymore, quite the reverse. We just knew it could do more, so we wanted to build on what was already there because the foundations were infinitely strong.
Henley had a big fan base. People loved it for its juxtaposition of a classic material, oak, but with a contemporary outlook, and its way of feeling organic, homely and a little regal all at the same time. All of that's still true in the new Henley. You can still create that same aesthetic, but we've opened its eyes to a whole world of other possibilities so it can be everything it can be.
Back in July 2016, the Henley caused a bit of a stir at our press event (an annual event where we unveil our autumn/winter collection to the industry's key journalists, bloggers and influencers). At this point, we'd been working on the redesign of Henley for some time. This incarnation was a more radical concept of what we'd been thinking, but we wanted to test the waters and to let it make some serious noise. Our Retail Design Team industrialised it (see the article we did earlier this year), setting it against a concrete-skimmed wall with exposed copper pipes and a sultry matte black worktop and sink. It helped people to see Henley in a whole new light and it told us to follow our instinct, to be courageous.
The new Henley followed in its brave footsteps but has been tempered with the elegance that comes to it so naturally. It starts with the introduction of high-contrast painted cabinetry. We've echoed the classic style and shaping so it still embodies Henley's spirit, but by adding tulipwood, we're able to play with colour. Our crisp and cool Snow shade is what we feel works best with the oak and new Black-Bronze hardware, so Henley can now offer true versatility. It means you can blend oak with Snow, or oak with any of our other paints, or even two contrasting colours of paint and no oak. The sky's the limit. The new Henley also offers upgrades on every existing cabinet where we've bettered the functionality. Take the pan drawers for example, one of the most-loved cabinets in the collection. We've created an organisational inner drawer that operates using a push-to-open mechanism, and inside it has removable Black-Bronze dividing prisms to help keep everything in order. The base drawer has been upgraded too to include Black-Bronze rods to stop any pains from scuffing the timber. And then there are the 12 new cabinet creations from broom cupboard to never-before-seen larder concepts.
And that's just the start of the story...
Henley
First designed in 2009
Designed by
Emma Sims-Hilditch (the aesthetic); John Sims-Hilditch (the specification and concept); Giles Redman (the development); and our former senior designer (the engineering). It was a huge collaboration.
The back story
Henley is our only solid oak kitchen. Until now it was probably viewed as being our most refined design and recognised for being quite stately and truly elegant.
The revolution
We've made over 1000 changes from introducing a painted finish for high-contrast to inventing brand new cabinetry design.
Project high
Seeing it all finally come together, in context, for the very first time in our Wiltshire showroom.
Project low
No real dramas or low points.
Flagship design
The 1120 drawer base cabinet and bi-fold countertop. They can be used together as a sort of deconstructed larder, or independently, creating a miniature breakfast-bar larder on top of your work surface with space-saving bi-folding doors.
In three words
Versatile, classic and contemporary.
Get the look – the future classic
Texture, natural light, and original and new features come together in this London loft conversion. The new Henley makes itself perfectly at home where the oak brings warmth and timelessness and the Snow cabinetry blends with the vaulted ceiling to create a feeling of space. Complete the look with accessories that pull the entire scheme together.
Dekton worktop: our brand new work surface option is a blend of raw materials that's incredibly high-performing (you can place hot pans directly on top) as well as offering subtle texture.
Cooker hood: we suggest a very minimal, clean cooker hood to work with the new Henley aesthetic. It keeps the eye focussed downward onto the beautiful kitchen below. Our example is easy to recreate by a skilled builder. It's a simple studwork frame.
Hardware: the Black-Bronze hardware is used throughout the new collection, from catches and hinges to rods and handles. Here we've used our Barlow cup handles on the drawers and the Henley button knob on doors.
Contrast seating: choose seating that can be painted to create real impact. We've paired these Montague bar stools with the kitchen island to emphasise a key area of contrast.
Suspended lighting: pendants always bring a sense of drama to an interior when they're suspended low over a core surface. The chain flex of the Browning pendants nods to industrial design and the strong lines of the blackened steel shade are cohesive with the overall palette.